Vegas PBS unveils new online learning program, computer lab
January 30, 2014 - 6:53 am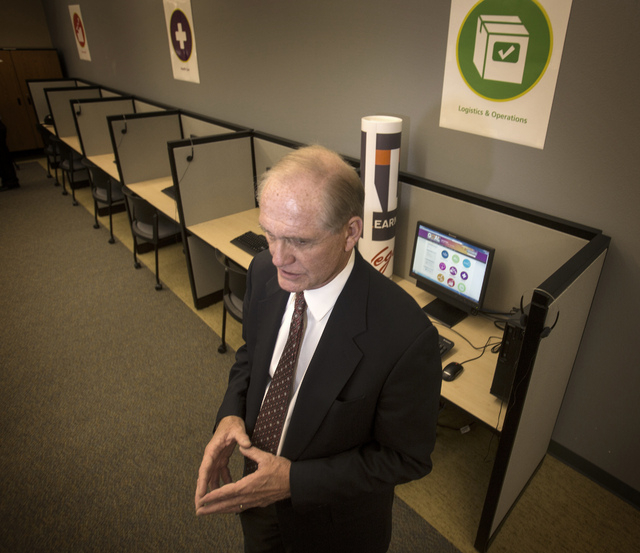 When PBS comes to mind, it's usually followed by images of its popular programming "Downton Abbey" and "Sesame Street." But workforce training has always been part of the public television station's mission, said Tom Axtell, general manager of Vegas PBS.
In the 1960s, GED classes were offered on the air a few times a week. Today, those courses are all online.
Vegas PBS' educational vision was sharpened Tuesday with the introduction of GOAL: Global Online Advanced Learning, as well as the unveiling of a community computer lab of 21 free-to-use workstations designed to offer job training, GED testing, and food- and alcohol-handling certifications.
GOAL, found at vegaspbs.learn.com, had been known as Vegas Virtual Online Education.
In 2013 it enrolled more than 115,000 people in 4,200 self-paced and instructor-led online courses on subjects such as business, information technology, health care and teaching.
Axtell said medical records, pharmacy and paralegal training are among the most popular.
Mildred Sigala recently completed a six-month dental assistant certification. In her home country of Nicaragua, Sigala was a dentist. Completing the GOAL course is the first step in her journey to again become a licensed dentist.
"It's less than a community college degree, so it's not a two-year degree, but it is a certificate," Axtell said. "It's recognized by the trade association. It's portable to all 50 states. These are not minimum wage jobs. They're all higher-paying jobs at a much more livable wage."
GOAL represents an intersection of education, job training and economic development.
Vegas PBS' partners in the program are the state economic development office, the Southern Nevada Health District, the Nevada Restaurant Association and the Clark County School District.
The health district and the Nevada Restaurant Association conduct their mandatory food handler safety and alcohol awareness courses on the GOAL website. GOAL also offers Hotel English, which helps resort workers who speak English as a second language improve.
Joseph Iser, the Southern Nevada Health District's chief health officer, said that in the past he didn't recognize how public health affected economic development but that "it does without a doubt."
"If we don't look out for the health and safety of our own folks, and we don't look out for the health and safety of all of our visitors," Iser said, "economic development will decline and people will quit coming here."
Before going online, food safety training consisted of watching a video about food-handling, but there was no test, Axtell said.
About a year ago the process went online, the cost was reduced and testing became mandatory.
Initial classes were offered in English and Spanish, but have expanded to include Tagalog, Mandarin Chinese, Russian, Arabic and soon, Cantonese, said Debra Solt, Vegas PBS' workforce training and economic development director.
In developing GOAL, Vegas PBS teamed with the economic development office to offer courses that enhance the state diversification office's seven targeted industries: mining, minerals and manufacturing; aerospace and defense; business information technology ecosystems; clean energy; health and medical services; logistics and operations; and tourism, gaming and entertainment.
Contact reporter Kristy Totten at ktotten@reviewjournal.com or 702-477-3809. Follow @kristy_tea on Twitter.