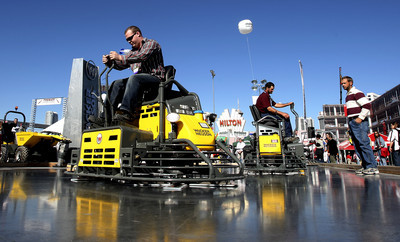 Mike Reinhart of Peoria, Ill.-based Perkins engine company was waiting for crowds to flood the 900,000-square-foot exhibit floor Tuesday morning at the World of Concrete show at the Las Vegas Convention Center.
The marketing manager stood next to diesel engines used by major construction equipment manufacturers, ready to explain the latest technology and power capabilities of the turbocharged 1200 Series. Hey, there's somebody now. Never mind, it's only the media.
"We expected it to be down a little, not a lot," Reinhart said.
He's in Las Vegas to support his clients and to develop new business opportunities, a tough task in a shrinking economy.
Portland Cement Association chief economist Ed Sullivan projects a 15 percent decline in cement consumption this year and another 15 percent decline to follow in 2010.
Dick Koberg, owner of Dica outrigger pads in Panora, Iowa, has attended about a dozen World of Concrete shows over 21 years in Las Vegas, New Orleans and Orlando, Fla. He's seen better times in the construction business.
"It's not just here, it's everywhere," Koberg said. "We do business internationally. It's the currency. We had worldwide inflation and then the mortgage crisis and the banking crisis. We can't do anything without money. The construction industry is totally dependent on borrowed money."
Attendance at World of Concrete's 35th anniversary show is expected to be down from last year's estimated 84,000, said Steven Pomerantz, marketing manager of Hanley Wood Exhibitions, the show's producer.
Preregistration declined from previous years, but on-site registration was heavier than expected, suggesting that a lot of people decided to come at the last moment, he said.
Bob Joyce of Apco Equipment in North Las Vegas said he went to World of Concrete to see some of his vendors and found out that New Holland and Kobelco Construction pulled out of the show, forfeiting their deposits.
"The decision to cancel our participation at this year's World of Concrete is based on the current economic environment as we prepare to face a year of new challenges," said Edgar Chavez, marketing director for New Holland and Kobelco.
It doesn't matter because Joyce said he won't be ordering anything for about eight months.
"We'll keep what we got in our inventory and wait until we see things turn around," he said.
Sullivan is predicting that may not happen for some time, though.
Nationwide unemployment will continue to rise to about 8.3 percent, even with President Obama's $819 billion stimulus package, Sullivan said. The nation lost 500,000 jobs in November and another 500,000 in December, and January will probably be worse, he said.
Sullivan sees job losses of 4 million this year and 1.8 million in 2010. The economy will contract 3 percent this year and 1.5 percent next year, he said.
"Adverse fundamentals are in play and will remain in play for some time," the economist said at a news conference Tuesday.
As sad as it sounds, the $819 billion stimulus package may not be enough, Sullivan said. It may take $1.2 trillion, and that will shorten the recession only by a year.
The public is already questioning the government's $350 billion bailout of the banks and this "backlash" could hinder Obama's plan, Sullivan said.
The long-term risk of the government's stimulus package is higher interest rates and higher inflation, the economist said.
Contact reporter Hubble Smith at hsmith@reviewjournal.com or 702-383-0491.