'Buyout' supports workers hurt in taco truck attack
Updated March 14, 2023 - 4:48 pm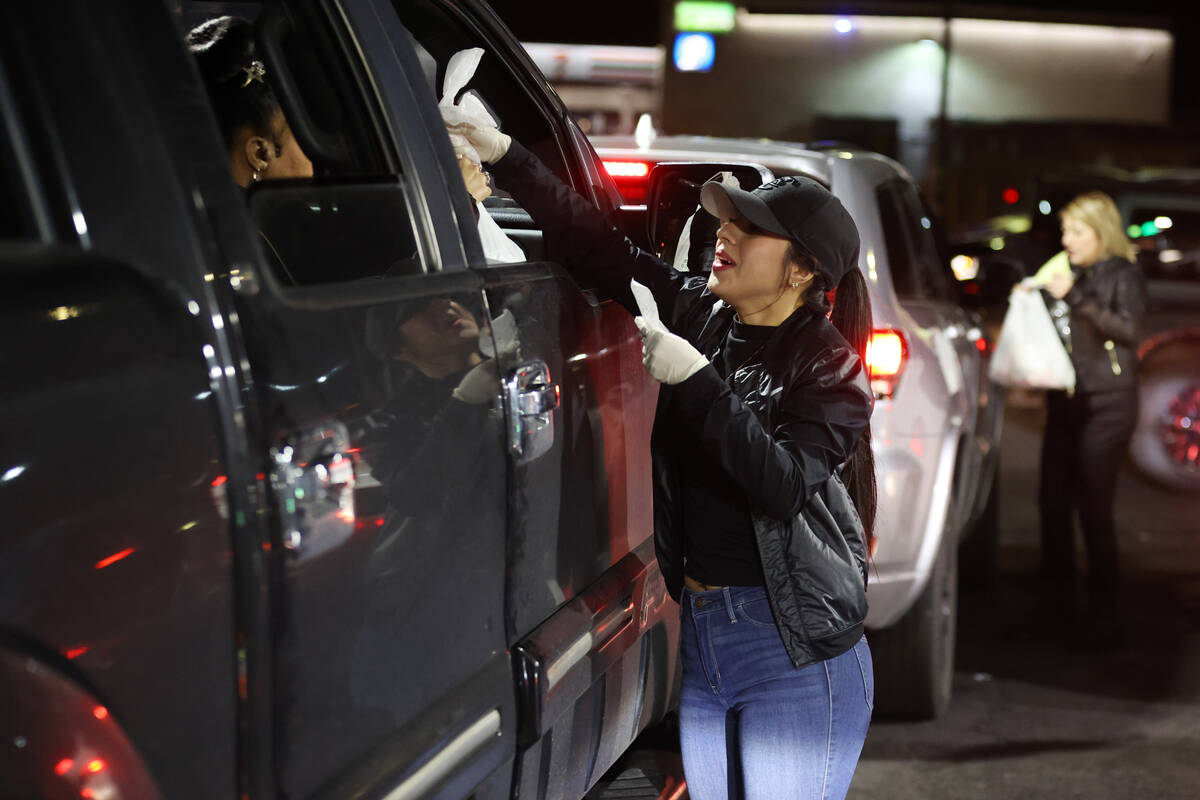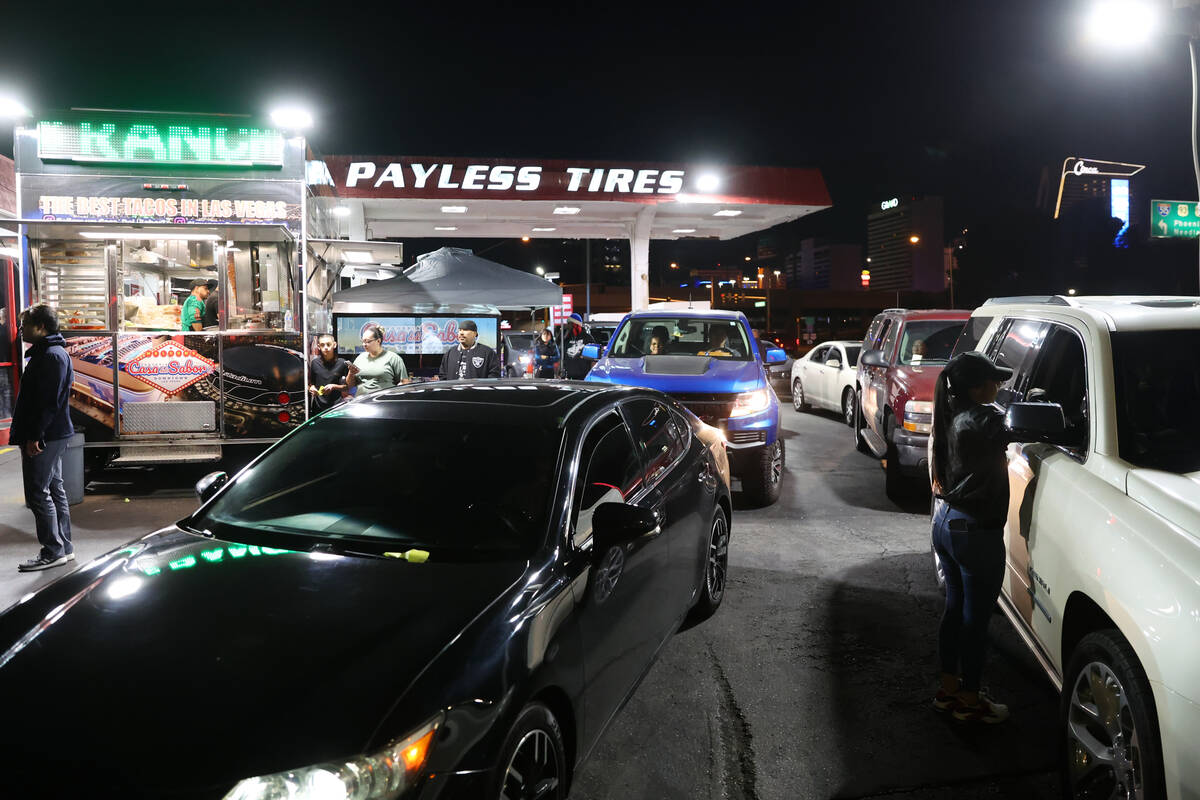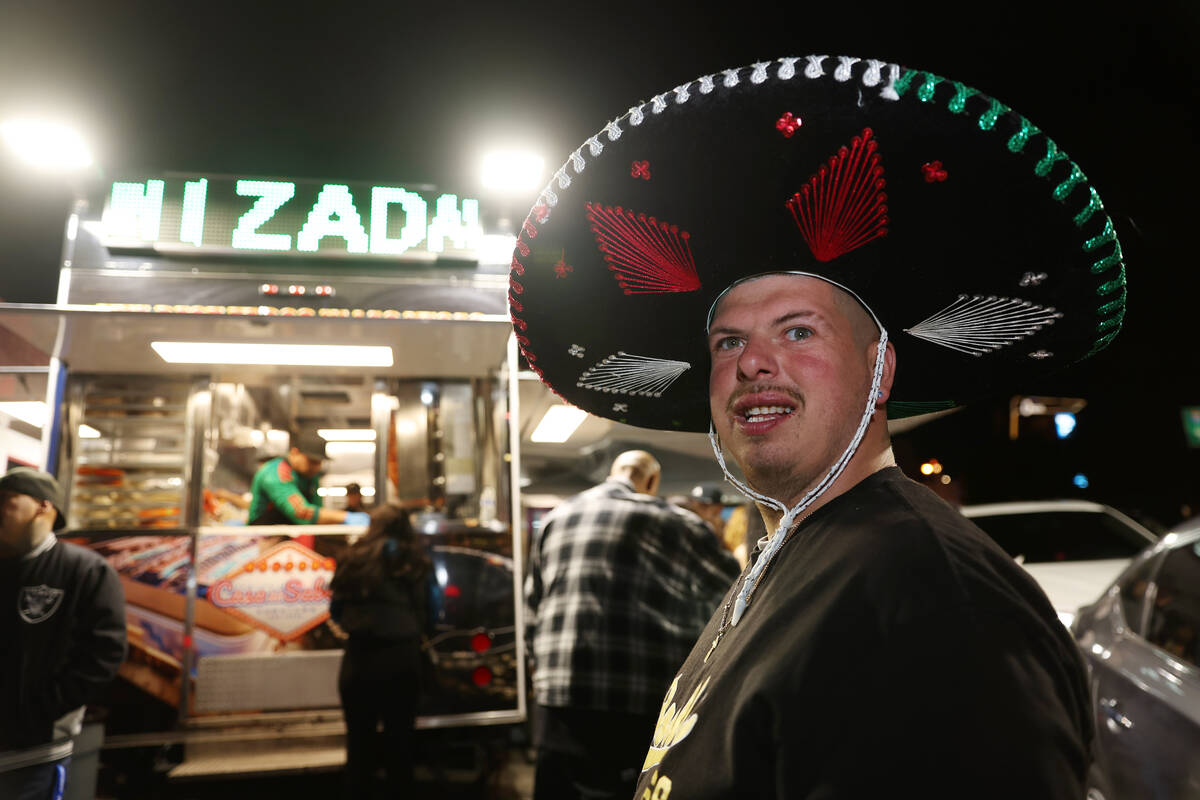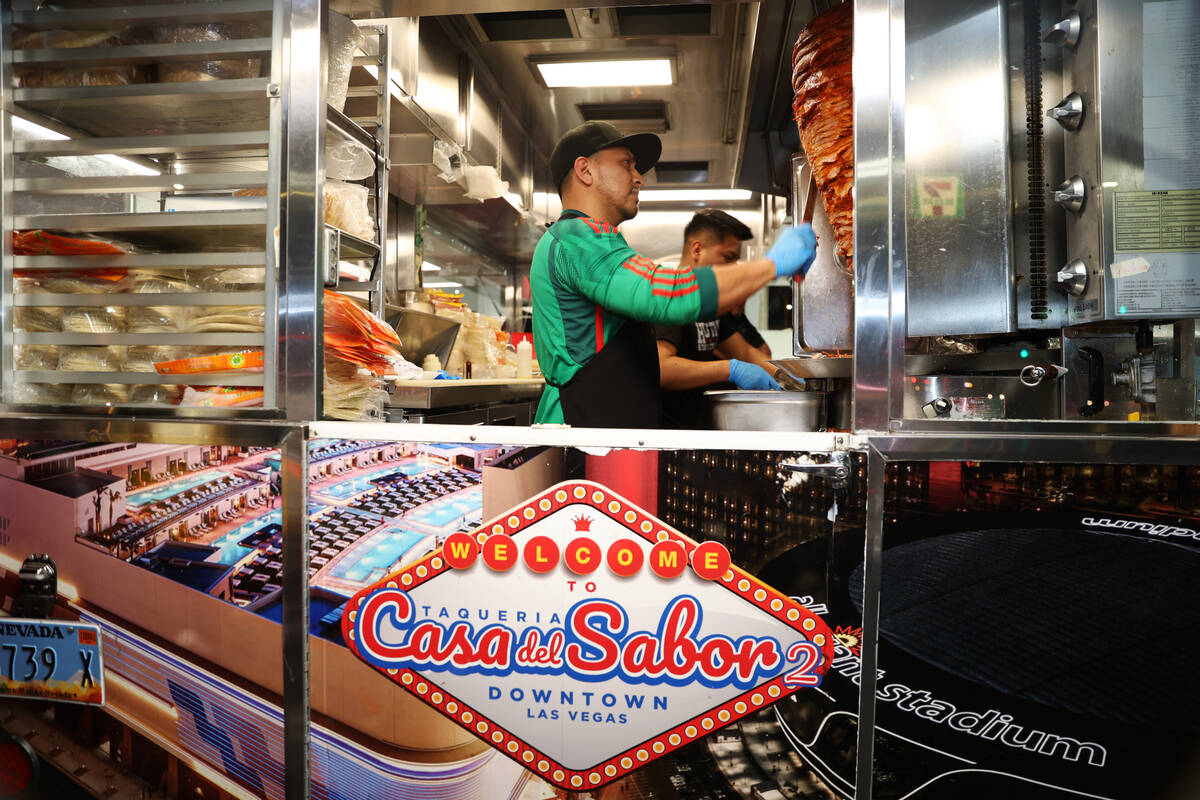 Drivers in low rider cars blocked a lane of traffic as they waited in line to show support for the recent attack on the street vendors at Casa del Sabor near downtown Las Vegas.
On Saturday night, people danced in the middle of the drive-thru to live music as three workers took the orders of hungry local supporters for a "buyout," an event where the community comes together to support the business.
Street vendor advocates from Southern California and Las Vegas organized the buyout. This is not the only buyout Edin Alex Enamorado, a street vendor advocate from Los Angeles, has attended this month. In San Diego, Oakland and San Jose, street vendors were attacked, and for each attack the crew of advocates would organize a buyout to show the vendors they are supported by their community.
"I think it's great, but it shouldn't be happening," Enamorado said of the turnout when he saw the long line of vehicles at the Las Vegas event. "It makes me sad in a way, 'cuz this is our fifth buyout in less than 30 days."
'You defended the house'
On the side of the stand where people order their tacos, two donation boxes were set up for the victims.
One was for taco truck worker Lázaro Alberto Correa, and the other was for Don Victor, both of whom were present at Saturday night's buyout.
Correa was seen sparring with Andres Amador, a boxing trainer who teaches street vendors how to defend themselves in an attack. In a video that captured last week's altercation, Correa can be seen throwing punches at a man taller than him.
"You defended the house and you won the respect of the people," Ivan Valenzuela, the owner of Casa Del Sabor and the Payless Tire Shop, said in Spanish to Correa.
The mood was festive at the buyout. The low riders were parked in front of the taco stand, and their owners were munching tacos and enjoying 1990s West Coast hip hop. The music would switch to Cumbia's, a popular Latin music, and a young woman wearing a green-, red- and white-stitched sombrero danced in the crowd.
To Valenzuela, Saturday's event was meant is to unify the community and to seek justice for his workers.
"I don't judge [the attackers] for what happened. It could've been the alcohol or drugs, without thinking about what would happen clearly, and they harmed us," Valenzuela said in Spanish. "A harm that didn't result in consequences and that's what I'm fighting for."
After the attack
The altercation took place March 6, when at least two of the street vendors suffered injuries and were taken to the hospital, according to Valenzuela. Las Vegas police arrested Jason Wiggins, of Los Lunas, New Mexico, on suspicion of battery and other charges while his friend, Michael Boyd, according to previous reporting, was cited for misdemeanor battery.
"What can I tell you. …" Valenzuela said, tears welling as he recalled the night he was told his staff were attacked for the first time. "I felt like my heart was ripped out of me."
He saw his work family sad and injured after the attack and felt he couldn't do anything for them.
The workers came back the next day to continue working.
"When street vendors get attacked, they don't get a day off," said Enamorado, who noted that in California such attacks have gone up 300 percent in the past 10 years. "That's the number one thing we do with these community buyouts."
On Saturday night at the corner of Las Vegas Boulevard and Bonanza Road, where Casa del Sabor's taco stand is located, a boy held a sign that reads "Justice 4 Don Victor!" a vendor who was beaten on the floor.
"It doesn't seem right to me that there are no consequences for a crime, because it was a crime," Valenzuela said. "That's all we're fighting for."
The owner said he doesn't blame the Metropolitan Police Department; he knows the department defends them every day. He also doesn't want to label the attackers racist, because he serves customers of all colors.
"I just want justice."
Contact Jimmy Romo at jromo@reviewjournal.com or call 702-383-0350. Follow @jimi_writes on Twitter.