Clark County to use $700K grant to reduce jail population
Updated October 24, 2018 - 5:29 pm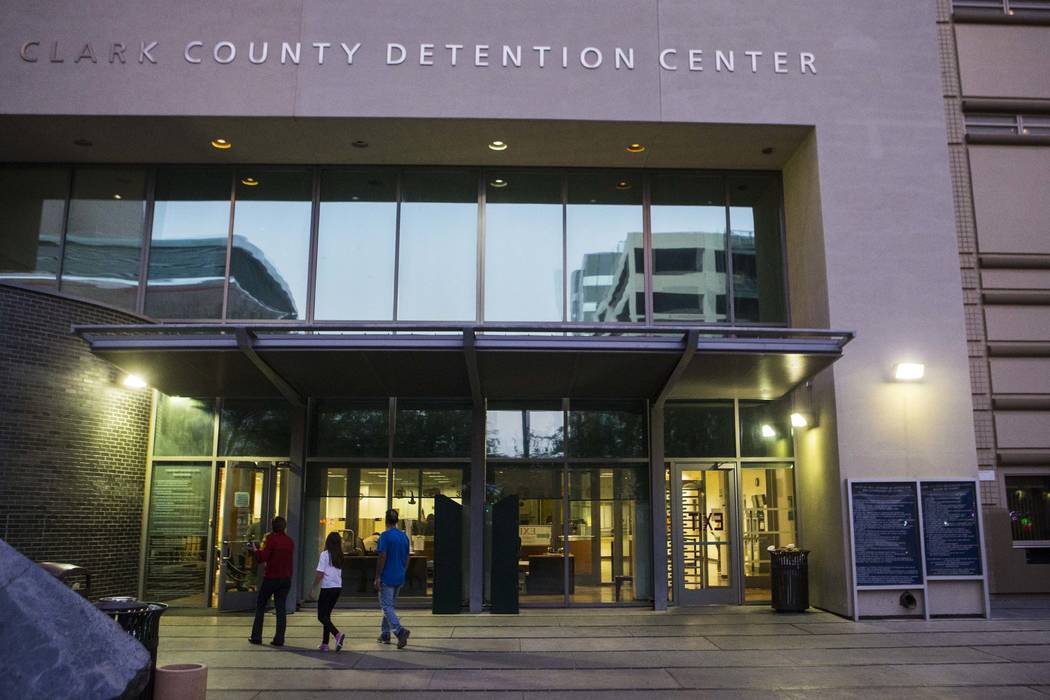 A $700,000 grant awarded Wednesday to the Metropolitan Police Department will help reform Clark County bail and incarceration policies to reduce the population at the county jail, officials say.
The county was one of 13 jurisdictions in the country to receive the grant from the John D. and Catherine T. MacArthur Foundation. The award is part of the foundation's Safety and Justice Challenge, a nationwide $148 million initiative to reduce incarceration.
At a press conference Wednesday, Deputy Chief Richard Forbus of the department's Detention Services Division said that the grant will go toward a "two-year streamline process" to safely implement changes at the Clark County Detention Center and the courts with the ultimate goal of reducing the jail's overall population by 20 percent.
The effort is in partnership with the Eighth Judicial District Court, the Las Vegas Justice Court, the district attorney's office and the public defender's office, he said.
During the grant application process, Forbus said, the agencies identified several issues contributing to ongoing overcrowding issues including an over-reliance on jailing repeat offenders who suffer from mental illness, and unfair and ineffective bail practices.
Last year, according to Metro, roughly 61,000 people were booked into the detention center, 16 percent of whom were low-risk defendants who spent an average of 58 days in custody. Forbus said this will be addressed with an increased focus on risk assessment of low-level offenders and also by having a prosecutor review cases at the time of booking.
Metro's research also found that some repeat offenders had been booked 15 times in one year and that inmates suffering from mental health or chronic drug abuse spend about 45 more days in custody than the average inmate. And since July, Metro found, an average of about 129 defendants remained in custody for more than a week on a simple bail of $5,000 "because of their inability to post bail," Forbus said.
"When our clients go to jail, that's a complete reset on their lives. Spending time in jail means many people lose their jobs, they losing their housing, they lose contact with their families, their families are displaced," Clark County Assistant Public Defender Daren Richards said, describing the impact of incarceration and current pretrial and bail practices on the community.
Some changes to current policies are expected to be seen as early as January, Richards said.
Inmates currently are not assigned a public defender and are not seen by judge until 48 to 72 hours after their arrest. Starting Jan. 2, an inmate's initial appearance will take place within eight to 12 hours from the time of booking.
"It is very important to us in the public defender's office to see that our system incarcerate those who need to be incarcerated and all the rest don't have to have that reset in their lives," he said. "We need to be smarter on the way that we look at jails and the way that we incarcerate people pretrial and post convictions."
The change in initial appearances "has already shown promise with an increase in the release of defendants booked on probable cause charges and streamlines the process of a review of an arrest, appearing in front of a judge and determining bail status or custody status," Forbus added.
To offset the anticipated increase in workload, a portion of the $700,000 grant also will go toward staffing at the public defender's office and the district attorney's office.
Forbus said that Metro hopes the "meaningful change" will enhance the Police Department's relationship with the community.
Contact Rio Lacanlale at rlacanlale@reviewjournal.com or 702-383-0381. Follow @riolacanlale on Twitter.