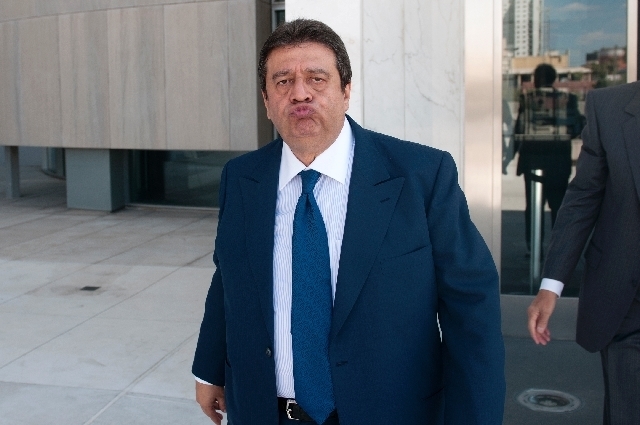 High-rolling businessman Ramon DeSage pleaded not guilty Thursday to charges of evading more than $31 million in taxes.
DeSage, 63, who is well-known on the Strip, is facing four new tax evasion counts with previous wire fraud charges in what federal prosecutors say was a scheme to defraud investors of roughly $190 million.
He was charged two weeks ago in a superseding indictment, alleging he owes the taxes on more than $87 million in income he failed to report from 2006 to 2009.
DeSage, who supplies luxury gifts to the casino industry, is accused of under-reporting his income by $19.2 million in 2006, $27.7 million in 2007, $30.6 million in 2008 and $9.7 million in 2009.
U.S. Magistrate Judge Peggy Leen set a Sept. 10 trial date, but DeSage's defense lawyer, Richard Wright, said the trial is likely to be continued.
Assistant U.S. Attorney Gregory Damm told Leen he did not oppose allowing DeSage to remain on electronically monitored home detention while he awaits trial.
DeSage and Wright declined to comment on the case outside the courtroom.
The indictment alleges DeSage used $175 million he obtained in the extensive fraud scheme "for gambling purposes."
DeSage is accused of using his main Las Vegas company, Cadeau Express, and other companies to defraud his investors between 2005 and 2012.
He pocketed the money to repay earlier investors, maintain his wealthy lifestyle and cover millions of dollars in gambling losses at casinos along the Strip, some of which he supplies with high-end customer goods, according to the indictment.
On the Cadeau Express website, DeSage calls himself an international humanitarian and philanthropist.
DeSage states that he was born into a "prestigious family" in Lebanon, was educated in France and once worked as an attache for UNESCO.
Cadeau Express is described on the website as a "unique company that caters to hotels and casinos who roll out the red carpet for selective guests and high-end gamblers."
Prosecutors contend DeSage owns a 40,000-square foot palace in Lebanon and more than $10 million in real estate holdings there.
Internal Revenue Service agents arrested DeSage on a criminal complaint in July 2012 after they feared he was about to flee to Lebanon.
He has denied trying to flee the country.
Contact Jeff German at jgerman@reviewjournal.com or 702-380-8135. Follow @JGermanRJ on Twitter.