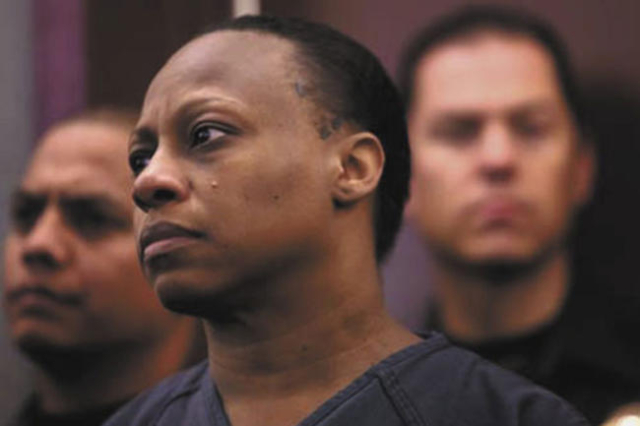 No one seems to know exactly what happened that day in Mississippi nearly 20 years ago. At the same time, everybody seems to know.
Small towns have a way of turning people into legends, and Brenda Stokes certainly fits the bill in Moss Point, a tiny community about 30 miles east of Biloxi, near Mississippi's southeastern border with the Gulf of Mexico.
What's known is this: Stokes, who last week was charged in Las Vegas with murder in the stabbing death of her fiance's 10-year-old daughter, was indicted in 1994 on aggravated assault charges by a Mississippi county grand jury. She was accused of attacking a former lover with a razor blade.
"Manifesting extreme indifference to the value of human life and being a means likely to produce death or serious bodily injury," the indictment said.
According to Moss Point residents and the local newspaper, serious bodily injury was an understatement. They say Stokes nearly cut off Daryl J. Stennis' penis.
"It's gossip, yes, but in this case it's absolutely true," said a longtime resident who asked not to be named.
Records in the case have disappeared over time. Moss Point police records before 2000 were destroyed by Hurricane Katrina, and neither the district attorney's office nor the county clerk has Stokes' arrest report.
But half a dozen people with ties to Stokes and Moss Point told the Review-Journal a similar story:
On Nov. 30, 1993, Stennis and Stokes met for a last-minute rendezvous before Stennis' wedding to another woman. Some say Stokes, who had two children with Stennis, had planned the attack in a jealous rage.
Philip Morris, recently engaged to Stokes, said she admitted the incident to him years later and even kept a record of her statement to investigators.
"I read the transcripts," Morris said. "She almost cut his (penis) off."
Morris has no reason to defend Stokes, who has been charged in daughter Jade Morris' killing. She was found stabbed to death last week in an undeveloped North Las Vegas neighborhood.
But he defended her, anyway. He said Stokes had a restraining order against Stennis and was acting in self-defense.
"On the day of his wedding, (Stennis) came to Brenda's house, kicked the door in and tried to rape her," Morris said.
Asked why Stokes was charged by authorities and Stennis was identified as a victim, Morris didn't know.
"Probably because he was the one cut and bleeding," he said.
Other residents said that the rape accusation was fabricated and that Stokes was lying in wait for Stennis.
"She laced her bed with razors to get one wherever she could in bed, and that's how she got close enough to him to slice the penis," said one resident interviewed by the Review-Journal.
The charges against Stokes were dismissed after Stennis refused to testify against the mother of his children.
When contacted this week, he was still unwilling to talk about the case.
"I have no information on that," Stennis said.
A HISTORY OF VIOLENCE
Stokes' defense attorney said Wednesday that his client has no criminal convictions and isn't a violent person. But her actions in Mississippi, taken in context with the allegations in Las Vegas, paint a picture of a woman with an affinity for razor blades and a history of rage.
In 2001, Stokes was charged with misdemeanor battery after she hit her supervisor at America West airlines in the head with a hot coffee pot at McCarran International Airport, court records show.
The attack happened after the supervisor had a job performance meeting with Stokes. The case was dismissed after she successfully completed counseling.
Stokes, 50, is accused of using razor blades in a Dec. 21 attack on Bellagio blackjack dealer Joyce Rhone, 44. And Jade, who was last seen with Stokes a few hours before the Bellagio attack, was stabbed 40 times.
In Moss Point, residents said Stokes worked in the casino industry in Mississippi and may have transferred within her company to Las Vegas, eventually ending up working at Bellagio.
Others say Stokes probably was following her brother, Donald "Tiger" Stokes, a welterweight boxer who fought in Las Vegas in a title bout against Hector Lopez in 1992.
Records in Clark County say she married Adrien Gullette Wilson in 1998. It's unclear whether the couple ever divorced. Wilson, who no longer lives in Las Vegas, declined comment.
Morris, who met Stokes four years ago, said he never saw any signs of anger or violence.
He denied speculation that a love triangle or an affair with another woman caused Stokes to harm his daughter. He said he was working two jobs in Montana for the past year and had no interaction with Rhone, the dealer Stokes attacked.
Stokes didn't even seem jealous when Morris moved in with a woman in Montana to save money, he said.
"Me and Brenda had no discrepancies. It was A-OK. You can't get a better relationship than the one me and Brenda had, and that's why I'm baffled," he said.
He said that after her arrest, he heard rumblings from Stokes' friends at Bellagio that she often said she disliked Jade.
But no one ever said anything to him, Morris said. Had he known, he said, he would have acted.
"If you don't love my baby, you don't love me," he said.
Jade's funeral will be Wednesday.
Morris said it has been difficult to stay positive without his daughter. He has no money, no car and no job, but that doesn't matter much. He worked all of those days in Montana with Jade on his mind, he said.
He remembers Jade doing her homework without anyone asking, singing "the daddy song" to him and refusing candy and soda because "she had sweets last week."
As for Stokes, whom he once loved and whose name is tattooed on his arm?
"There's a thin line between love and hate," he said.
Staff writers Brian Haynes and Francis McCabe contributed to this report. Contact reporter Mike Blasky at mblasky@reviewjournal.com or 702-383-0283.