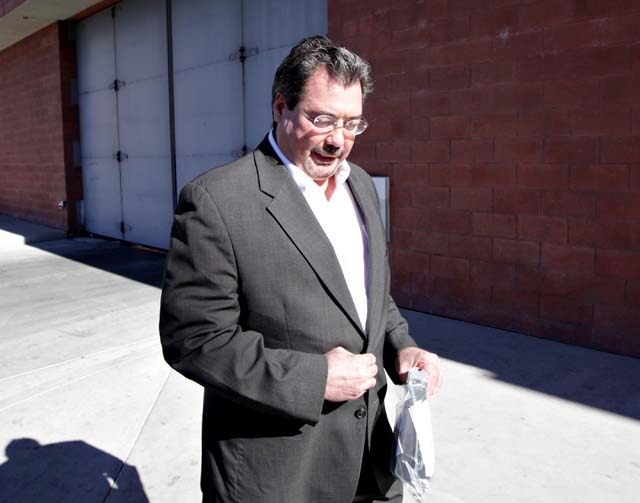 The Las Vegas Township Constable's office is on track to lose nearly $2 million during the first 2½ years of John Bonaventura's leadership, the Review-Journal has learned.
The losses stem from a significant decline in revenues at the office, which have fallen by roughly a third since he was elected in 2010.
If the trend continues, a $7 million surplus built up by Bonaventura's predecessor could be gone by the end of his four-year term.
The deficits are troubling to Clark County officials, who have limited say over spending by elected constables; in recent months, Bonaventura has taken steps to further fend off county oversight of his accounts.
While Bonaventura hasn't touched taxpayer dollars yet — constables collect fees for serving paperwork, garnishing wages and carrying out evictions — his office does pay for several county employees. If the office's account balance drops too far, the county could end up picking up the tab for those employees.
"I am concerned by the trend," County Manager Don Burnette said last week.
Records show that in his first two years, Bonaventura has made some questionable purchases, but the losses stem primarily from a drop in revenues that constables in nearby jurisdictions blame on Bonaventura's outrageous actions.
"In my opinion, Johnny has lost business due to his own faulty business practices," Henderson Township Constable Earl Mitchell said. "The clients that we handle, they have flat-out said they do not want Las Vegas (Township constables) handling their process."
Bonaventura has come under fire for a variety of reasons, ranging from a controversial foray into reality television to hiring deputies with questionable backgrounds. Last week he was arrested by Nevada Highway Patrol troopers on suspicion of driving under the influence of alcohol. He disputes that he was over the legal limit for driving and claims the arrest was a "set up" by his critics in county government.
Bonaventura, in an email, said he estimates that other constables encroaching into Las Vegas are responsible for $1 million in losses.
"Just last week one of the deputies had three writs to serve at the Bank of America and discovered that the Henderson constable had just served over (a) hundred just minutes before the deputy arrived," Bonaventura wrote.
The constable's office was a moneymaker.
When Robert "Bobby G." Gronauer became constable in 1999, following nearly a decade of turmoil in the office, it was a money-losing venture. But by 2002, the office was generating a $500,000 annual profit.
Because the office is an enterprise fund, meaning it's not part of the county's general fund budget, that money piled up and could be used largely at the constable's discretion. Gronauer, a former Las Vegas police sergeant, equipped his deputies with handguns, for example. But the county comptroller could refuse to clear expenses that didn't have anything to do with official constable duties. Bonaventura has recently taken steps, which are apparently legal, to prevent those checks on his expenditures.
By the end of Gronauer's second and final term the office was roughly $7 million in the black, though county officials took $2 million of that to help subsidize depleted county coffers soon after Bonaventura took office.
The surplus has continued to dwindle, county figures show. By the end of the 2011 fiscal year, which included the last six months of Gronauer's term, the office had lost more than $500,000. The next fiscal year it lost more than $940,000, dropping the surplus to $3.8 million.
The office is on pace to lose roughly $600,000 this year.
Bonaventura, with the approval of county officials, has spent more than $46,000 on Tasers and Taser accessories for his deputies. Gronauer's deputies were not equipped that way.
Bonaventura has also spent more than $30,000 to send deputies to a police academy sponsored by his office and run by his right-hand man, Jason Watkins, who is the office's chief operating officer. The Las Vegas Law Enforcement Academy is approved by the Nevada Commission on Peace Officers' Standards and Training. Bonaventura says neither he nor his friends make money from the venture.
"We haven't made a nickel off of the Academy," Bonaventura wrote. "All the money goes to pay for the operation of the Academy, if there is any money left over it stays in the Academy."
Bonaventura has also paid legal expenses related to attempts to prevent the constable's office from losing business, suing counterparts in Laughlin and Henderson for encroaching on his territory and taking his profits.
The lawsuit is pending before the Nevada Supreme Court. Bonaventura says the other constables are still encroaching on his territory.
"We get reports all the time when the deputies are out in the field," Bona­ventura wrote.
Mitchell, the Henderson constable, says his deputies do have the legal right to serve papers outside their jurisdiction, comparing it to Henderson police being able to pull people over or respond to crime scenes in the jurisdiction of the Metropolitan Police Department. He said his office does not carry out evictions outside of Henderson.
And private lawyers and others have the right to choose who serves their papers, Mitchell said, adding that he's never actively sought law firm accounts previously handled by Las Vegas constables.
"We have not gone out and solicited from Las Vegas or anything else," he said. "Anything we get, people have come to us."
He said his office has seen a steady increase in revenue since Bonaventura was elected.
Bonaventura said that unlike his counterparts, his office doesn't accept services in other townships.
"We turn them away and comply with the law," he wrote.
The Las Vegas constable's office is not just losing money — its very existence is being threatened. Driven by Bona­ventura's actions, County Commissioner Chris Giunchigliani has asked for an ordinance change that would abolish the office.
The change could be discussed Tuesday, but commissioners won't have the chance to vote on it until later. A public hearing is scheduled for the board's March 19 meeting. If commissioners choose to make the change, the constable's office would be abolished at the end of Bonaventura's term, at 11:59 p.m. on Jan. 4, 2015. Las Vegas police could end up assuming some of the constable's duties.
Contact reporter Lawrence Mower at lmower@reviewjournal.com or 702-405-9781.