Former Las Vegas City Councilman Ricki Barlow sentenced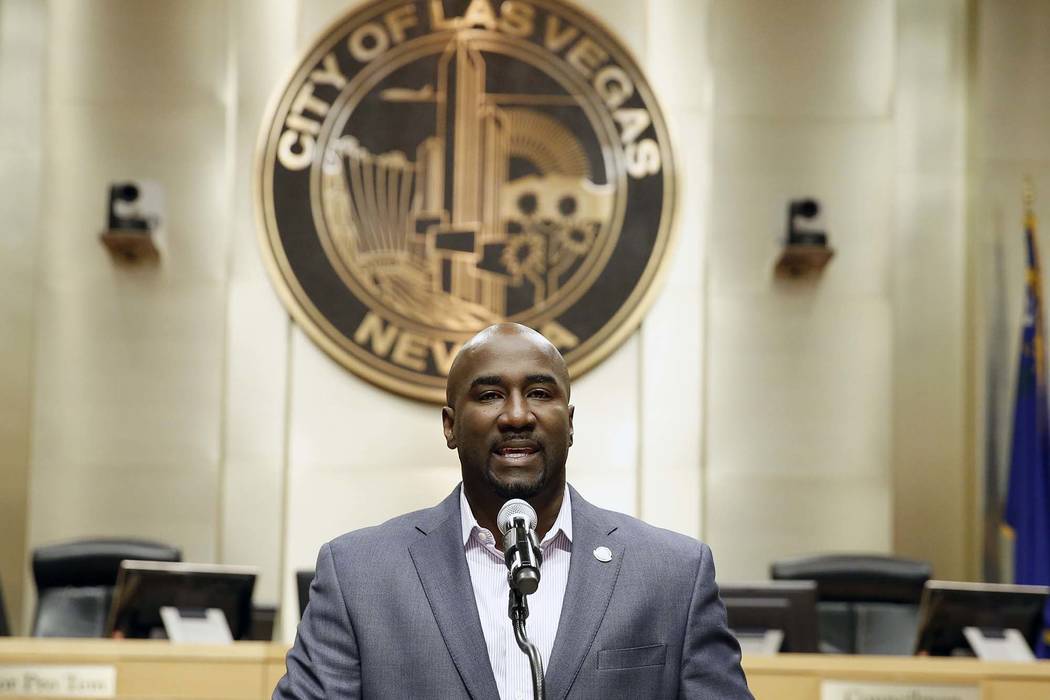 Former Las Vegas City Councilman Ricki Barlow was sentenced Friday to one month in prison, three months in a halfway house and eight months of home detention after pleading guilty to a felony wire fraud charge for misusing campaign funds in 2015.
After a three-hour hearing Friday where more than 30 people pleaded for leniency on Barlow's behalf, U.S. District Judge Andrew Gordon sentenced Barlow to the split 12-month term, with three years' supervised release.
"I hurt a lot of people," Barlow said in court.
"As a leader of this community, I have a lot of making up to do," Barlow said. "I accept that and I accept the judgment of this court."
Barlow in January resigned his seat representing Ward 5 on the Las Vegas City Council, and admitted to misappropriating campaign funds for his personal use during his 2015 re-election bid.
According to Barlow's plea agreement, he admitted to stealing $49,125 from his 2015 re-election campaign through kickbacks from campaign vendors. He admitted to accepting another $17,000 in cash campaign contributions that he never reported to his campaign treasurer, and that he diverted for his personal use. Barlow has agreed to pay back roughly $66,000 in restitution.
Barlow looked straight ahead while his supporters spoke on his behalf, at times drying his eyes with a tissue.
"I ask that you not take him out of his home for the sake of his children, for the sake of his community," said Barlow's friend, Selena Harvey.
Barlow, 46, held a news conference in City Council chambers to announce his resignation, where he said he was "deeply ashamed" of his conduct. He was in the middle of his third and final term on the council.
"I would rather see you back into the community quickly," Gordon told Barlow, adding that he thought the sentence needed to include some incarceration.
Barlow's attorney, Richard Wright, declined to comment after the sentencing. Barlow, through Wright, also declined comment after the sentencing.
Barlow must self-surrender by noon on Sept. 14. During Barlow's three-month sentence to a halfway house, he will be able to leave to work, go to church or for family obligations, Gordon said.
The Las Vegas Review-Journal reported in September 2016 that the FBI was investigating Barlow for accepting kickbacks for directing campaign dollars to consultants. FBI agents raided Barlow's home and issued subpoenas for financial records.
Gordon said he considered Barlow's public service, lack of a past record and the outpouring of support in the courtroom and in letters when he determined the sentence.
Barlow's family members, friends, supporters and former City Council colleagues pleaded with Gordon not to sentence Barlow to prison time.
Las Vegas Councilman Bob Coffin referred to Barlow as "Councilman Barlow." Coffin sat next to Barlow on the council dais and their offices neighbored one another in City Hall.
"In my mind, he always will be," Coffin said.
Barlow's brother Gregg said he and his siblings were raised to take responsibility for wrongdoing.
"That embarrassment is great because we are a family of leaders and we all feel it," Barlow said. "No one has beat him up more than himself."
Cedric Crear, who had been on the Las Vegas Planning Commission and the Nevada System of Higher Education Board of Regents, won a March special election to succeed Barlow on the Las Vegas City Council.
Contact Jamie Munks at jmunks@reviewjournal.com or 702-383-0340. Follow @Journo_Jamie_ on Twitter.