Henry Ruggs gets new preliminary hearing date in fatal DUI case
Updated February 27, 2023 - 3:58 pm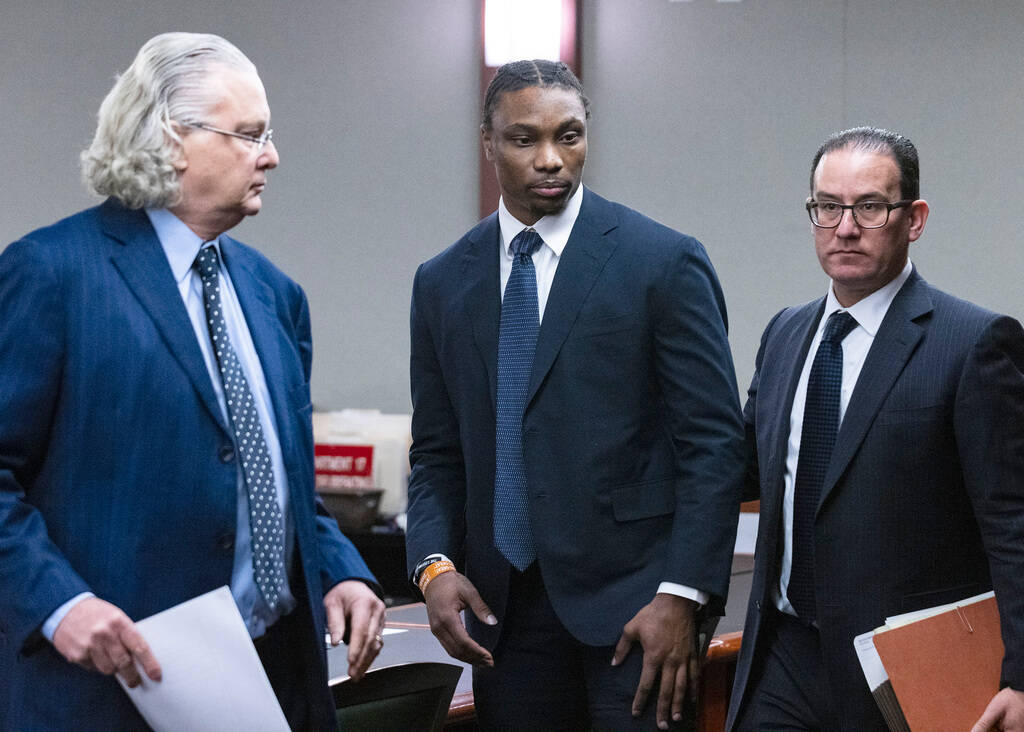 A Las Vegas judge has set another preliminary hearing date for former Raiders player Henry Ruggs, who is facing DUI charges in connection with a deadly crash.
Justice of the Peace Harmony Letizia is expected to hear testimony on May 4 and decide whether prosecutors have enough evidence for Ruggs to stand trial. He is charged in a November 2021 fiery crash that killed 23-year-old Tina Tintor.
Last week, Justice of the Peace Joe Bonaventure recused himself and stated he was concerned about presiding over proceedings because of comments he made about the case while running for office.
David Chesnoff, one of Ruggs' defense attorneys, said the defense team objected to the recusal, in part because he said Bonaventure failed to adequately explain why he could not oversee the proceedings. He also said the defense attorneys did not know Bonaventure was going to recuse himself at the prior hearing.
"We expected him to be the judge and are confused about how he agreed to be the judge if he was going to recuse himself," he said.
Chief Deputy District Attorney Eric Bauman said Monday that he wants the case to move forward.
"The state is eager and ready to get this case moving in whatever courtroom we're assigned," he said.
Bonaventure had presided over Ruggs' initial court appearance, during which he set $150,000 bail. The case was then overseen by Justice of the Peace Ann Zimmerman, who presided over the DUI specialty court.
Ruggs' attorneys argued that he was being "singled out" when Zimmerman moved to continue overseeing the case even though Bonaventure took over the specialty court during routine judicial reassignments.
District Judge Jennifer Schwartz had ordered the case be moved back to Bonaventure's department. She noted in the order that the case should be transferred to Letizia's department if there was not a DUI specialty court to preside over it.
Chesnoff said the defense team intends to once again push for the results of Ruggs' blood alcohol test to be excluded from evidence. Defense attorneys have previously argued that police didn't have probable cause to ask a judge for a warrant to obtain Ruggs' blood, but Zimmerman ruled in July that the results would be allowed as evidence.
Ruggs is accused of driving up to 156 mph seconds before the fatal crash in a residential area near Rainbow Boulevard and Spring Valley Parkway. Prosecutors have said that after the crash, his blood alcohol level was 0.16 percent, twice the legal limit for drivers in Nevada.
He has been charged with DUI resulting in death, DUI resulting in substantial bodily harm, two counts of reckless driving resulting in death or substantial bodily harm and a misdemeanor count of possession of a firearm while under the influence.
Contact Katelyn Newberg at knewberg@reviewjournal.com or 702-383-0240. Follow @k_newberg on Twitter.