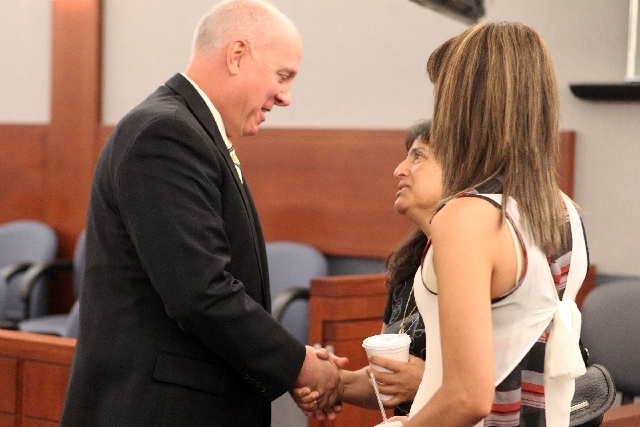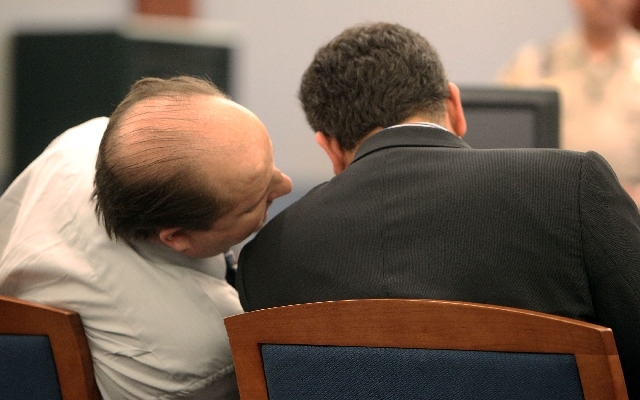 Gregory Hover soon will become the 84th resident of Nevada's death row.
A jury decided on Friday that Hover, 41, should be executed for killing two people in 2010 during a crime spree that also involved rape and robbery.
"We felt that justice needed to be served and that this penalty was the only justice that would have been suitable for the crimes," jury forewoman Judy Burrell said.
During a penalty hearing this week, prosecutors described Hover as a racist who took pleasure in the suffering of his Hispanic victims. Defense lawyers said Hover had endured abuse as a child in Oklahoma but lived a normal life as a husband and father in Las Vegas before turning violent.
Hover was employed as a process server when he kidnapped 21-year-old Prisma Contreras from a parking lot on East Tropicana Avenue. He proceeded to rape, stab and strangle her.
The young mother's body was found in a burned-out car south of Boulder City on Jan. 15, 2010.
Hover also was convicted of fatally shooting 64-year-old Julio Romero during a robbery on Jan. 25, 2010.
Authorities said Hover, who worked for Junes Legal Service, had visited Romero's home to serve legal papers. Early the next morning, Hover forced his way into the home, killed Romero and shot Romero's wife, Roberta, who survived.
The jury deliberated more than four hours before reaching a decision on Hover's punishment. The defendant did not react when his sentence was announced.
Also sitting in the courtroom were Contreras' mother, Josefina, and older sister, Denise Espitia.
"I'm just glad that it all turned out how we wanted, finally," Espitia later said.
The woman, who testified during the penalty hearing, said Hover is "getting what he deserves."
Espitia said she and her mother couldn't be with Contreras when she died, but they wanted to be in court "just so she knows we were with her till the last moment, fighting for her justice and for the other victims, too."
Defense attorney Christopher Oram declined to comment on the death sentence other than to say he planned to appeal it. Oram had argued that a life sentence would be the worst punishment for Hover, a small man who likely would be preyed upon by other prisoners.
Hover was convicted of a total of 31 counts in the case, including the two counts of first-degree murder with a deadly weapon that led to his death sentence.
Chief Deputy District Attorney Marc DiGiacomo said the penalty "reflected the severity of the crime and the impact upon the victims and their families."
"When it comes to murder cases, there are certain cases that have unmitigated evil, and this definitely is one of the worst people I've had to prosecute," he said.
In March 2010, after his arrest, Hover used a pair of scissors to slash the back of his cellmate, Marcos Ramirez, at the Clark County Detention Center. Hover had been given the scissors to cut Ramirez's hair.
Hover also has made two suicide attempts at the jail.
The defendant made a tearful statement to the jury on Thursday, but Burrell said she saw no signs that his violent behavior would end.
"I saw no remorse," she said.
In order to impose a death sentence, jurors had to find that aggravating circumstances in the case outweighed any mitigators.
One defense argument was that Hover's adult son and daughter, who testified on his behalf during the penalty hearing, would suffer after his execution.
"My heart just goes out to the victims, and that's including his son and daughter, because there were way more victims than were just noted in the court," Burrell said.
Hover's co-defendant, 22-year-old Richard Freeman Jr., escaped the possibility of a death sentence by pleading guilty in April to two counts of first-degree murder with a deadly weapon for his roles in the Contreras and Romero killings. His sentencing is scheduled for June 26.
DiGiacomo said Freeman acted as Hover's co-conspirator and driver but did not participate in the acts of violence.
Contact reporter Carri Geer Thevenot at cgeer@reviewjournal.com or 702-384-8710.