Judge splits decision on $3M exchange at Las Vegas poker table
October 16, 2017 - 5:31 pm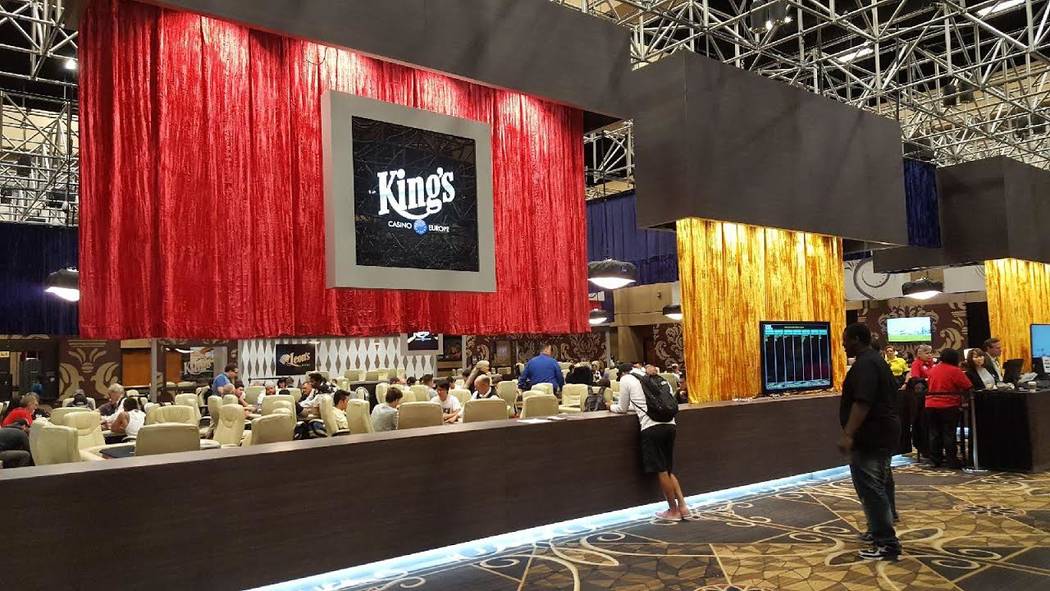 Lawyers for a poker player who exchanged $3 million in a high stakes game at Aria said Monday that they're still going after the money that wasn't returned despite a ruling that the transaction amounted to an unenforceable gambling debt.
District Judge Linda Marie Bell threw out eight of 10 claims from a June lawsuit over the riches, but decided that Australian Matthew Kirk could still pursue the money he believes Czech casino owner and entrepreneur Leon Tsoukernik owes him, along with potential punitive damages, on accusations known as fraudulent inducement and unjust enrichment.
The judge ruled that gambling debts are not enforceable and "whether in the form of casino chips, cash, or gold bars, Mr. Tsoukernik received a loan for wagering against Mr. Kirk."
Bell's order was made public less than a week before Thursday's start of the World Series of Poker Europe, held this year at Tsoukernik's King's Casino in Rozvadov, Czech Republic.
But the judge also pointed out that "Tsoukernik entered into the contract intending to use its unenforceability to refuse repayment. If proven, this could place Mr. Tsoukernik at the greatest moral fault in this matter."
Tsoukernik initially repaid Kirk $1 million, but refused to return the rest.
Kirk's lawyers, David Chesnoff and Richard Schonfeld, plan to focus their pursuit of the cash on those two claims.
"We're pleased with the court's ruling that we are able to maintain our lawsuit and seek damages from the defendant," Schonfeld said.
Before the two prominent poker figures squared up for a one-on-one poker match in the early morning hours of May 27, Kirk pushed chips in various denominations across the felt to Tsoukernik. At least two other people were at the table in the high-stakes Ivey Room while the exchange occurred, according to video surveillance of the game.
The two had been in Las Vegas for the start of the World Series of Poker, and Tsoukernik's presence helped promote his own high stakes room at Rio throughout the summer, while encouraging poker players to participate in the European leg of the tour.
About 12 minutes after sending text messages to confirm that he received the last million, Tsoukernik appeared to indicate he wouldn't pay the money back, according to court papers.
A day earlier, Kirk had lost a poker match to Tsoukernik and paid him $1.5 million, according to the original lawsuit.
Tsoukernik went on to win $1.8 million in the Aria's Super High Roller Bowl tournament later that month, and he paid Kirk $1 million. But through his Las Vegas lawyer, Peter Bernhard, Tsoukernik argued that he did not return the rest because it was an unenforceable gambling debt.
Bernhard had argued, in court papers, that the fraudulent inducement and unjust enrichment claims should have been tossed along with the unenforceable gambling debt.
"The alleged gaming debts 'are void and unenforceable and do not give rise to any administrative or civil action,'" he wrote.
In response to the judge's recent decision, Bernhard said: "my client intends to defend vigorously the two remaining claims and to pursue claims of his own as well."
Lawyers for Kirk, who won nearly $1 million in a single pot against California businessman Bill Klein during a separate televised game at Aria in August, argued that the money exchanged in May was a loan, or a business deal.
Tsoukernik, who has more than $2.6 million in tournament earnings, has since played various poker tournaments, including the in the World Series of Poker's $50,000 buy-in Poker Players Championship event at the Rio in July.
Contact David Ferrara at dferrara@reviewjournal.com or 702-380-1039. Follow @randompoker on Twitter.