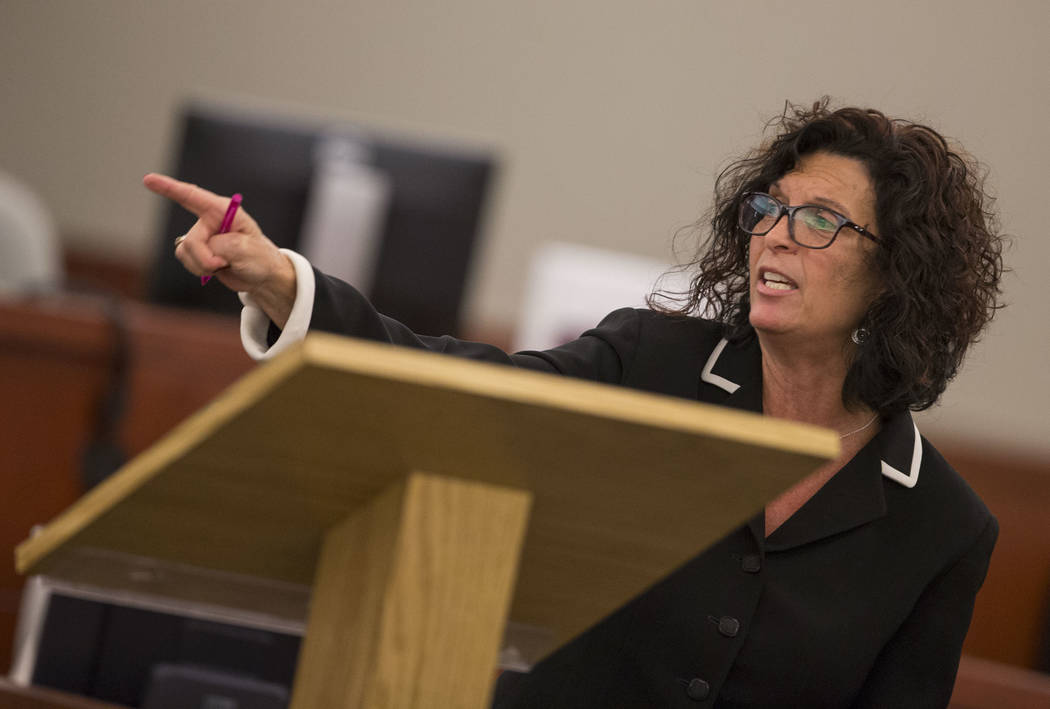 Prosecutors argued Friday that Binh "Ben" Chung took advantage of close relationships and his position as a Las Vegas doctor with a well-established practice to drug and rape patients, including a woman he had known for years.
Chief Deputy District Attorney Alex Chen told jurors during closing arguments that the doctor committed some of the crimes in his southwest valley office, making sure no one else knew what was happening behind closed doors.
But Chung's attorney, Christopher Oram, argued that the doctor had a consensual affair with one of the women and videotaped his sexual fantasy, and that he never molested a teen girl prosecutors said was in another video.
Prosecutors said Chung, 43, used ketamine to knock the women out. Oram attacked prosecutors for not including testimony about Chung's medical procedures.
"Where's their expert?" Oram asked. "Why didn't they call a doctor? They couldn't call anyone to say what he had done in his procedures was wrong. They couldn't call a doctor to say that Ben Chung, what he had done, was even negligent."
Jurors deliberated the case for about four hours Friday and are expected to resume their discussions Monday morning. Chung faces 14 counts, including use of a minor in the production of pornography, kidnapping, lewdness, battery with intent to commit sexual assault, and four counts of sexual assault.
On Thursday, the defendant testified that he had been acting out a "Sleeping Beauty fetish" with one of the women, who had consented to the encounter.
Prosecutors attacked that defense, saying three women and a teenage girl were assaulted and groped in Chung's southwest valley office at Sundance Medical Center.
"He found a sexual fetish while tooling around online alright, but it had nothing to do with Sleeping Beauty," said Chief Deputy District Attorney Lisa Luzaich, who told jurors that Chung "is no Prince Charming."
In April 2015, Chung's then-wife, Brenda Wong, discovered video recordings of the acts that occurred inside her husband's office, she testified last week.
Wong said she and others contacted authorities after she realized that one woman in the videos, a family friend, was unconscious.
Videos of the rapes "do not in any way, shape or form portray what the defendant wants you to believe they portray," Luzaich said.
Oram compared the fantasy of having sex with sleeping women to other fetishes, which are not illegal.
"If you've seen pictures of bondage, it looks quite horrific," he said, arguing that "just because it's not conventional doesn't make it rape."
Chung remains in custody at the Clark County Detention Center, and his medical license has been suspended indefinitely.
Contact David Ferrara at dferrara@reviewjournal.com or 702-380-1039. Follow @randompoker on Twitter.
Closing arguments
Prosecutors say Binh "Ben" Chung drugged and raped his patients, including one woman he had known for years who considered him a close family friend. Until videos surfaces of his attacks, prosecutors said Friday, the women did not know what had happened to them.
During closing arguments, Chief Deputy District Attorney Alex Chen quoted from a song playing on one of the videos: "I saw love disfigure me into something I am not recognizing."
Related
Doctor accused of drugging, raping patients claims 'Sleeping Beauty fetish'
Trial opens for Las Vegas doctor accused of drugging, raping patients
Doctor facing sex charges posts $1M bail
Judge lowers bail for Las Vegas doctor facing sex charges
Prosecutors accuse Vegas doctor of rape, reveal 11 new victims