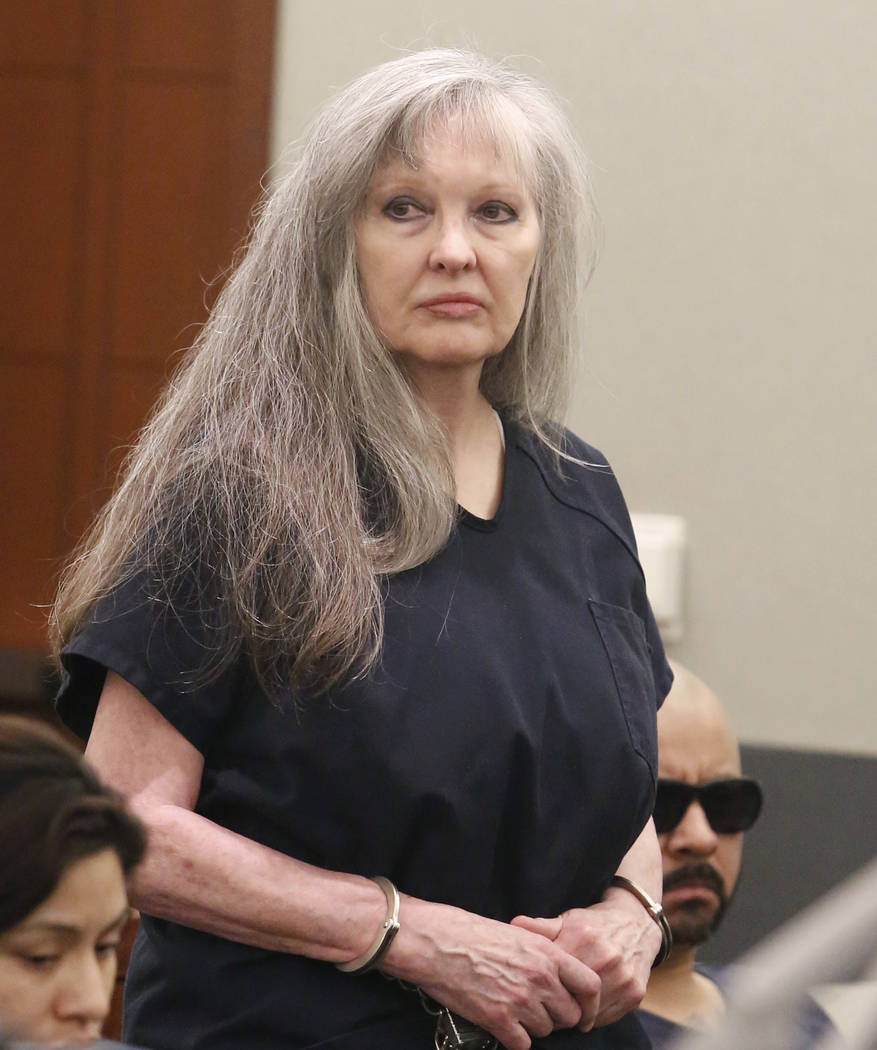 A 69-year-old woman whose attempted murder conviction was reversed must undergo a mental health evaluation, a judge ruled Wednesday.
After the Nevada Supreme Court reversed Linda Cooney's conviction earlier this year, her attorneys Michael Becker and Michael Castillo asked a judge to release her on her own recognizance.
Without a conviction, Cooney is "cloaked in the presumption of innocence," Castillo told District Judge Kenneth Cory.
But prosecutors Marc DiGiacomo and Shanon Clowers argued that Cooney, who shot and paralyzed her son using the same gun she killed her husband with 20 years prior, is a dangerous person with a mental illness and should be held on $400,000 bail. Prosecutors cited several letters Cooney had written from prison.
Cory said he wanted to review a mental health evaluation before deciding on bail.
The state high court ruled in March that jurors should not have been allowed to hear evidence that Cooney's son was shot in the neck with the same gun she used to kill her husband. Cooney was acquitted in the death of her husband after a Florida jury found she acted in self-defense.
A jury convicted Cooney in 2014 of attempted murder and other charges in the shooting of her son, and she was sentenced to 13 to 41 years behind bars.
Cooney claimed the .357 Magnum gunshot wound to Kevin Cooney's neck on June 28, 2011, was his own doing. It was the same gun she used to fatally shoot Jim Cooney in 1992.
The defendant also was found guilty of battery with a deadly weapon and intimidating a witness. In addition, she was convicted of stalking Kevin Cooney's then-girlfriend.
Prosecutors said she shot her son because she did not want to lose him to his developing relationship.
Kevin Cooney testified during his mother's trial that he attacked her after she meddled in the affairs of his then-girlfriend. He said that in the struggle with his mother, he pulled the revolver from her hands. The 6-foot-9-inch former bouncer said he then lifted the gun above his head and was pointing it toward himself at a downward angle when it discharged.
Contact David Ferrara at dferrara@reviewjournal.com or 702-380-1039. Follow @randompoker on Twitter.
Mental health evaluation
Linda Cooney must undergo a mental health evaluation before a judge decides on her bail.
"They're asking for Draconian conditions of release," her attorney Michael Castillo said of prosecutors.