Lawsuit against Dana White in sex-tape case dismissed
Updated October 7, 2020 - 5:18 pm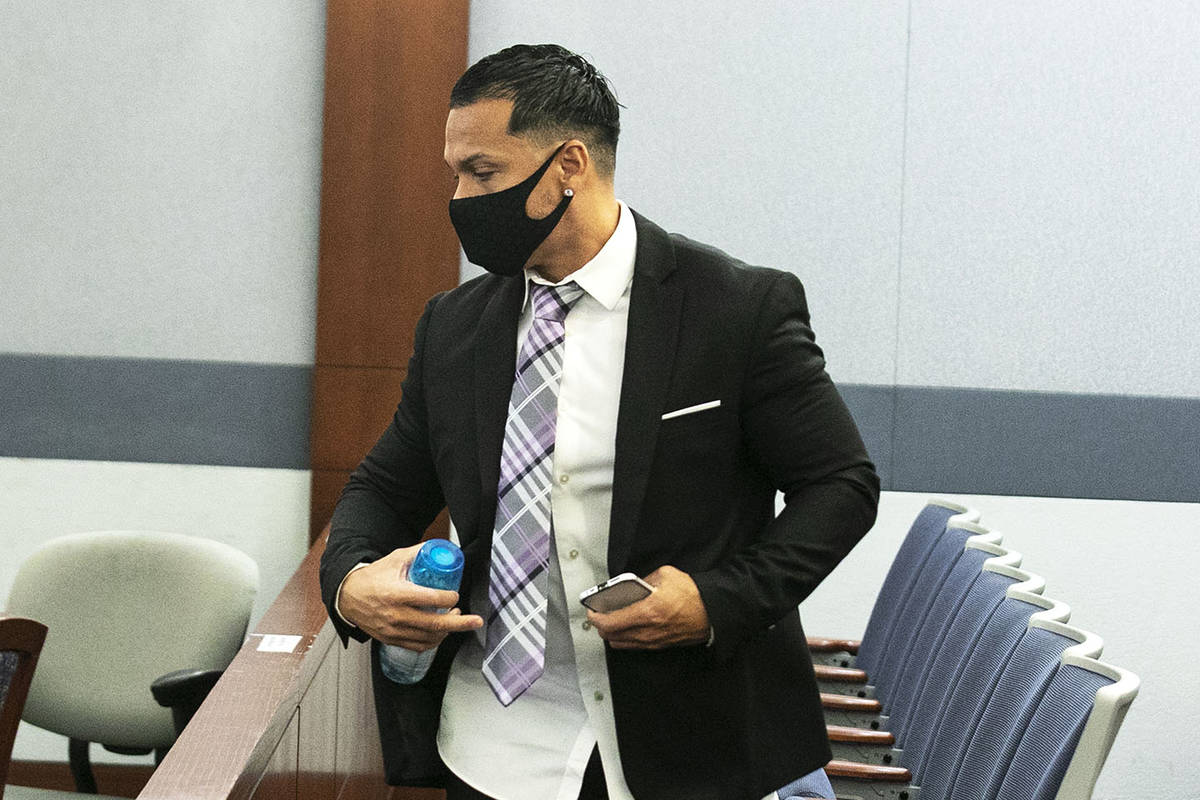 A Clark County judge Wednesday dismissed a lawsuit against UFC President Dana White filed by the man convicted of trying to extort him in a sex-tape scandal.
The suit, filed by Ernesto Joshua Ramos, accused White of breaking a deal to pay him $450,000 to keep White's name secret after the criminal case closed.
Ramos, 43, a real estate agent and personal trainer, served less than a year in prison for the $200,000 extortion attempt that was secretly recorded by the FBI with White's cooperation.
White's lawyers filed court papers last month seeking to dismiss the suit, calling it a "smear" effort and new attempt to extort money from White through the civil court system.
The FBI alleged that Ramos sought the original $200,000 in return for not making public a videotape of the wealthy businessman having sex with a Las Vegas stripper during a secret rendezvous in Brazil. The stripper, who taped the encounter with her cellphone, was Ramos' live-in girlfriend at the time.
District Judge David Jones ruled from the bench following an hourlong hearing Wednesday that Ramos did not have a legal post-conviction contract with White to receive the $450,000 and tossed out the suit against both White and co-defendant UFC.
Attorney Ian Christopherson, who is representing Ramos, said afterward that the judge was wrong and that he would appeal the decision to the Nevada Supreme Court.
"He was clearly in error that there is no cause of action for any breach of a mediation contract as a matter of law," Christopherson said.
Ramos later issued a written statement critical of the judge.
"Taking one side at their word while brushing off the other, (especially when we have discovery), doesn't seem fair," he wrote. "In fact, Judge Jones claims to be running his campaign for re-election as a Judge who believes in 'equal and fair justice for all. Doesn't seem to be the case with this matter."
"So, It's my right under the Constitution, and I can do what I feel is right for me and my family, to now proceed further to the Supreme Court."
Jones sided with White's attorney Colby Williams, who argued that there was "no meeting of the minds" between White and Ramos and that Ramos never accepted the $450,000 that had been offered.
Both Williams and White's lead lawyer, Don Campbell, declined to comment after the hearing.
White, who was out of the country, could not be reached for comment.
Ramos revealed White as the victim in the extortion attempt when he filed the suit in April. White's name had remained confidential during several years of criminal proceedings against Ramos.
White, 51, who has national political connections, runs the Las Vegas-based Ultimate Fighting Championship, the largest mixed martial arts organization in the world.
Christopherson argued in court Wednesday that White left open the possibility of a monetary agreement with Ramos to "silence" him, while high-powered negotiations were taking place to sell the UFC for $4 billion.
The deal became public in July 2016, several days after Ramos was sentenced to prison. White, who was not the UFC's majority owner, earned millions of dollars in the sale and remained the organization's president.
Williams told the judge Wednesday that there was no connection between the UFC sale and any payment talks with Ramos.
Early in the criminal case against Ramos, a federal magistrate judge signed an unusual protective order prohibiting disclosure of White's name — or even his initials or company – in any public filings.
The case, first reported by the Review-Journal, stemmed from the October 2014 secret meeting between White and the exotic dancer in Brazil, court records show. White at the time was overseeing a UFC event there.
White, who was married, had been seeing the stripper at Spearmint Rhino in Las Vegas for months, paying her large sums to dance for him, according to court papers. The dancer was not charged, and her identity remains secret.
Contact Jeff German at jgerman@reviewjournal.com or 702-380-4564. Follow @JGermanRJ on Twitter. German is a member of the Review-Journal's investigative team, focusing on reporting that holds leaders and agencies accountable and exposes wrongdoing. Support our journalism.