Man charged in security guard's killing revealed details to cellmate, inmate says
Updated April 14, 2017 - 7:53 pm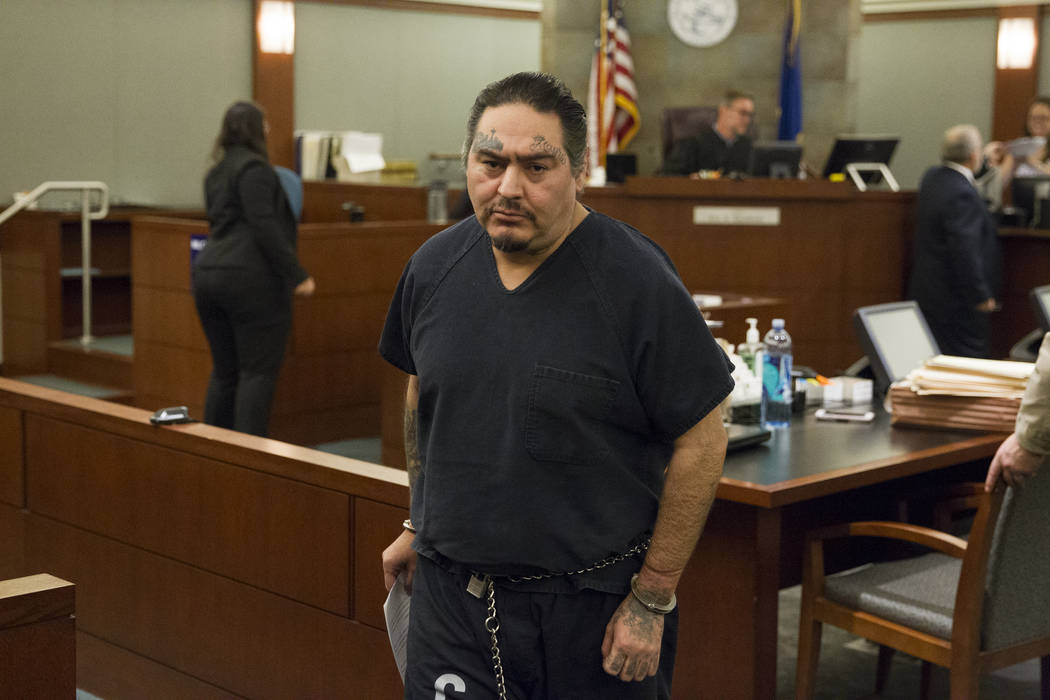 Before being charged with murder, Raymond Padilla revealed details about the slaying of a security guard at a west valley construction site, his former cellmate at the Clark County Detention Center testified Friday.
Jason Baker, awaiting trial on several burglary charges, told Las Vegas Justice of the Peace Eric Goodman that Padilla knew police had surveillance video of his orange Chevrolet Avalanche near the crime scene.
Padilla told Baker a security guard had approached and someone else fired shots, Baker testified.
"He looked at him, and he was dying or dead or done," Baker said. "Then maybe he crawled off, or was trying to."
Mark Santee, 48, was shot several times at the construction site for the Elysian West apartment complex, 5175 S. Jerry Tarkanian Way, while trying to thwart a robbery in late April 2016.
At least three large televisions were stolen from a room close to where Santee was found, and defensive wounds suggest Santee was in a fight just before he was shot, police have said.
On cross-examination, defense attorney Monique McNeill asked Baker whether he would have told prosecutors about Padilla's confession if he did not expect a benefit for his own case.
"There's some moral issues involved, obviously," he said. "But I would be lying if I told you I wasn't looking to help myself."
Padilla was being held at the jail on a charge of possession of a gun by a prohibited person when he shared a cell with Baker. Police had already suspected that he was tied to the killing and linked him to the murder weapon, a 9mm Taurus handgun, according to homicide detective Clifford Mogg.
Phone records also placed Padilla in the area of Russell Road and the 215 Beltway the night of the slaying, and casings collected at the scene were determined to have been fired from a gun Padilla's girlfriend purchased in October 2015.
When interviewed by detectives, Padilla denied any knowledge of Santee's slaying but said, "If my truck was there and my phone was there, then you already have me."
Investigators believe that at least three other people were involved in the slaying, Mogg testified.
It's unclear whether Padilla, who faces one count each of murder, burglary and robbery, along with conspiracy charges, was the shooter.
Goodman decided Friday that prosecutors have enough evidence against Padilla to take the case to a jury.
Contact David Ferrara at dferrara@reviewjournal.com or 702-380-1039. Follow @randompoker on Twitter.
RELATED
Daughter remembers father killed in April construction site shooting