Man who shot Vegas police officer sentenced to prison
Updated April 29, 2022 - 5:49 pm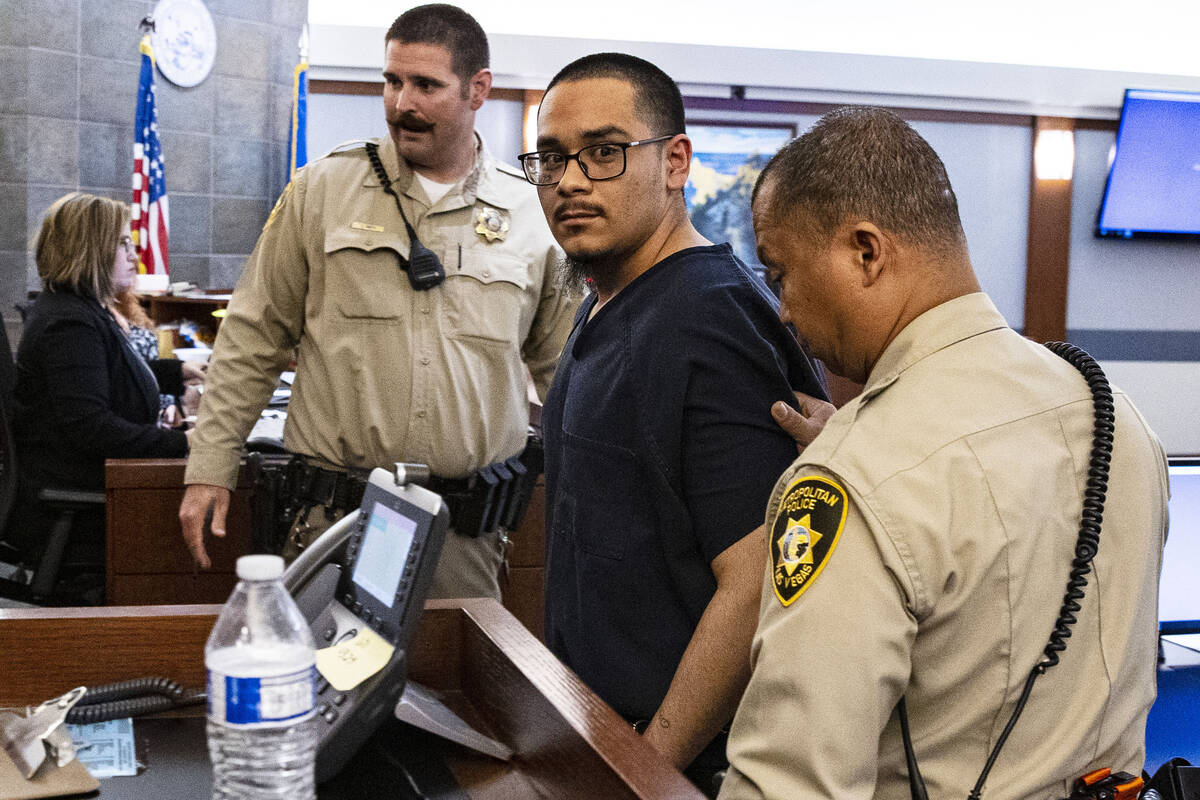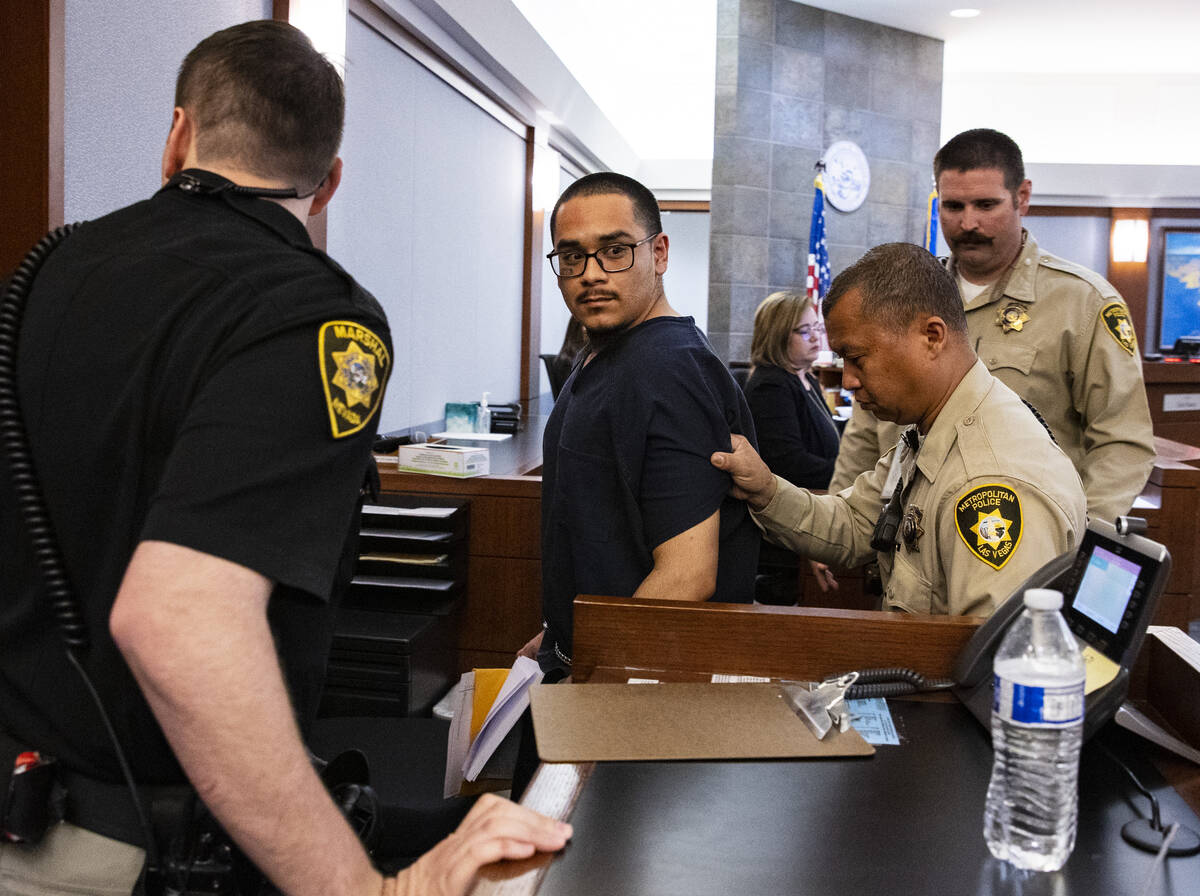 The sound of Shay Mikalonis' medical equipment echoed throughout a packed courtroom Friday, as family and members of law enforcement watched the sentencing hearing for the man who shot the former Las Vegas police officer.
District Judge Carli Kierny sentenced 21-year-old Edgar Samaniego to between 20 and 50 years in prison for shooting Mikalonis in June 2020, paralyzing the Metropolitan Police Department officer from the neck down. In November, Samaniego pleaded guilty to attempted murder with a deadly weapon, battery with a deadly weapon resulting in substantial bodily harm, three counts of assault with a deadly weapon, discharging a firearm where a person might be endangered and two counts of discharging a firearm from or within a structure.
Mikalonis, who requires 24-hour medical care and breathes with the assistance of a ventilator, spent months in a rehabilitation center after the shooting before returning to Las Vegas last spring. He sat in the courtroom Friday to listen to the hearing, although his family said he is unable to speak long enough to address the judge.
"It was his decision to come; he's been waiting for this for a long time," Mikalonis' stepfather, Patrick Neville, told reporters following the hearing. "There has to be some closure to what occurred to him that night."
Kierny grew emotional before sentencing Samaniego.
"Officer Mikalonis was only doing his job; there was no reason for this to happen," Kierny said, raising her voice as she added: "And he didn't deserve this."
Shooter has no memory
Mikalonis was shot June 1, 2020, as he was handcuffing someone outside of Circus Circus during a Black Lives Matter demonstration.
Authorities have said that Samaniego had not been participating in the protests, several of which had taken place in Las Vegas in summer 2020 and were sparked by the killing of George Floyd by a Minneapolis police officer.
Samaniego admitted to firing at least three more shots from the Travelodge, a motel across the street from Circus Circus, after he shot Mikalonis.
Before he was sentenced Friday, Samaniego told the judge that he grew up in an abusive household and began using drugs at a young age. He began using drugs again in March 2020 following a death of a close friend, and was arrested for the first time in April 2020 on DUI and drug possession charges.
Samaniego said that on June 1, 2020, he had blacked out after taking Xanax, and woke up in jail with no memory of the shooting.
"There is never a day I do not think about how (Mikalonis) is doing," Samaniego said. "I'm hoping to have the chance to tell him I am sorry for what he has to go through every day."
Since Samaniego's June 2020 arrest, he has faced battery by a prisoner charges in two cases. The latest charge was filed this month, on April 14, court records show. Further information about the case was not immediately available.
Following the hearing, Garrett Ogata, Samaniego's defense attorney, said he thought Kierny's sentence was fair.
Ogata had told the judge that Samaniego did not intend to shoot Mikalonis, and surveillance footage showed him without his glasses when the shots rang out.
But Ogata also said that Samaniego has "extreme guilt" for the shooting.
"His remorse was there, and he wanted to take responsibility early, which he did," Ogata told the judge. "He knows that there is going to be prison time."
Support for Shay
Mikalonis' family members said now that he is home in Las Vegas, he needs constant care and cannot move, breathe or eat on his own.
"Stripped of his dignity, independence, motivation and purpose in life, his world has become so small," Mikalonis' mother, Sharon Neville, told the judge.
Patrick Neville said that he listened to Samaniego's remorse, but that he agreed with the lengthy sentence. Now that the criminal proceedings are over, Patrick Neville said his family would like to move on and attempt to give Mikalonis a normal life.
He said Mikalonis and his family appreciated seeing the supporters who attended Friday's hearing.
"It was really positive for Shay to see that he still has a lot of support from this community," Patrick Neville said. "This community has been very good at supporting Shay. He's not been forgotten."
Contact Katelyn Newberg at knewberg@reviewjournal.com or 702-383-0240. Follow @k_newberg on Twitter.