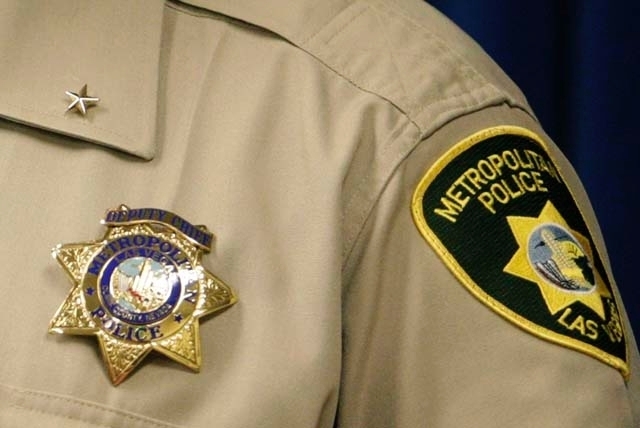 A veteran Las Vegas police officer faces five misdemeanor counts of soliciting prostitution following a nine-month investigation by intelligence detectives.
Peter Connell, 56, was issued a summons to appear on July 1 before Las Vegas Justice of the Peace William Kephart, court records show.
The 25-page summons says Connell, between February and April, solicited oral sex, for about $20 to $40, at least five times from a 57-year-old woman with a history of prostitution-related arrests.
Connell, who was previously fired by the police department but reinstated following an arbiter's ruling in 2011, has been relieved of duty with pay pending the outcome of the case, a police spokeswoman said.
Connell, who has mostly worked patrol in the South Central Area Command, was terminated following an investigation of solicitation of sex from women.
The 13-year veteran came under suspicion again in October, when he was spotted talking to a prostitute on Fremont Street, near Las Vegas Boulevard, court documents show.
When Connell was stopped by officers, he identified himself with his badge and explained he was trying to offer the woman a cheesecake.
He was released, but the incident sparked the investigation.
Soon after, vehicles belonging to Connell and his wife were reported in neighborhoods known for prostitution, including west of the Stratosphere, east of the Strip and south of the University of Nevada, Las Vegas.
Finally, Connell was surveilled by detectives frequenting the apartment of Mary Anne Moore on Maryland Parkway, near Hacienda Avenue.
Moore, who went by the name "Sally," lived a minimalist lifestyle. Her furnishings included a couple of chairs, a bed with white sheets, about 15 hand towels, a DVD player, about 100 condoms, two tubes of lubricant and a 100-count box of vinyl gloves, court documents show.
During the surveillance, Moore sometimes received up to nine customers a day, staying as long as an hour or as short as four minutes.
While attending to her customers, Moore would close her blinds as a signal to others waiting, police said.
On at least one occasion, police saw Connell parked outside of her apartment while the blinds were closed.
In May, detectives served a search warrant on Moore's apartment and talked to the woman about Connell.
She said she met him 2009 and Connell would visit her, sometimes in uniform.
Connell once advised Moore if questioned to tell investigators they discussed religion and investigations, which they did, along with the sexual acts, she said.
Moore was not charged.
Contact reporter Francis McCabe at fmccabe@reviewjournal.com or 702-380-1039.