Prosecutors confirm FBI agents posed as film crew in Bunkerville standoff investigation
November 3, 2016 - 11:30 am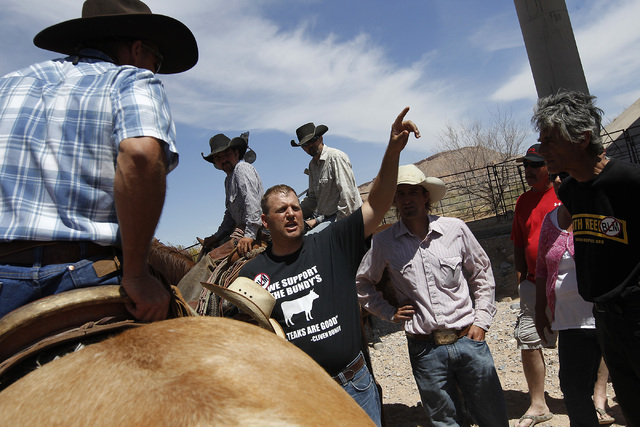 Federal prosecutors confirmed late Wednesday that undercover FBI agents posed as a documentary film crew to gather evidence during their investigation of the April 2014 standoff near Bunkerville.
In court papers, the four prosecutors handling the case, including First Assistant U.S. Attorney Steven Myhre, did not identify the company used in the ruse.
But defense lawyers who have seen FBI reports of the undercover operation have previously said in court documents that the company's name was Longbow Productions.
Several of the 19 defendants charged in the Bunkerville case — including Ammon Bundy, one of the leaders of the alleged assault on Bureau of Land Management officers — were tricked into doing interviews with the undercover agents before they were charged.
Prosecutors revealed the undercover sting in a written response to court papers filed by another defendant, Gregory Burleson, who accused FBI agents of misconduct for giving him liquor during his October 2014 interview at a Phoenix hotel room.
Burleson's defense lawyer, Terrence Jackson, has asked a federal judge to toss out the evidence obtained against Burleson by an undercover Longbow crew, arguing that plying him with alcohol induced him to make incriminating admissions.
But in their court papers Wednesday, prosecutors defended the undercover operation and said Jackson has no evidence of government misconduct.
"As an initial matter, there was no interrogation process," the prosecutors wrote. "Burleson voluntarily met and spoke with undercover agents posing as documentary filmmakers.
"They met in a hotel room under circumstances designed to make Burleson believe that he was participating in a documentary by recounting his experiences at the April 12, 2014, assault."
Prosecutors acknowledged that agents gave Burleson alcohol before and after the interview.
"But that alone fails to establish that Burleson's answers were anything other than coherent, freely given responses to the questions posed," they wrote. "Burleson cannot establish any coercive police activity was used to elicit his statement given the context of the undercover operation or that the officers prevented Burleson from walking away from the conversation at any time."
His answers were consistent with other statements he made to law enforcement and on social media, prosecutors said.
Burleson, who maintains that he is now legally blind and suffering from other medical ailments, was a gunman during the Bunkerville confrontation, according to prosecutors. He has been associated with militia groups in Arizona over the years.
Bundy is regarded by prosecutors as one of the leaders of the armed standoff. Last week, he was acquitted with six others by a federal jury in Portland on charges of taking over a government wildlife refuge in Oregon earlier this year. He was being transported Thursday by U.S. marshals to Nevada to face the Bunkerville charges.
His Las Vegas attorney, Dan Hill, told the Las Vegas Review-Journal last month that Bundy was interviewed for several hours in Phoenix by Longbow Productions.
"Ammon has nothing to hide, but this is one of the many troubling actions the government took in this case," Hill said Thursday. "There's something troubling about the FBI posing as a First Amendment journalist outlet to interview suspects in an investigation with no attorney. They would never have gotten a legitimate interview from Ammon."
Eric Parker, whom prosecutors described as a gunman at the Bunkerville standoff, was interviewed by Longbow Productions in Idaho, where he lives.
"It's a little bothersome that they created this ruse," said his attorney, Jess Marchese. "You'd like for them to be aboveboard and upfront and honest that they're agents. But it doesn't necessarily hurt my client as a whole because his recitation of the facts has been consistent from Day One."
Defense lawyer Chris Rasmussen, who represents Peter Santilli in the case, said the undercover operation circumvented the Fifth Amendment right against self-incrimination for some of the defendants, along with their Sixth Amendment right to a fair trial.
It also creates First Amendment issues for the news media, said Rasmussen, whose client, an internet radio talk show host, was not interviewed by Longbow Productions.
"It puts a chill in the air for people who want to report newsworthy events," Rasmussen explained. "This creates a cause for concern for journalists everywhere that their sources can't be confident they're talking to a news agency."
Attorney Brett Whipple, who is defending Bundy's father, Cliven, also was critical of the undercover FBI operation.
"This shows the lengths they're willing to go to target individuals that they believe are challenging the federal government," Whipple said. "I'm very concerned about the use of this ruse to gather this information."
The Bundy patriarch was not interviewed by Longbow Productions.
Contact Jeff German at jgerman@reviewjournal.com or 702-380-4564. Follow @JGermanRJ on Twitter.
Previous coverage
Full coverage of the feud between the Bundy family and BLM
RELATED
Ammon, Ryan Bundy return to Nevada for trial over armed standoff at family ranch