Suspect in shooting of officer Shay Mikalonis must stand trial
Updated August 27, 2020 - 7:13 pm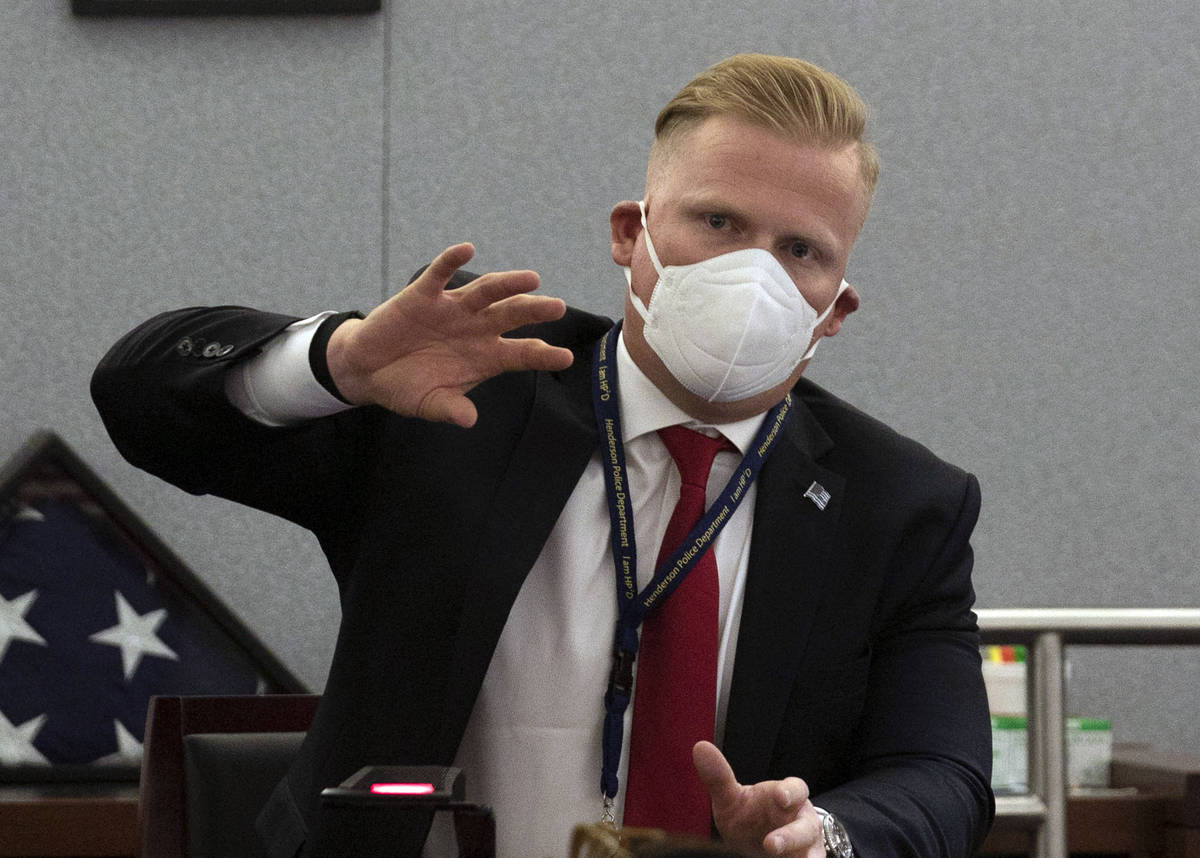 The 20-year-old man accused of shooting and critically wounding Las Vegas police officer Shay Mikalonis at the conclusion of a Black Lives Matter demonstration on the Strip will stand trial, a judge ruled Thursday.
Justice of the Peace Melanie Tobiasson's decision came after roughly seven hours of testimony from more than 10 witnesses during a preliminary hearing. Among the witnesses called to testify were seven SWAT officers who responded to the June 1 shooting outside Circus Circus.
"I guarantee every one of those officers who heard that second shot had visions, or thoughts of, Oct. 1, 2017, where someone is shooting from up above," Tobiasson said, referring to the mass shooting at the Route 91 Harvest music festival, during which a gunman opened fire into the concert grounds from a 32nd-floor suite at Mandalay Bay.
Edgar Samaniego, who is being held at the Clark County Detention Center on $1 million bail, faces charges of attempted murder and battery with a deadly weapon. Prosecutors have said that after the shooting of the officer, Samaniego fired at least three more rounds from the Travelodge, a motel across the street from Circus Circus.
Henderson SWAT officer Eric Nielsen, the first to testify in the case, said "initial intel" indicated that the shot had come from an elevated position.
"I now understand how people feel that have been deployed overseas," he said. "I don't wish that feeling that I had that day upon anybody, my worst enemy, not knowing where a potential threat is."
One by one on Thursday, the seven SWAT officers took the witness stand, painting a picture of a chaotic scene reminiscent of the 2017 mass shooting.
"It is definitely something in the back of your mind, something you think about," Las Vegas SWAT officer Kerry Kubla said.
According to the officers, after Mikalonis had been shot, people were running in every direction, hiding underneath cars. And officers were responding to the shooting with the mindset that "it could possibly be a sniper attack due to to all the buildings around us," said Las Vegas SWAT officer Alex Gonzales.
"We were pretty nervous that someone could have high ground on us," Gonzales added. "We already knew an officer had been shot, but nobody could identify where the shot came from or how many suspects we had."
The testimony from the SWAT officers also set the tone for what prosecutors would later show in court before resting their case: snippets of video footage that captured the suspect's movements from the time he checked into the Travelodge around 9:20 p.m. to when he was taken into custody by SWAT officers about five hours later.
On Thursday afternoon, prosecutors called their final witness: veteran Metropolitan Police Department homicide Detective Cliff Mogg, whose testimony focused on the footage, which he said was collected from security cameras at the Travelodge, Circus Circus, Encore and Battlefield Las Vegas.
Video played Thursday included the exact moment that Mikalonis, 29, was shot in the head.
In the black-and-white video, Mikalonis, who was handcuffing an individual, collapsed to the ground. He had just arrived at the scene and exited a patrol vehicle moments before he was shot, according to Mogg.
"Oh, God," Tobiasson said as she watched officers perform CPR on Mikalonis. In the grainy video, an officer can be seen pumping on Mikalonis' chest — up and down, up and down, up and down.
Meanwhile, Samaniego remained still in his seat as the video was played on several screens in the courtroom.
Prosecutors have said the bullet pierced Mikalonis' spine and lodged in the right side of his face. The officer is paralyzed from the neck down, and he is expected to be on a ventilator for life.
Authorities have said that Samaniego had not been participating in the protests prior to the shooting. By June 1, the night of the shooting, several Black Lives Matter demonstrations had taken place in Las Vegas. They were sparked by the Memorial Day killing of George Floyd by a Minneapolis police officer.
Samaniego did not testify on Thursday, and his attorney, John Million Turco, declined to comment after the hearing.
Contact Rio Lacanlale at rlacanlale@reviewjournal.com or 702-383-0381. Follow @riolacanlale on Twitter.