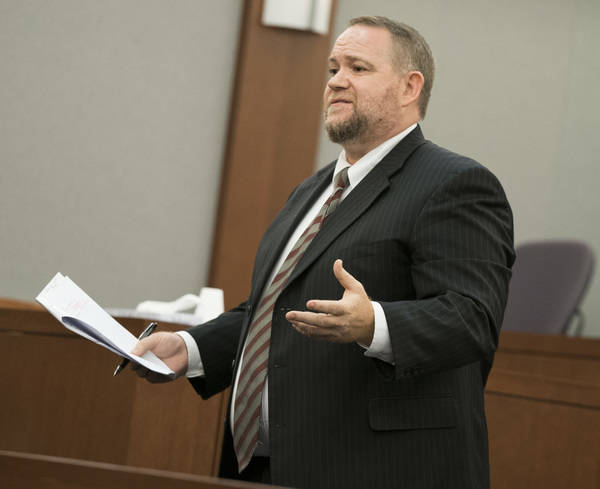 Former Marine Walter Laak terrorized neighbors and attacked a pastor of a Las Vegas church, prosecutors said Wednesday.
But Laak's attorney told jurors at the start of his trial that the Iraq War veteran suffered from post-traumatic stress disorder and psychotic delusions.
Laak, 37, has pleaded not guilty by reason of insanity to various felony counts including attempted murder, discharging a firearm from a vehicle, assault with a deadly weapon, battery with use of a deadly weapon and aggravated stalking, along with misdemeanor charges of throwing a deadly missile.
"Walter Laak is not guilty of these crimes because he's legally insane," defense lawyer James Ruggeroli said simply in his opening statement.
Chief Deputy District Attorney Chad Lexis disagreed, describing a series of incidents in September 2016.
"When angry, he turns violent, and he turns violence into vengeance real fast," Lexis told jurors. "He knew what he was doing was wrong."
The prosecutor pointed to disturbances at Laak's residence, and his later fleeing from police as a sign that he knew his behavior was criminal.
Laak, who served two tours of combat duty in Iraq, is accused of beating and attempting to run over a Las Vegas pastor with his vehicle, then driving back to his victim's home and firing multiple gunshots into it while the pastor's wife and children hid inside. It was the third serious crime for which Laak faced charges since his return from the battlefield. He was given a general discharge in 2005.
His first tour of duty began at the onset of the invasion of Iraq and lasted through his unit's arrival in Nasiriyah. He has told the Las Vegas Review-Journal that his experience led to his ongoing struggles and said he believed the pastor, a former neighbor, was an FBI "snitch."
In June 2007, Laak shot and killed Juan Cordova in Las Vegas, but he was acquitted a year later by a jury on grounds that he acted in self-defense. Authorities returned his 9 mm Beretta handgun a month later, but he said he sold the weapon because of "bad memories."
Two years after the shooting, Laak was arrested with another man and charged with multiple felony counts of sexual assault with use of a deadly weapon. He received probation in 2012 after pleading guilty to a single gross misdemeanor charge of conspiracy.
Ruggeroli pointed to a history of Laak's paranoia and psychological treatment as a veteran, telling jurors that Laak witnessed atrocities at war and "had a difficult time with the transition" after returning to the United States.
"In Mr. Laak's world, he needed to push back based on what government agents were doing to him," Ruggeroli said. "He was pushing back on the noise by giving noise back."
Contact David Ferrara at dferrara@reviewjournal.com or 702-380-1039. Follow @randompoker on Twitter.