UNLV student was raped as she died from shooting, records show
Updated October 31, 2019 - 4:50 pm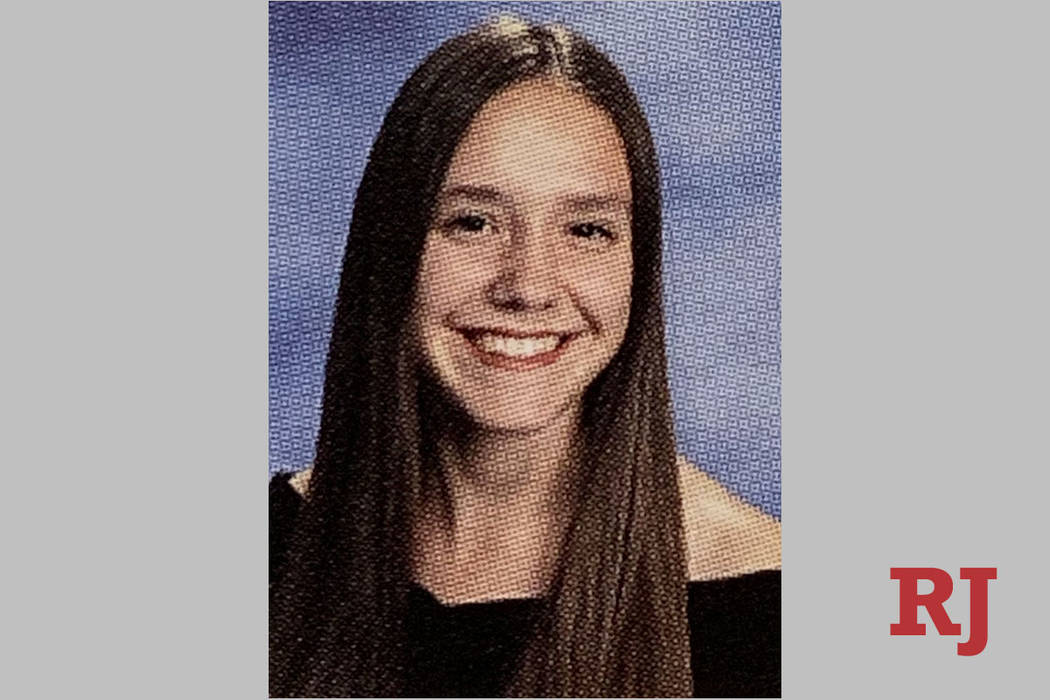 UNLV student Paula Davis was raped as she died from a pair of gunshot wounds to the back of her head, court records show.
Her former boyfriend, 21-year-old Giovanni Ruiz, who stands accused of murder, is expected to face additional charges, prosecutors said Thursday.
Prosecutors are expected to add charges of sexual assault, robbery and kidnapping in an indictment to be returned Friday.
Ruiz was arrested after Davis' body was found naked inside her family's van at a North Las Vegas park.
A Clark County medical examiner testified before a grand jury that she noticed signs of sexual assault that appeared to indicate that Davis, 19, was raped as she was dying, according to transcripts obtained by the Las Vegas Review-Journal.
Prosecutors plan to present Ruiz's charges to a death penalty review committee next week. His attorney, Gabriel Grasso, declined to comment on the case Thursday.
The same day that Ruiz was taken to jail, detectives found a .380-caliber Smith & Wesson semi-automatic handgun, missing two rounds, along with a receipt for the weapon hidden inside a suitcase in Ruiz's home, according to an arrest report. It was purchased two days before Davis was killed.
The two had dated, but Davis tried to break up with Ruiz in the days before her father found her dead on Sept. 6, according to grand jury testimony. She had described him as possessive and jealous, police have said.
Davis' cousin, James Miraglia, told the grand jury that he helped her prepare a text message that was sent to Ruiz the morning she was killed.
"It's time for both of us to move on completely from what we had," part of the message read. "This was a sad realization for me and I know it will be for you as well. I wish I could support you through this as a friend but I'm sure you can recognize that a clean break will heal faster. So until all of this is past some distance would be best."
Ruiz received the message sometime before 11 a.m., when he was seen leaving his home in a red truck, the transcripts indicate. About an hour later, home video surveillance in Davis' neighborhood spotted Ruiz's truck and the Davis family's van parked next to each other before the van was driven away.
By 1:30 p.m., Ruiz was at a North Las Vegas Walmart about a mile-and-a-half away from the park where the van was discovered, transcripts indicate. He bought a gallon of bleach, two gallons of water, paper towels and trash bags.
Evidence found inside the van and a note recovered from Davis' phone also suggest that the crime scene had been staged, according to police, and that Davis had been killed in another location.
Investigators found what prosecutors described as an "odd note" in her phone that had been typed at 1:15 the afternoon she died.
"My true breakup with Gio," it read. "Can't stand him being hurt after breaking up this way. He'll be hurt for so long. I'm just as hurt as he is but I need to be strong. Get someone to kill Gio. Meet him at park on Friday for payment. Have him kill Gio after class near part time. Get support from family."
North Las Vegas police Detective Andrew Santos told grand jurors that investigators found only Davis' shoes. He also said there was no blood inside the van in which her body was found.
"I believe she was dumped in her vehicle after she was killed," Santos testified.
In court Thursday, her family members attended a brief hearing for Ruiz.
"It's a nightmare," her father, Sean Davis, said afterward. "But we're taking it one day at a time."
Ruiz was a graduate accounting student at UNLV, where Davis was studying economics.
Hundreds attended Davis' funeral at St. John Neumann Roman Catholic Church in North Las Vegas, where clergy and family members shared stories of her faith and the example she set by spending hours volunteering with Catholic Charities of Southern Nevada.
Contact David Ferrara at dferrara@reviewjournal.com or 702-380-1039. Find @randompoker on Twitter.
Breakup text message
Paula Davis' cousin, James Miraglia, told a grand jury that he helped her prepare a text message that was sent to her former boyfriend, Giovanni Ruiz, the day she was killed. The content of that message, which appears below, was included in grand jury transcripts.
"I'm sorry that this is over text but I think it's the best way for me to make sure everything gets said. I know you wanted us to have another talk in three weeks but I've realized that this is just giving you false hope. Gio, our relationship was really sweet while it lasted. It has good times and its bad times, ups and downs, but ultimately I enjoyed it, but our relationship has finally come to a close after ten months and this end has been coming for some time. I know you're hoping that I would start to like you again through your efforts as a friend, but I'd be lying if I kept telling you that this was a realistic possibility. It's time for both of us to move on completely from what we had. This was a sad realization for me and I know it will be for you as well. I wish I could support you through this as a friend but I'm sure you can recognize that a clean break will heal faster. So until all of this is past some distance would be best. Thank you for everything you gave me and our time together, Gio."