FBI's Ten Most Wanted Fugitives: Who has been caught in Nevada?
Updated March 14, 2023 - 2:07 pm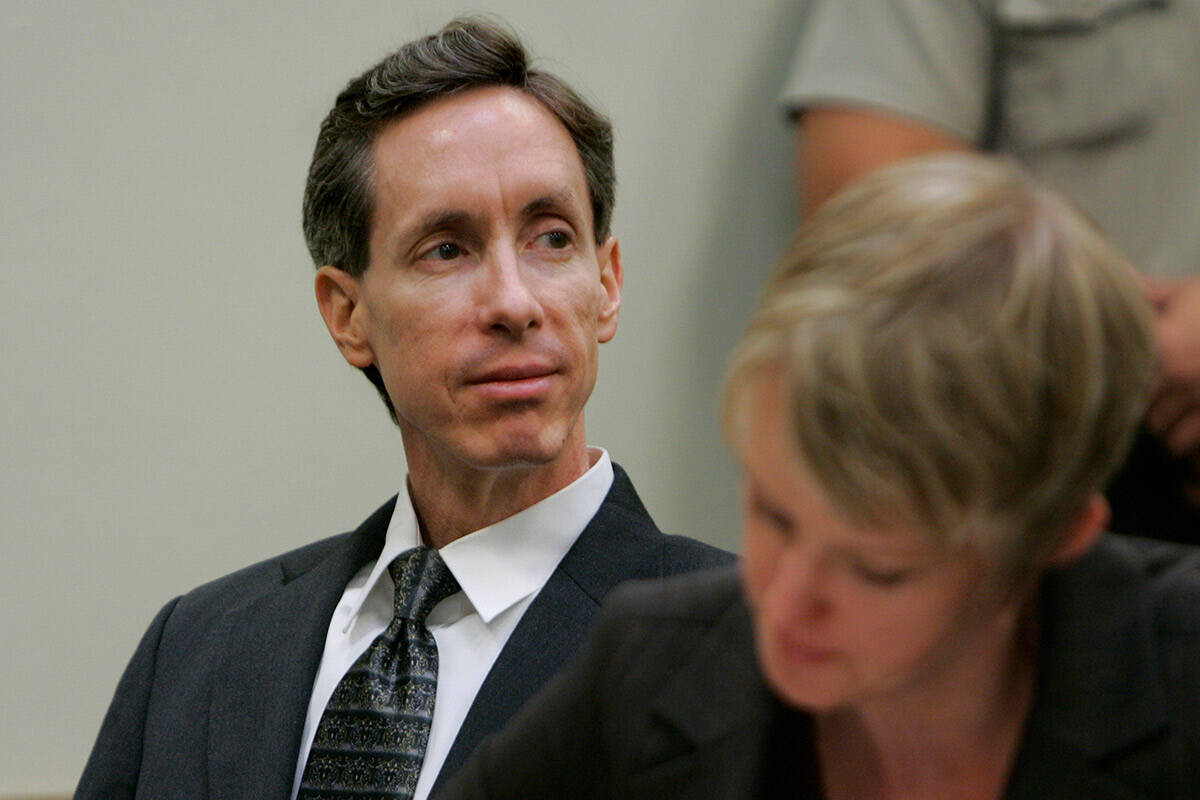 Officially developed and presented initially on March 14, 1950, the FBI's "Ten Most Wanted Fugitives" program marks its 73rd anniversary.
Since its inception, 529 fugitives have been on the "Ten Most Wanted Fugitives" list, and 494 have been apprehended or located, according to the bureau's Twitter account.
Information presented here is from the Federal Bureau of Investigation website or Las Vegas Review-Journal archives.
Nine have been captured or located in Nevada (numbers are when the fugitives appeared on the list).
Stephen William Davenport (No. 12)
Initially detained by Las Vegas police on a vagrancy charge April 28, 1950, after attempting to hitchhike out of the city, Davenport was identified through fingerprints and named the "fourth most wanted and dangerous criminal in the United States," according to the Review-Journal report on May 5, 1950.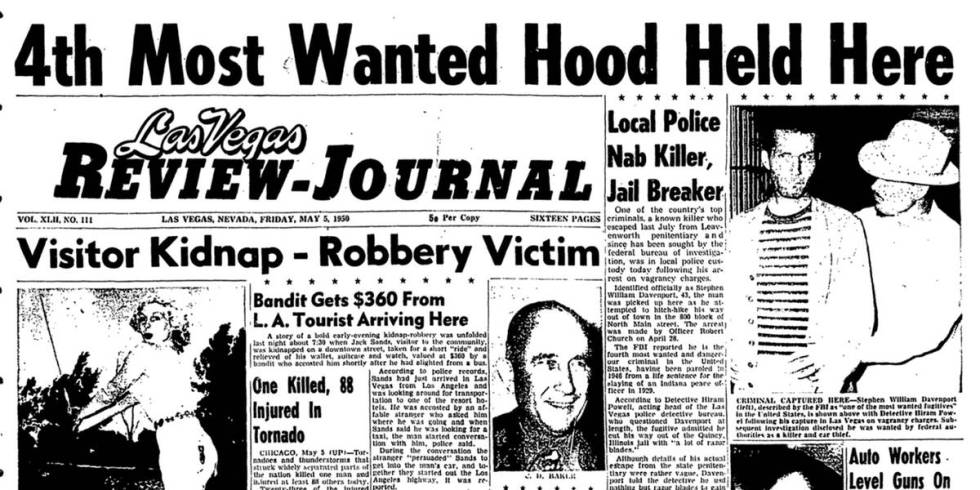 He had been given a life sentence in October 1929 for killing a Hammond, Indiana, detective sergeant during an armed robbery attempt, but was paroled in 1946. He was serving time in a Quincy, Illinois, jail under a retail vehicle theft charge when he escaped cutting through the bars of his cell window with "a lot of razor blades," the RJ story quoted Davenport.
John Alfred Hopkins (No. 76)
On June 7, 1954, Hopkins was arrested near Beowawe by the FBI after a citizen recognized him from a photo in a California newspaper. Beowawe is about 47 miles west of Elko.
Jerry Reece Peacock (No. 261)
Peacock was arrested after an FBI investigation in Mesquite on March 5, 1968. He spent three months on the list.
According to the March 6, 1968, article in the Review-Journal, Peacock had escaped 17 months earlier from the California State Prison in Soledad, where he was serving a five years to life term for a "$42,350 robbery of a fellow armored car driver," the article said, and was wanted by Los Angeles authorities on a murder charge in the beating of a man in January 1967."
He working in a field when he was captured using the name Randy Kastor as an alias.
George Benjamin Williams (No. 260)
Williams' skeletal remains were found by prospectors near a mine in Pershing County, Nevada, in May 1968. Three bullet holes were in his skull. Williams had been dead for six months.
Robert Leroy Lindblad (No. 284)
On Oct. 7, 1968, Lindblad surrendered to the district attorney of Lyon County in Yerington. According to an RJ article on July 14, 1968, he had been sought in connection with a double homicide of two businessmen whose bodies "were found in a shallow grave in Lyon County near Dayton. … Both victims had been shot in the head, stripped of their clothing and dumped in the desert."
Ronald Lee Lyons (No. 365)
On Sept. 10, 1979, Lyons was arrested in Hungry Valley by FBI agents and the Washoe County sheriff's department.
According to an Associated Press article published by the RJ on Sept. 11, 1979, Lyons and three other inmates escaped authorities from a Tennessee correctional facility nearly a year earlier with "sawed-off shotguns hidden in the ceiling of a bowling alley in Dixon, Tenn., where they had been taken for recreation."
Lyons and the other escapees "then embarked on a 48-hour crime spree across western Tennessee, which included the taking of eight hostages, commandeering six vehicles and hijacking a private pilot and his plane in Arkansas," said James M. Powers, special agent in charge of the FBI's Nevada division.
Robert Alan Litchfield (No. 408)
On May 20, 1987, Litchfield was arrested at Lake Tahoe in Zephyr Cove by FBI agents in close cooperation with the U.S. Marshals Service and the sheriff's office. He had escaped the Talladega (Ala.) Federal Correction Institution in February 1986.
Nearly two years later, Litchfield was recaptured by U.S. Marshals after he escaped from the U.S. Penitentiary in Leavenworth, Kansas, in March 1989. The AP story said Litchfield had recently undergone cosmetic surgery during this escape in an attempt to look like Robert De Niro, a personal idol.
Timmy John Weber (No. 473)
In April 2002, Weber was arrested without incident at his residence in Las Vegas after a neighbor called law enforcement authorities when she saw him return to his home. He was actually arrested nine days before before his addition to the "Top Ten" list was announced to the public.
Warren Steed Jeffs (No. 482)
On Aug. 28, 2006, Jeffs was arrested in Las Vegas after being pulled over for driving a vehicle without valid license plates. Jeffs did not resist arrest by the Nevada Highway Patrol.
He was convicted in September 2007 of being an accomplice to rape for pressuring a 14-year-old girl and her 19-year-old cousin into a religious and sexual union more than six years ago, according to the AP report in the Review-Journal.
Contact Tony Garcia at tgarcia@reviewjournal.com or 702-383-0307. Follow @TonyGLVNews on Twitter.