Funeral for K9 Nicky, killed in the line of duty, will be Wednesday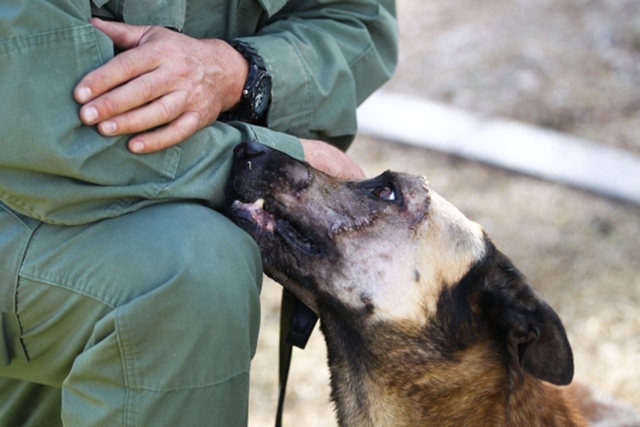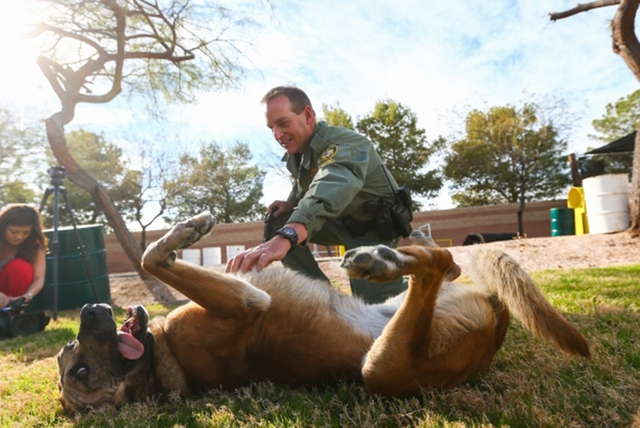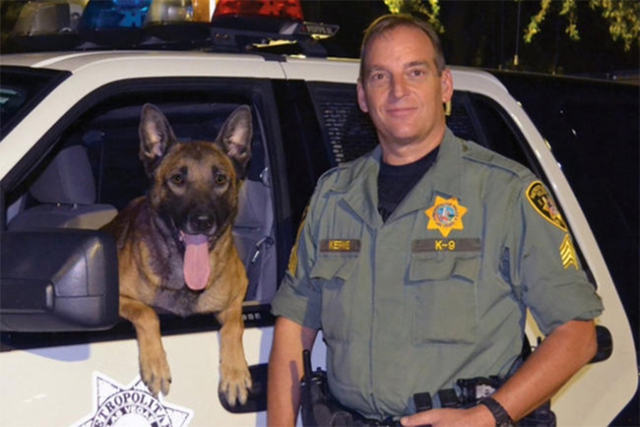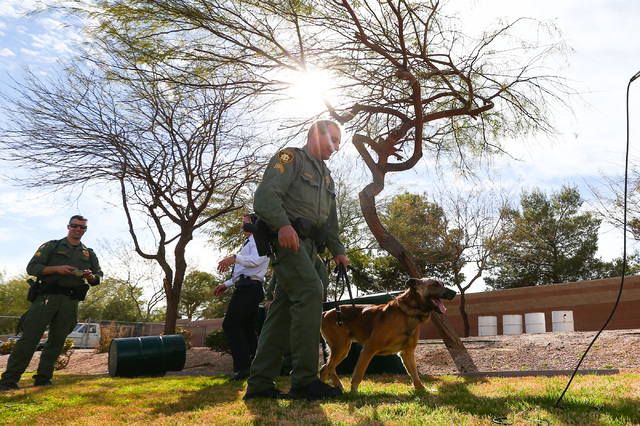 K-9 Nicky's funeral will not be open to the public Wednesday afternoon.
The service for the police dog, who was killed in the line of duty last week, is scheduled for 2 p.m. at the Craig Road Pet Cemetery at 7450 W. Craig Road, near North Tenaya Way.
But there just isn't enough space at the cemetery to accommodate a large crowd, Las Vegas police said Tuesday.
Nicky first made headlines in February, when he was attacked with a machete during a standoff. The 8-year-old dog received numerous stitches along his face and head and spent a few weeks recovering with his handler, Sgt. Eric Kerns, before returning to work on March 8.
Nicky was fatally shot Thursday during a running gunbattle between four police officers, including Kerns, and an armed suspect in a northwest valley neighborhood.
Police revealed Monday that an officer shot Nicky as the dog grappled with the suspect.
"We lost a beloved member of our family," Metropolitan Police Department Undersheriff Kevin McMahill said Monday. "Nicky died doing what we trained him to do and, quite frankly, what he loved to do, and that's going after the bad guy."
Las Vegas police dogs do not wear bulletproof vests, McMahill said. K-9 officers have looked into getting vests for the animals in the past, but there have been tactical issues with having the dogs wear them, including the hot weather.
The Craig Road Pet Cemetery is the final resting place for dozens of police dogs — about 50 of the department's K-9 partners are interred at the park.
The K-9 unit has been in existence since 1959, originating under the former Las Vegas Police Department, and includes 37 dogs used to detect human scents, drugs and explosives.
Past services for Metro dogs killed in the line of duty — there have been at least four since 2002 — have drawn from funerals for human officers.
In April 2002, Rudi, a 2½-year-old Belgian Malinois, had to be put down after he was paralyzed in a car crash while he was on patrol with his handler.
His funeral included a seven-dog salute: Seven other police dogs were commanded to bark for several seconds. The department's honor guard folded and draped the American flag over Rudi's casket and played "Taps."
Craig will be shut down to traffic noon to 3:30 p.m. between North Pioneer and Tenaya ways, and North Monte Cristo Way will be shut down between Craig and Stange Avenue to accommodate parking. That area is next to Deskin Elementary School, which releases students at 3:21 p.m., so parents should expect delays.
There will be no procession before or after the service.
Review-Journal writer Rachel Crosby contributed to this report. Contact Wesley Juhl at wjuhl@reviewjournal.com and 702-383-0391. Find @WesJuhl on Twitter.