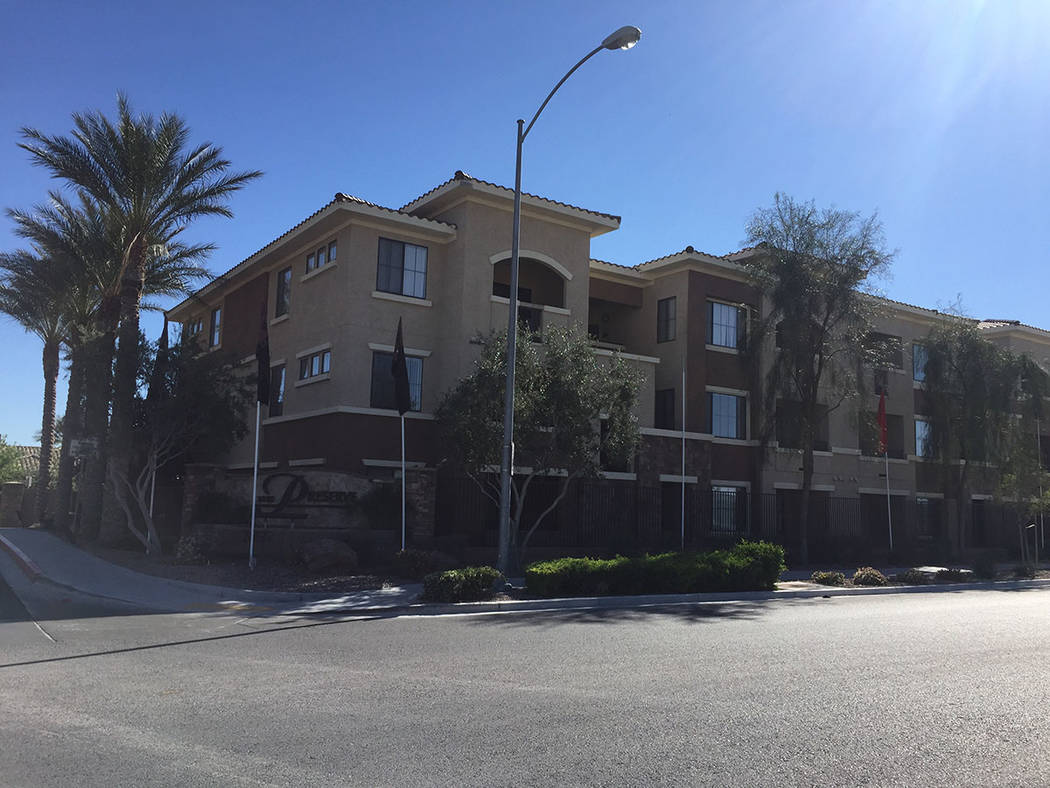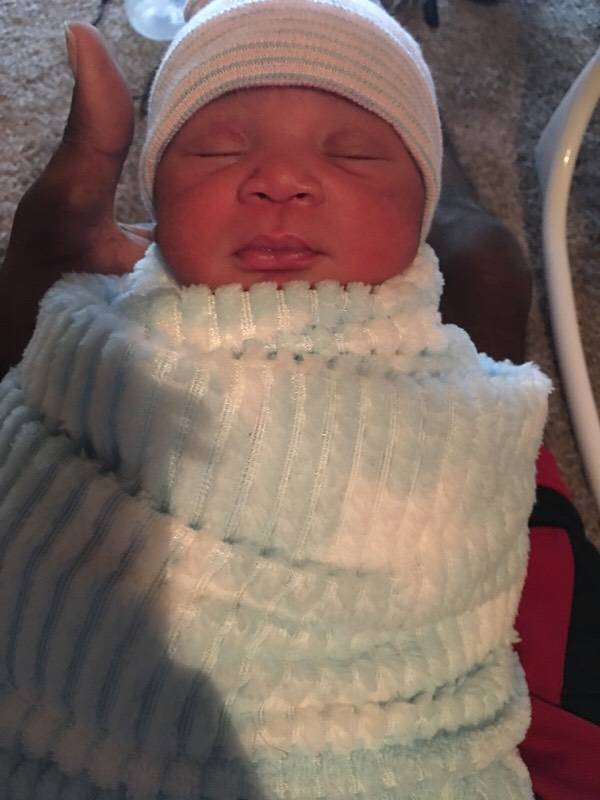 A devastated mother joined family and friends at a North Las Vegas vigil Sunday night to mourn the baby boy killed by a bullet before he was a month old.
Marcus Thomas Jr.; his mother, LaSharell Pope; his father, Marcus Thomas; and two children, ages 2 and 4; were inside a sedan parked outside a North Las Vegas apartment complex, when a gunman sprayed the car with bullets Saturday night.
"He didn't even get to see Easter," said the boy's grandmother, LaShanda Williams.
Pope briefly took part in the vigil, which drew about 30 people at the intersection of Craig Road and North Fifth Street, for Marcus, who was born March 6. She declined to speak about her son publicly and left the vigil 25 minutes later.
Before she left, Pope sat in front of dozens of candles arranged to spell out, "We love you Jr." Her family and friends held Pope as she wept.
Stuffed animals, balloons and a cut-out banner that read, "It's a boy" decorated the area. Everyone who spoke about Marcus just called him "Junior."
"He was a happy baby for the short time he was here," said Ava Loftis, a relative of the family. "He didn't get to do too much because he was only a month old."
At the vigil's end, everyone sang "Amazing Grace."
Earlier, Williams said she drove in from Los Angeles on Sunday morning to be with her daughter.
"I was just down here two weeks ago and spent the weekend with my grandbaby," Williams said.
She said Junior was a joyful baby who always smiled and loved watching television with her. "I just want him laid to rest right," Williams said.
At about 9:15 p.m. Saturday, a person targeted a parked car with gunfire in front of The Preserve apartment complex, 2655 E. Deer Springs Way, North Las Vegas police said.
One bullet hit the baby and one struck 22-year-old Thomas in the gray Chrysler four-door sedan, police said. Pope and two children, ages 2 and 4, were not hurt.
Pope tried to drive the two injured passengers to the hospital, but she crashed the Chrysler into a Nissan sedan near Craig Road and North Fifth Street, police said. The three previously uninjured occupants again escaped injury.
Gideon Villena, a 21-year-old gas station employee, was taking out the trash at the Shell gas station near the intersection when he heard the woman's screams.
"She kept saying, 'My baby dead, my baby dead, my baby dead,'" Villena said Sunday.
About eight minutes ticked by before authorities responded, he said.
Medical personnel took the critically injured infant and his father to University Medical Center's trauma unit. The baby died, North Las Vegas police said; the elder Thomas is stable.
Police tape was still wrapped around the traffic light late Sunday afternoon. Burnt police flares remained in the street, and a portion of a headlight cover rested next to fragments of the car's body on the gravel near the impact site. A small woven basket filled with flowers and a candle was attached to a different pole.
Angel Villegas, 19, was in his second-floor apartment at the entrance of The Preserve when he heard several rounds fired. Minutes later, the car crashed.
"I was throwing on a sweater when all I heard was a whole clip unload in front of my apartment," he said.
Villegas' balcony overlooks the area where the shooting occurred. After hesitating, he checked outside to see what was going on. He said a white truck parked nearby had been struck by a round.
Police were at the complex until at least 2 a.m., he said.
Villegas said the incident wasn't the first time he's heard gunshots near his apartment complex.
"People usually unload clips at the desert," he said.
Open desert is just across the street from where he lives.
The incident does not appear to be a random act of violence, police said.
The shooter might have known the vehicle's occupants, police added.
North Las Vegas police have made no arrests in the shooting and need to determine whether the assailant was on foot or driving another car.
Anyone with information regarding this case may call the North Las Vegas Police Department at 702-633-9111 or Crime Stoppers at 702-385-5555.
Contact Blake Apgar at bapgar@reviewjournal.com. Follow @blakeapgar on Twitter. Review-Journal writer Rachel Hershkovitz contributed to this story. Contact rhershkovitz@reviewjournal.com or 702-383-0381. Follow @rzhershkovitz on Twitter.
Information
The shooting death of infant Marcus Thomas Jr. is the fourth homicide investigated by North Las Vegas Police in 2017. Anyone with information regarding this case may call the North Las Vegas Police Department at 702-633-9111 or Crime Stoppers at 702-385-5555.