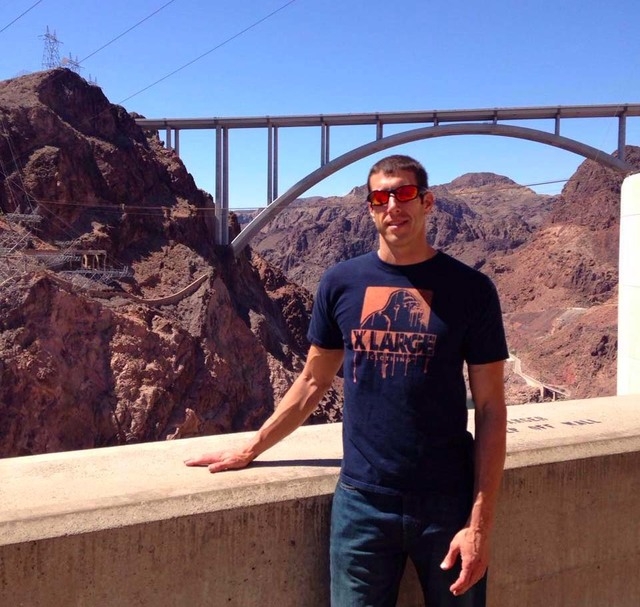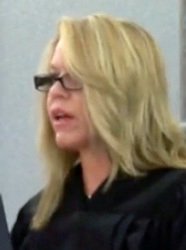 Las Vegas Justice of the Peace Melanie Tobiasson spoke for the first time Monday about her refusal to revoke a man's bail two days before he fatally shot his ex-girlfriend outside a day care center.
The judge hears hundreds of new domestic abuse cases every month.
Last week, Tobiasson considered Travis Spitler's recent lack of contact with Christina Franklin when deciding not to throw him in jail on charges of domestic battery with substantial bodily harm, forgery, and preventing or dissuading a person from testifying.
"There's no way to know, which one, if any of them are going to do this," the judge told a Las Vegas Review-Journal reporter. "And you can't hold them all without bail. They have a constitutional right to a reasonable bail. As horrible as this was, there's no way to look at this guy and say, 'He's the one.'"
Spitler also shot and injured the couple's children Thursday before he turned the gun on himself outside the Kids Campus Learning Center in North Las Vegas. Two days earlier, Franklin testified against Spitler at a preliminary hearing in Tobiasson's courtroom.
"There was no indication given to me at the time of this preliminary hearing that he had threatened her, or that he had been a threat to her" after a December attack, Tobiasson said. "Clearly, if indications were made to me that he had been a threat to her, that would have been a different situation."
Before Spitler's May 3 court hearing, prosecutors offered him a deal that probably would have kept him out of jail, at least until his sentencing: Plead guilty to battery with substantial bodily harm, a felony that carries possible prison time but also could result in probation, and dissuading a witness, a gross misdemeanor.
Spitler rejected the offer, forcing Franklin to testify about a Dec. 26 attack.
She said she had since moved out of the northwest valley home where he punched and kicked her in front of their children.
"I hate you," he screamed as he whaled on her head and face with a closed fist and his feet. "You're a f——— b——. I'm going to kill you."
She said she buried her head in her arms and begged him to stop.
At the end of last week's hearing, the judge found probable cause for two felony charges and one gross misdemeanor. Deputy District Attorney Kristina Rhoades asked the judge to revoke or increase Spitler's $15,000 bail, a standard amount set when he was arrested, according to transcripts of last week's hearing obtained by the Review-Journal.
Spitler originally posted his bail before a judge reviewed the allegations.
Tobiasson called the forgery a "stupid" thing for him to do and said it worked against him.
The judge considered the bail motion and pointed out that Spitler had not violated a protective order nor had any direct contact with Franklin since the December attack.
Tobiasson ultimately denied the prosecutor's request, but admonished the defendant.
"You're to have absolutely no contact, zero contact whatsoever with her," the judge told Spitler. "If you violate that, then you will find yourself back in the Clark County Detention Center with no bail. Do you understand?"
"Yes," he said.
The prosecutor said Spitler did not have his ex-girlfriend's new contact information.
But that wasn't the first time the prosecutor asked to have Spitler thrown in jail.
Last month, Rhoades asked the judge to revoke Spitler's bail after learning that he forged a subpoena meant for Franklin.
"Had this signed subpoena form not been verified, Christina Franklin could potentially be facing serious consequences for failing to comply with a subpoena that she was never served," the prosecutor wrote in court papers. "Defendant's behavior is appalling, offensive, and felonious."
Hannah Brook, community and donor relations director with Safe Nest, a shelter for victims of domestic violence, called the forgery "a red flag that somebody is being manipulative and they're still trying to maintain control."
A professor at UNLV Boyd Law School, whose areas of expertise include domestic violence and family law, argued that Spitler's forgery of Franklin's signature "indicated a possible escalation of behavior."
Spitler's lack of respect for the subpoena should have been a clue about his state of mind and his level of willingness to comply with the court, both of which directly affected the safety of the victim, Professor Elizabeth MacDowell said.
"If he would forge her name on a subpoena, why would he comply with the order to stay away from her?" MacDowell said. "I see that as a kind of slippage."
Last year, Safe Nest helped more than 50,000 domestic violence victims through its hotline, advocacy, counseling services and physical shelter, said Brook, who encourages training judges, prosecutors and police on signs of abuse.
"Each case really needs to be looked at on an individual circumstance," she said. "Only a victim truly knows how unsafe their situation really is. … It shouldn't take a domestic violence homicide with two children who are now parentless to make us sit down and say there needs to be more appropriate training."
Tobiasson has run domestic violence court in Las Vegas for 3½ years. Spitler was the first defendant who ended up killing his victim, she said.
"I take my job very seriously," she said. "I've kept this court for as long as I have because I have a passion for it."
Hours after Tuesday's preliminary hearing, Franklin emailed the prosecutor, according to Clark County District Attorney Steve Wolfson.
Franklin said she saw her ex-boyfriend near the day care center. Rhoades encouraged her to call the police so prosecutors could return to the judge and make another request on bail.
North Las Vegas police never received a call, nor did the judge.
"I'm certainly not going to second guess or question Judge Tobiasson," Wolfson said. "She made the rulings based on the information she had in front of her."
"My office did everything we could," he added. "We tried on two different occasions to get him into jail."
Since news of the killing broke, Tobiasson has been bombarded with threats and says she hasn't slept.
"Everything that I'm reading is about me rather than the person who murdered this woman and shot his two children and killed himself," the judge said. "I care about these cases. I work really hard, and it's really, really frustrating to be blamed for something like this.
"We all worry about it," Tobiasson added. "When you're doing domestic violence cases, you always know it's a possibility."
Contact reporter David Ferrara at dferrara@reviewjournal.com or 702-380-1039. Find him on Twitter: @randompoker. Contact Kimber Laux at klaux@reviewjournal.com or 702-383-0283. Find her on Twitter: @lauxkimber.