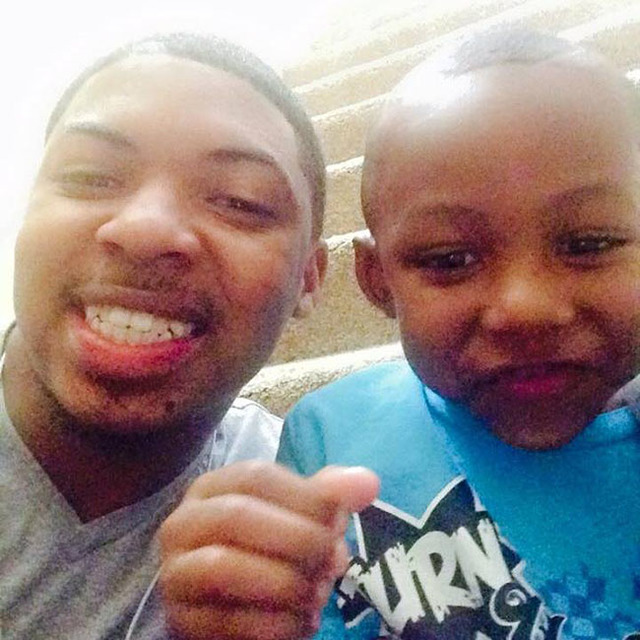 The fatal shooting of a 25-year-old man involved in a custody argument with his ex-girlfriend may not have been random as police originally reported.
Police arrested 29-year-old Terrance Davis about 4 p.m. Friday in connection with the Nov. 29 shooting that killed 25-year-old Ethan Hogan in front of his son. Davis is charged with open murder with a deadly weapon and possession of a gun by a prohibited person.
According police documents, Davis had been dating Hogan's ex-girlfriend, Janeica Butler.
In the warrant for Davis' arrest issued in December, Butler told police she was supposed to see a movie with Davis, whom she had been dating for a few months, about 9:45 p.m. on the night of the shooting.
Butler asked Hogan to come to her apartment complex in the 4100 block of South Durango Drive, near Flamingo Road, to pick up their 5-year-old son, Elijah, Davis' arrest report said.
Hogan wasn't happy about Butler going on a date with someone else and the pair argued when he arrived at her complex, Butler told police.
The argument over Butler's romantic life turned into a fight about Hogan's concerns that Butler was behind on payments on a car loan he had co-signed. Hogan took her keys and Butler called police, she said in the warrant.
Hogan gave the keys back a few minutes later, but decided to wait for police so officers could hear his side of the argument. The pair continued to argue as they walked outside to put their son into Hogan's car.
They were still arguing when a man in a black car pulled into the parking lot of the complex and asked Butler if she was OK, Butler told police.
The man began to argue with Hogan, got out of the car, "reached into his vehicle and retrieved what looked like an assault rifle," and fired one round into Hogan's torso, police wrote in the report.
Initially, Butler gave detectives a vague description of the driver and the vehicle, claiming she didn't know the man and she wouldn't be able to identify him if she saw him again, the arrest report said.
Police reviewed Butler's calls and text messages with her permission and discovered Butler and Davis had spoken on the phone three times within an hour of the shooting.
Butler called and spoke to Davis for six seconds at 9:25 p.m., calling 9-1-1 three minutes later to report Hogan had stolen her keys. Davis called Butler back at 9:30 p.m. and the pair spoke for about 45 seconds.
The next call from Butler's phone was to police at 10:17 p.m. to report the shooting. Butler called Davis again at 10:22 p.m. and 10:24 p.m. and the pair spoke for about a minute.
According to the warrant, a witness at the scene of the shooting heard Butler say "Why would you do that?" and "You're stupid. Why would you do this? It can't be happening. Oh my God, someone help me."
Detectives believe the comments were made during the last two phone calls between Butler and Davis, the arrest report said.
At a second interview on Dec. 12, Butler admitted the shooter was the man she had been dating. She said she didn't report Davis because she had received threats to dissuade her from naming him.
"Butler said she lied about it being an unknown person due to the fact that she was scared…and she had just watched Davis shoot Hogan without showing any emotion," Davis' arrest report said.
"Davis knew where she worked, where she lived, and where her son's school was," the report said.
Davis was arrested Friday and is being held without bail at the Clark County Detention Center. According to his arrest warrant, Davis was convicted of burglary with a deadly weapon and obtaining money under false pretenses in 2013.
Contact Kimber Laux at klaux@reviewjournal.com or 702-383-0283. Find @lauxkimber on Twitter.