Prosecutors plan to seek death penalty against suspect in 3 homicides
December 9, 2016 - 4:54 pm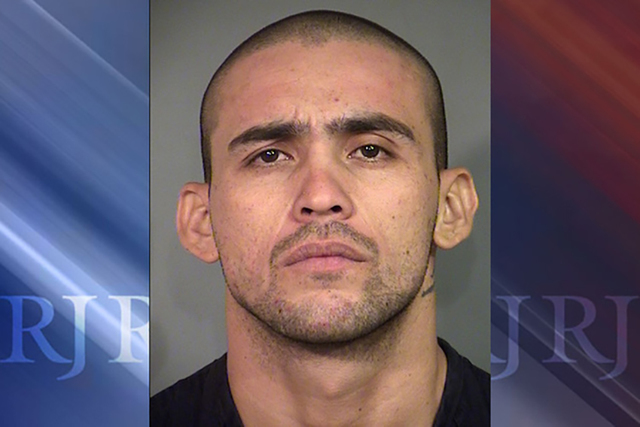 Clark County prosecutors intend to seek the death penalty against a suspect in three homicides who escaped from North Las Vegas police custody for several days in September.
A notice of intent to seek the death penalty against Alonso Perez was filed Friday.
Perez, 25, is scheduled to be arraigned Wednesday on charges related to grand larceny of an automobile, robbery with a deadly weapon, grand larceny, possession of a stolen credit card, conspiracy to committ robbery.
But that's not the only case he's facing.
He is also scheduled to appear in court on multiple dates in January for separate cases, including two charges of murder with a deadly weapon and two charges of attempted murder.
Perez was first arrested in September in connection with the fatal shooting of Mohammed Robinson, 31, just before midnight Aug. 27. While waiting to be interviewed at the North Las Vegas police detective bureau Sept. 2, Perez managed to escape, snapping his handcuffs in half, standing on a chair, shifting a ceiling tile and hoisting himself up.
Once in the ceiling, he dropped to the floor in a police hallway, which happened to be empty, then bolted for the door. Outside, about 100 yards away, he happened upon an empty work truck, which was running with the keys in the ignition and the air conditioning blasting to cool the truck down.
Perez drove away but was recaptured Sept. 6.
Police have said they also believe that about three hours after Robinson was killed late Aug. 27, Perez was involved in the Aug. 28 fatal shooting of Jeffrey Johnson, 50, according to an arrest report. That shooting occurred on the corner of Imperial Avenue and Lamont Street, near Charleston and Nellis boulevards.
At least one of the casings collected at the scene of Johnson's shooting matched casings found in Robinson's shooting, a police report said. The casings also were linked to the fatal shooting of Candelario Duran, 37, near Covey Lane and Irwin Avenue on Aug. 20 and a separate battery with a deadly weapon case on Aug. 15.
Contact Wesley Juhl at wjuhl@reviewjournal.com and 702-383-0391.