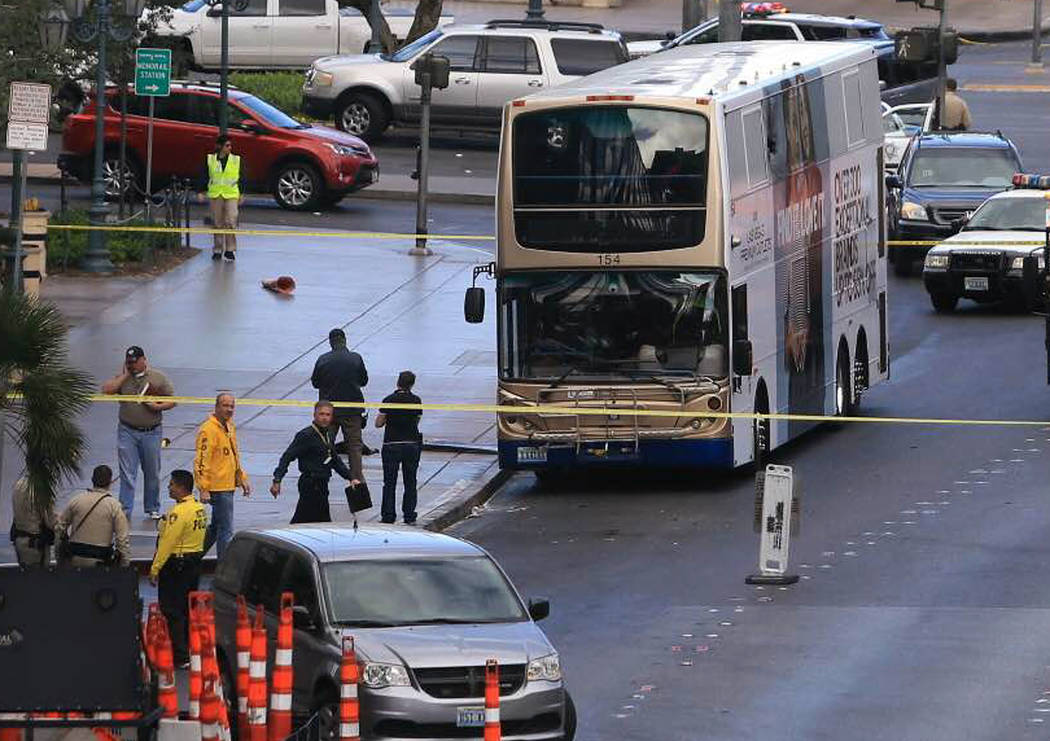 Las Vegas police have arrested a 55-year-old man following Saturday's deadly bus shooting on the Strip and the Clark County coroner's office has identified the victim.
Rolando Bueno Cardenas of Las Vegas faces charges of open murder with use of a firearm, attempted murder with use of a firearm, burglary while in possession of a firearm, and discharging a gun within a vehicle, the Metropolitan Police Department said Sunday.
Cardenas' arrest is connected with the death of 57-year-old Gary Breitling of Sidney, Montana.
Cardenas' arrest follows an hourslong standoff in front of The Cosmopolitan of Las Vegas. About 10:50 a.m. Saturday, a double-decker RTC bus stopped in the 3700 block of Las Vegas Boulevard South and passengers started to disembark. Cardenas, who had been sitting in the bus's rear, stood and fired several rounds from a handgun, striking two victims, both male, the Metropolitan Police Department said in a statement. Police said Cardenas was shooting for "no apparent reason."
The victims were taken to University Medical Center. One died; the other was treated for a gunshot wound to the stomach and is expected to survive. Both were seated in the back with Cardenas.
Police said Cardenas remained inside after the shooting, prompting officers to treat the scene as a barricade situation. Metro called in its crisis negotiators and SWAT team to help.
After several hours, the man surrendered to police peacefully. Police said the shooting was an isolated incident, unrelated to an early Saturday morning burglary at a high-end jewelry and watch shop at Bellagio.
The area where the bus stopped Saturday had returned to normal Sunday. There were no signs that the incident occurred; no flowers or memorials were displayed at the scene.
Some tourists said they heard about the shooting through news outlets, but nobody reported feeling unsafe.
This is the 35th homicide investigated by Metro in 2017.
Breitling's family has created a GoFundMe campaign to cover funeral costs.
Review-Journal staff writers Mike Shoro and Blake Apgar contributed to this report. Contact Rachel Hershkovitz at rhershkovitz@reviewjournal.com or 702-383-0381. Follow @rzhershkovitz on Twitter.