Vigil for girl killed in North Las Vegas shooting draws 200
November 3, 2018 - 8:35 pm
Updated November 3, 2018 - 9:58 pm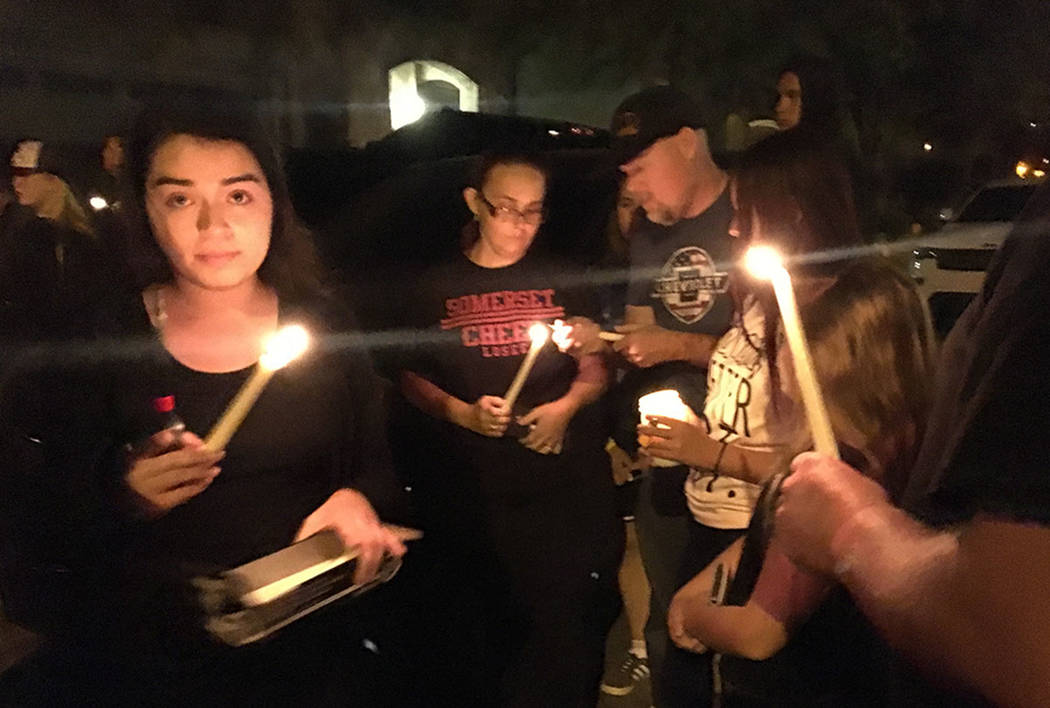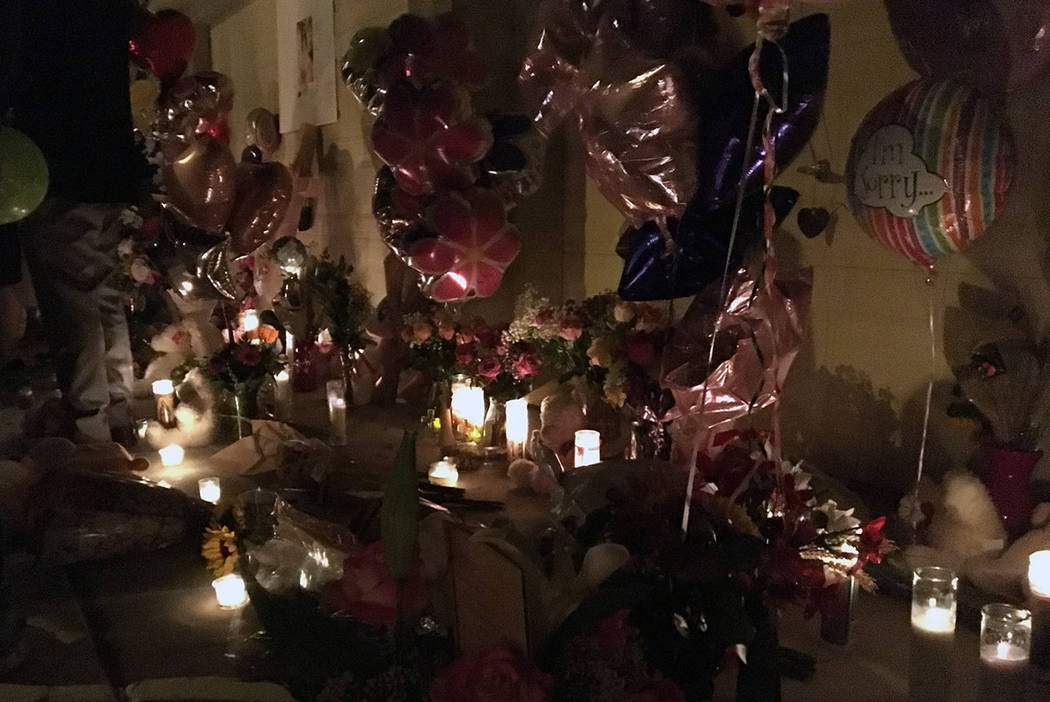 More than 200 people gathered starting just after 6 p.m. Saturday to mourn the death of an 11-year-old girl who was shot and killed Thursday night as she sat at the kitchen table in her North Las Vegas home.
Angelina "Angie" Erives had a huge heart, her mom and stepfather said at a vigil outside the family's home. By 7 p.m., parked cars lined the streets surrounding the home at 6705 Courtney Michelle St. and spilled onto a dirt lot across from the neighborhood.
The crowd began singing "Amazing Grace" between prayers delivered by members of the family's church.
"We have a daughter, too," said one man, who attended the vigil with his wife and 10-year-old daughter. "And we just live right around the corner. It's just sad."
Angie's maternal aunt said her niece was selfless and loving and only wanted to make others smile.
She was sitting at the kitchen table, working on a science project with her mom and two sisters, ages 14 and 6, when at least a dozen bullets pierced the front windows of their home, Brenda Erives said. None of Angie's relatives was wounded.
Her mom, Anabel Sarabia, cried as she described that night. She spoke to the crowd between gasps for air.
"This happened to me in seconds," she said, her voice strained. "In one you're doing a science project, the next you're trying to save your child. Nobody should go through this. Nobody."
Sarabia told parents in the crowd to appreciate their children.
"All these little problems we complain about, about we don't have enough of this and we don't have enough of that. You forget that you've got those little ones laying around, waiting for you to play with them, waiting for you to hold them. And we're too busy," she said. "I would give everything – everything – to have her here with me.
"Hold your little ones. Tell them that you love them."
Angie's stepfather, Albert Sarabia Jr., said people have been asking what they can do for him.
"Everybody here, this is what I ask," Sarabia said. "First and foremost, pray for my family. I believe in prayer."
"Secondly, everybody here, what can you do for me? Love your kids, love your loved ones," he said. "You never know when it's gonna be the last kiss."
He thanked everyone for coming together to celebrate his stepdaughter's life.
"Pray for my family, and love your family," Sarabia said. "Tomorrow's not granted."
Just hours before the vigil, a suspect in the girl's shooting died Saturday evening at a local hospital, a North Las Vegas police spokesman confirmed.
Police said they believe Thursday night's shooting was a gang-related attack that targeted the wrong house.
The 19-year-old suspect, whose name has not yet been released, was shot by a neighbor who witnessed the shooting and fired with his legally owned handgun at a fleeing vehicle Thursday night, North Las Vegas police said at a Friday news conference.
North Las Vegas police spokesman Aaron Patty confirmed that the 19-year-old suspect had died Saturday evening.
The suspect had been in critical condition with a head wound at a hospital, police said on Friday. At the news conference Friday, Assistant Chief Pamela Ojeda said the neighbor who shot the suspect is cooperating with investigators and is currently not facing charges.
A GoFundme created in Angelina's memory had raised $41,000 as of Saturday night.
Contact Kimber Laux at klaux@reviewjournal.com. Follow @lauxkimber on Twitter.