Las Vegas judge stays with order to release murder suspect
Updated February 4, 2020 - 8:08 pm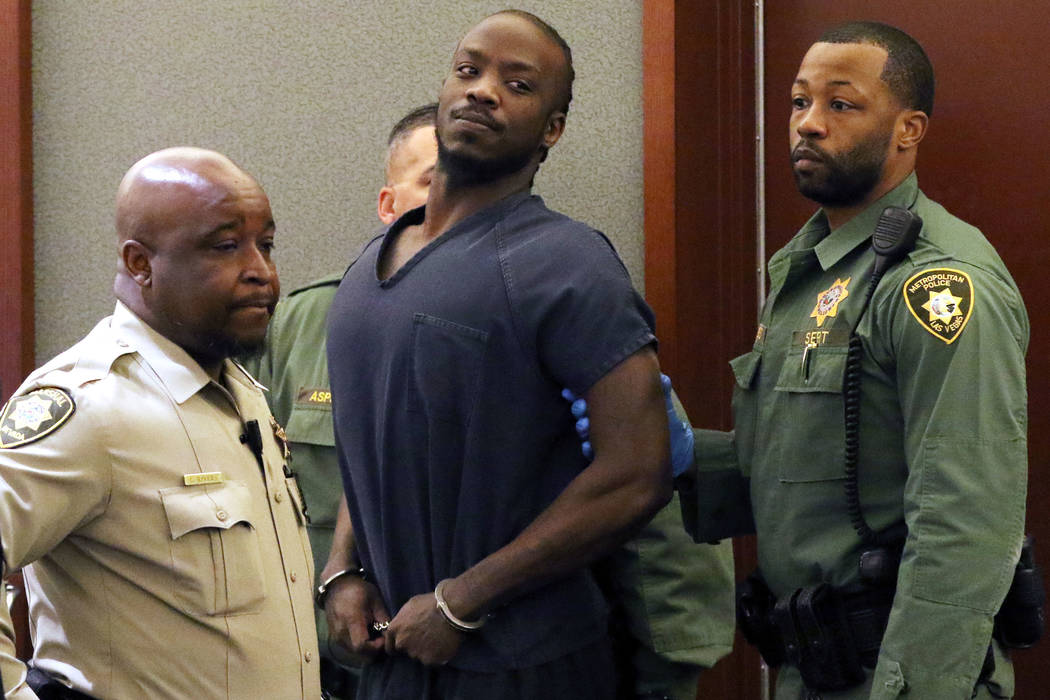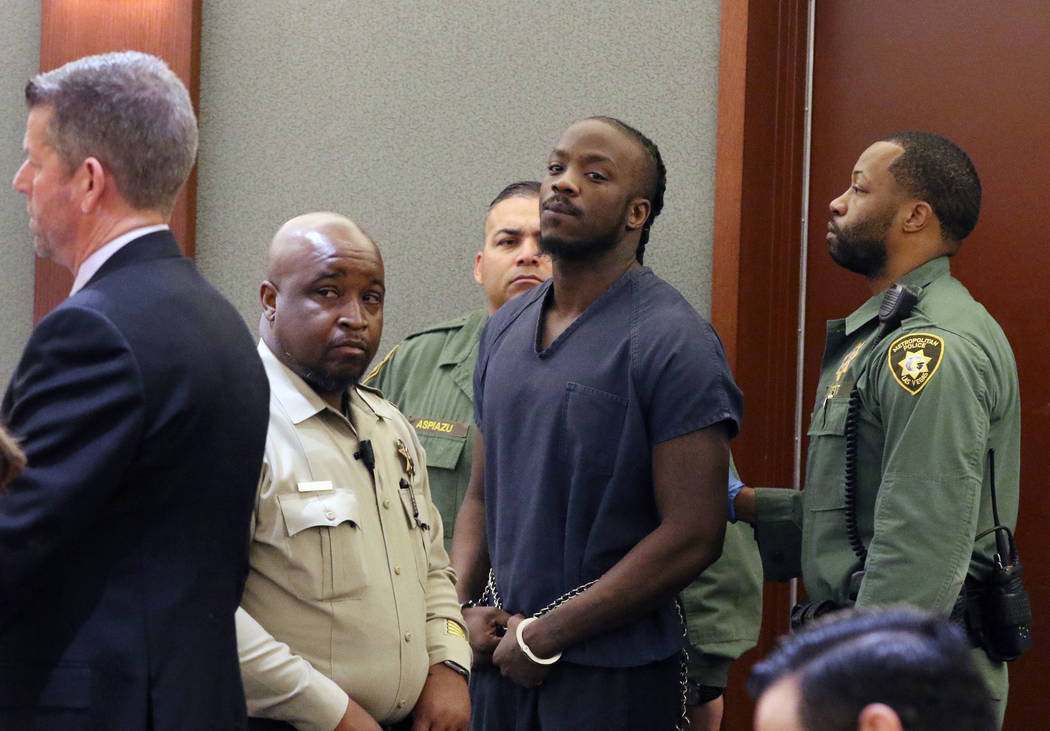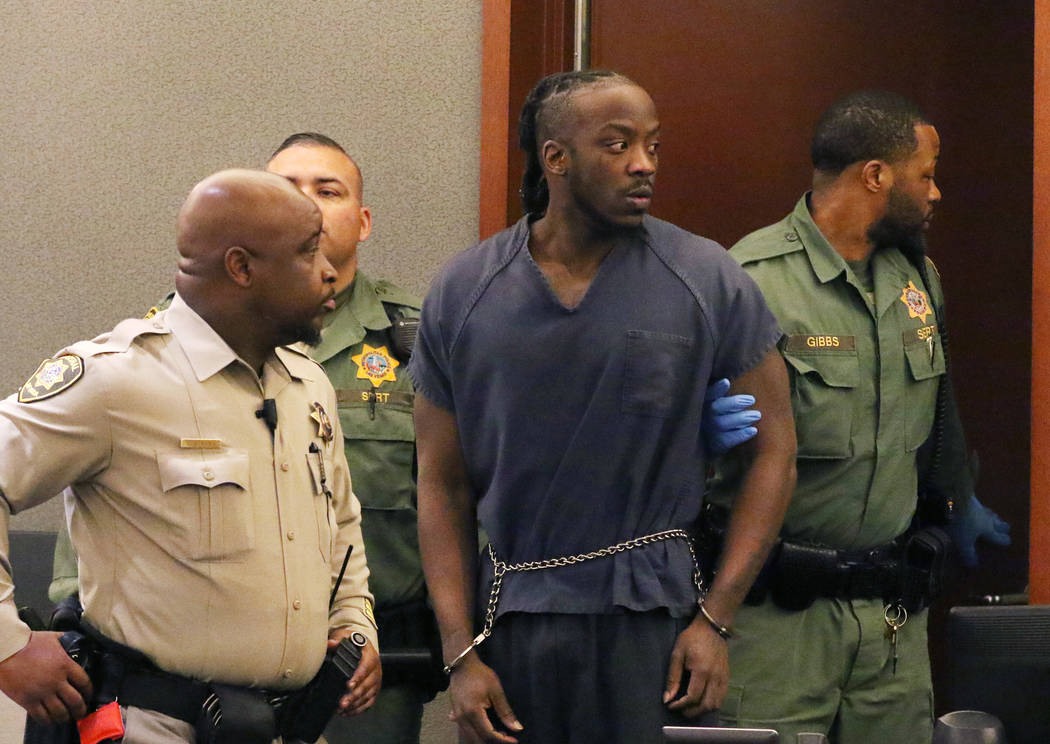 A man facing the death penalty could be freed from jail soon despite concerns about the defendant's safety on the streets.
Durwin Allen, 34, was back in court, five days after District Judge Michael Villani ordered his release because prosecutors could not locate a key witness at the start of Allen's double murder trial.
Allen was charged in the killings of Myron Manghum, 33, and Alyssa Velasco, 27, who were found dead in an apartment north of downtown in January 2017. Manghum died of a gunshot wound to the head, police said at the time. Velasco died of gunshot wounds to the head and neck.
While Allen remained in custody during Tuesday's brief hearing, the judge stood by his order from last week.
Defense attorney Peter S. Christiansen said that Allen was still being held on a warrant for an unrelated misdemeanor charge but that the issue had since been cleared up, meaning Allen could be released soon.
During jury selection last week, Christiansen filed court papers saying that prosecutors improperly obtained what is known as a "material witness warrant" for Johnny Brooks, who was shot during the attack and survived.
He had cooperated with authorities but since has been unreachable, according to his attorney, Michael Horvath.
Without Brooks, the key witness, prosecutors asked Villani to postpone the trial, instead of dismissing the case.
Christiansen argued that Allen should be released from custody because prosecutors requested his trial date be moved.
On Tuesday, Chief Deputy District Attorney Binu Palal asked the judge to keep Allen in custody, saying that prosecutors had not sought to continue his trial since he was arrested three years ago.
Palal called the trial delay "not a good reason to release this defendant. The state still believes this defendant presents a threat to the community."
Christiansen said the prosecutor's argument was "just nonsense."
"Now they come in and want a second bite at the apple," Christiansen said. "They still don't have the witness. They have no idea when they're going to get the witness. So to hold my client in custody violates his constitutional rights."
The judge said that Allen was presumed innocent until proved guilty and said that prosecutors had not told the judge that Brooks had not been subpoenaed to testify.
"And if we would have gone forward, this case could have been dismissed," Villani said. "So my decision stands."
Last week, however, Villani acknowledged that prosecutors had served a subpoena through a Clark County district attorney's office investigator, according to court transcripts.
A day before Villani ordered Allen's release, prosecutors referenced threats to the defendant's life.
"Your honor, we did, just to replay, we did inquire with criminal intel, and they've got a pretty good beat on what's going on," Palal told the judge. "I think people are — people unfortunately are — hoping he gets out."
The judge replied: "For street justice?"
Both Palal and Christiansen said, "Yes."
"And frankly, it's part of the reason we're having the issues we're having with our witnesses is that, you know, there is a strong street sentiment that justice is better served with Mr. Allen out on the street," Palal said
The judge said: "Just want everyone to be safe."
Contact David Ferrara at dferrara@reviewjournal.com or 702-380-1039. Follow @randompoker on Twitter.