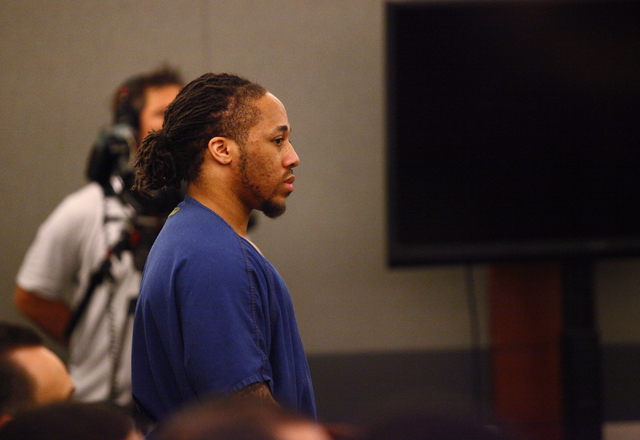 Lawyers for a television show about the Clark County district attorney's office said Tuesday that defense attorneys who want the show's cameras banned from a murder trial made a "baseless" claim with the Nevada Supreme Court.
My Entertainment TV, the production company for Investigation Discovery's "Las Vegas Law," wants to film the trial of 24-year-old Michael Solid. He is accused in the slaying of 15-year-old Marcos Vicente Arenas, a Las Vegas high school student who was run over after he refused to give up his iPad on May 16, 2013.
Attorneys with the Clark County special public defender's office, representing Solid, have argued that the television program, which was recently greenlit for a second season, is not a news entity and should not be allowed to record the trial under Supreme Court rules.
But Lisa Zastrow, a lawyer for the production crew, pointed to the guidelines on electronic coverage of court proceedings that state all courtrooms are subject to electronic coverage.
Zastrow also noted that local television news cameras, along with Las Vegas Review-Journal still photographers, are allowed to record the trial.
Solid "will suffer no harm, much less irreparable harm, as My Entertainment TV's cameras are indistinguishable from other media outlets," Zastrow wrote. "In contrast … harm will come to My Entertainment as its cameras will be removed from the trial which is currently ongoing, thereby wholly depriving My Entertainment from being allowed to film this newsworthy trial."
District Judge Valerie Adair ruled earlier this week that the so-called "docudrama" should be treated no differently than any other news entity when it comes to filming in court.
Defense lawyers immediately filed an appeal with the Supreme Court, arguing that the production company provides entertainment, rather than news.
The high court defines a news reporter as "any person who gathers, prepares, collects, photographs, records, writes, edits, reports, or publishes news or information that concerns local, national, or international events or other matters of public interest for dissemination to the public."
Opening statements are expected to start Wednesday morning, when Investigation Discovery crews and local media are expected to start filming.
The Supreme Court had not issued a decision as of Tuesday evening.
Authorities said Arenas was pulled into the street and run over by a Ford Explorer speeding away after Solid and Jacob Dismont tried to steal the device a few blocks from Bonanza High School.
Dismont, now 21, pleaded guilty last week to second-degree murder and conspiracy to commit robbery and is awaiting sentencing.
Contact David Ferrara at dferrara@reviewjournal.com or 702-380-1039. Follow @randompoker on Twitter.