Las Vegas police arrest mall gunman, gun 'appears to be fake'
Updated May 17, 2018 - 11:58 pm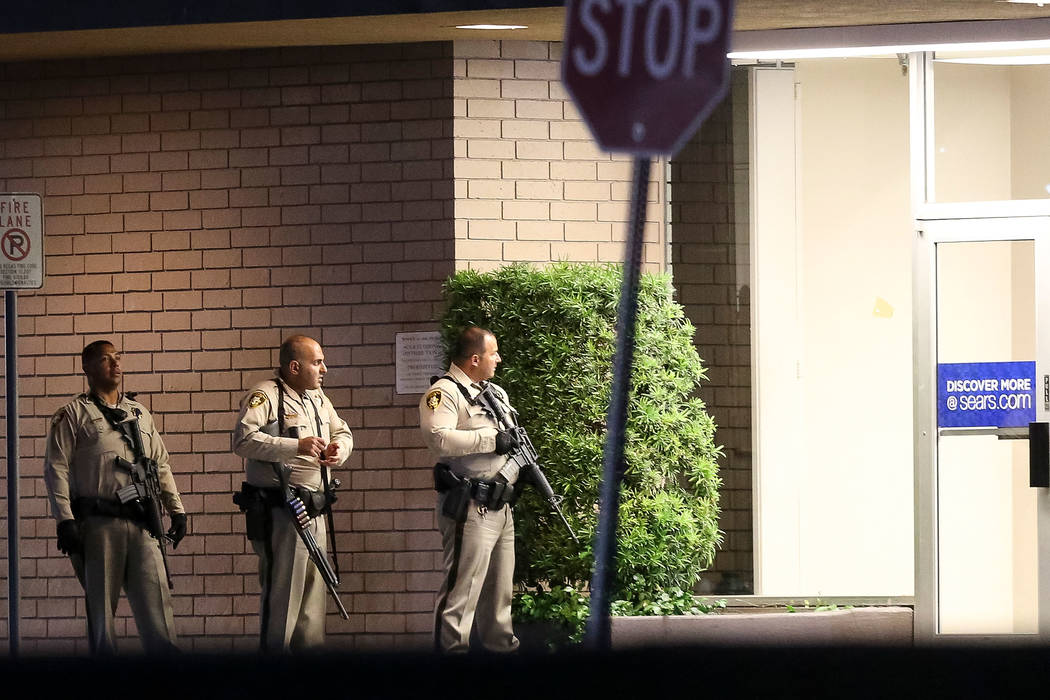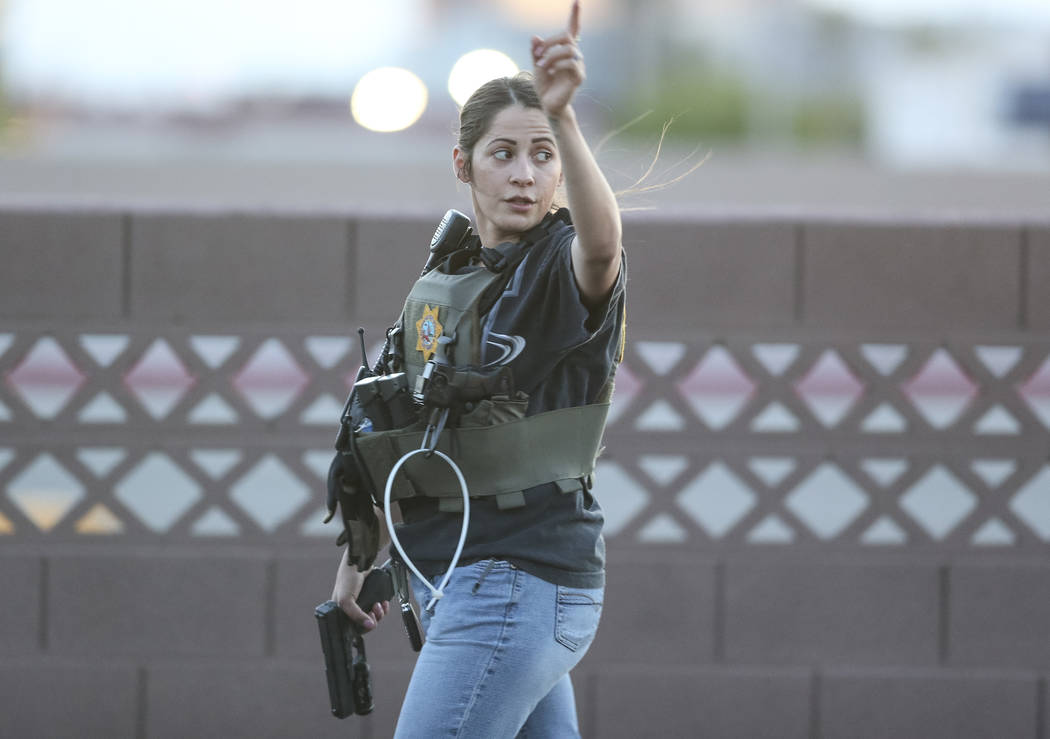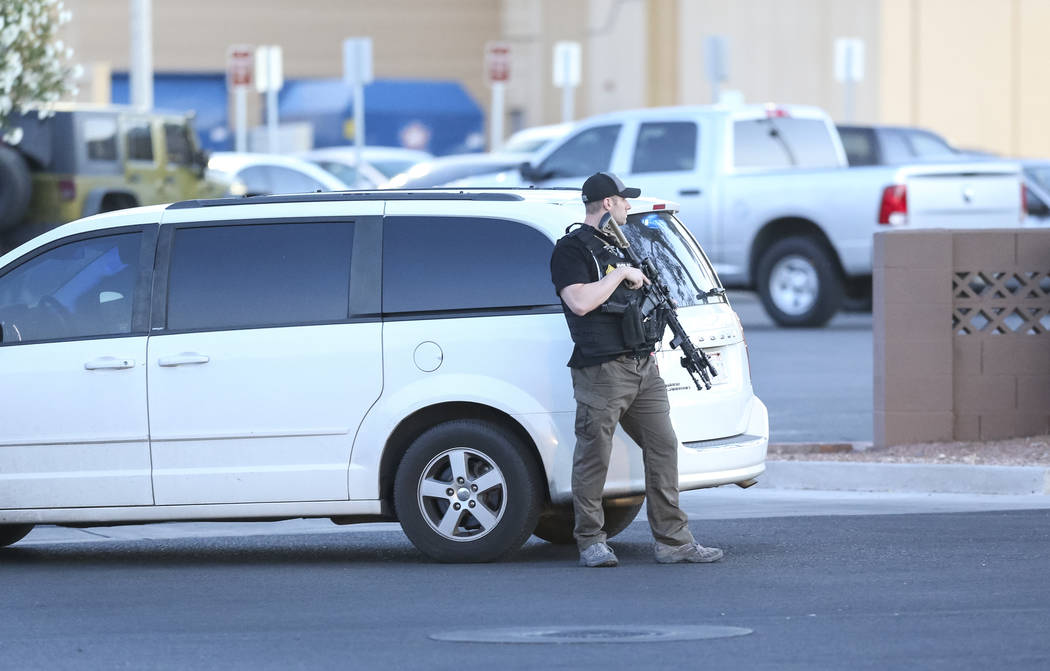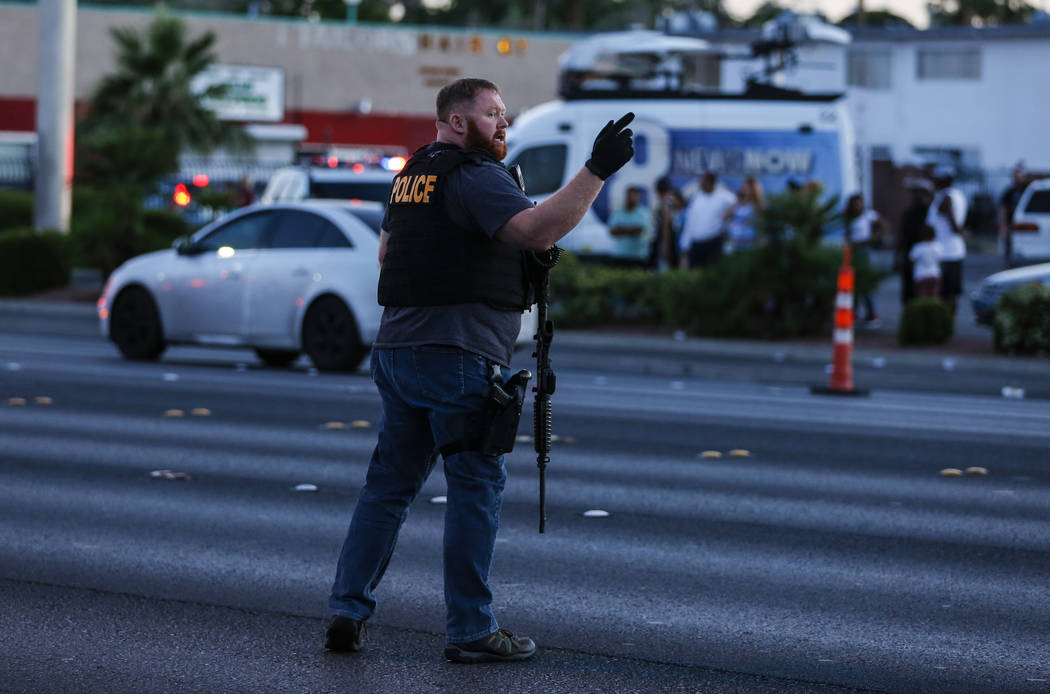 A masked man was arrested Thursday evening after he walked into the Boulevard Mall with a fake gun, terrifying shoppers and workers and forcing authorities to evacuate the building, Las Vegas police said.
Police received several reports just before 7 p.m. of a person with a rifle in the mall, Deputy Chief Chris Jones said.
Late Thursday, police said the mall was clear and that there was no cause for concern in surrounding neighborhoods. The man was taken into custody, and police discovered the rifle was fake.
"We did obtain video of an individual who we believe was armed with a long gun," Jones told reporters at the scene about 9 p.m.
Jones said no shots were fired, and police didn't know the gunman's intent.
"It was not an active shooter, and there are no citizens injured," Jones said.
Several police vehicles and ambulances had gathered outside the mall, at Maryland Parkway and Desert Inn Road, before 8 p.m.
"Obviously there are a number of locations in the mall where a person could hide," Jones said.
He said the man had been seen in the center of the mall.
Police are clearing out.

"They know he's not in the mall," Rivera said of the man.

Rivera added that there's no cause for concern for the surrounding neighborhood.

— Mike Shoro (@mike_shoro) May 18, 2018
At about 6:45 p.m., Rosario Solano, 30, pulled her white Toyota Sienna into a parking spot in front of Old Navy. Her sister, an employee in the mall, was clocking out of work.
Inside the van with her was her daughter and 6-year-old niece.
Solano doesn't know how long she had her head down, scrolling through her phone. But when she looked up, she saw a man in an army green jacket, she said. He had a black mask on and the hood of his jacket was pulled over his eyes, she told the Las Vegas Review-Journal.
And then her heart dropped, she said. In his hands was what appeared to be a black rifle.
"I froze for the longest time," she recalled Thursday night across the street from the mall, her voice shaking. "It felt like forever."
At 6:59 p.m., her hands shaking, she fumbled to dial 911.
As she described the man to the dispatcher, she said, her niece began to cry.
At least 10 units just zoomed by on Maryland Parkway rolling code. No one I've spoken to so far on the other side of the crime tape was inside Boulevard Mall when it was evacuated. pic.twitter.com/hkcR9MblVt

— Rio Lacanlale (@riolacanlale) May 18, 2018
"Is Mommy OK?" she asked Solano.
"Mommy is doing a fire drill," Solano said. "She's OK."
Solano sped out of the mall's parking lot, she recalled, and took her daughter and niece home. She then returned and picked up her sister.
"I'm just happy she's safe and her daughter isn't worried anymore," Solano said.
Another woman in the mall's parking lot, who asked not to be identified, told the the Review-Journal that she saw a masked man with a long gun walking toward the mall.
The woman yelled, "No! What are you doing? Don't do that!"
He turned and looked at the woman and hesitated, she said, then made a "beeline" toward a different part of the building.
It's been more than 2 hours since reports of a person with a gun were called in. Here's what the scene looks like now from across the street at an elevated position. The sea of red & blue is slowly clearing out. pic.twitter.com/Qk3QbPt7gi

— Rio Lacanlale (@riolacanlale) May 18, 2018
"And that's when I saw people running," she said.
The woman said she ran from the man, who didn't say anything to her after she yelled at him, and called 911. The woman said she then ran into Sears to tell people to get out.
David Ramirez, 42, of Las Vegas and Iris Altamirano, 36, were arriving at the mall when officers turned them away.
"You have to leave," an officer told them. "Just leave."
Las Vegas police will release the man's name Friday morning.
Contact Mike Shoro at mshoro@reviewjournal.com or 702-387-5290. Follow @mike_shoro on Twitter. Contact Rio Lacanlale at rlacanlale@reviewjournal.com or 702-383-0381. Follow @riolacanlale on Twitter. Review-Journal staff writer Max Michor contributed to this story.