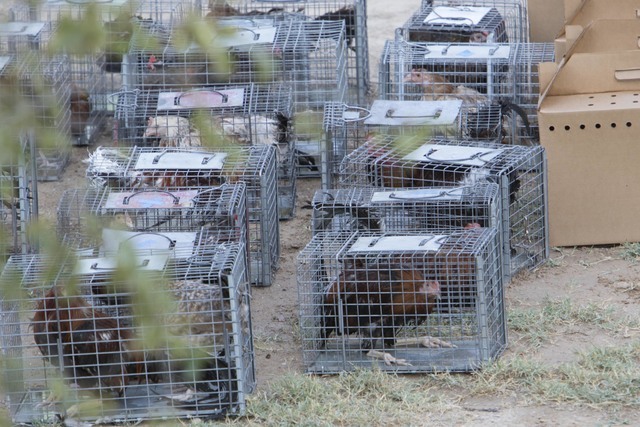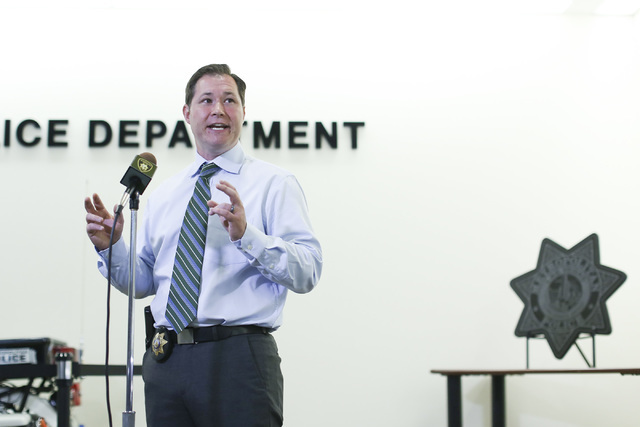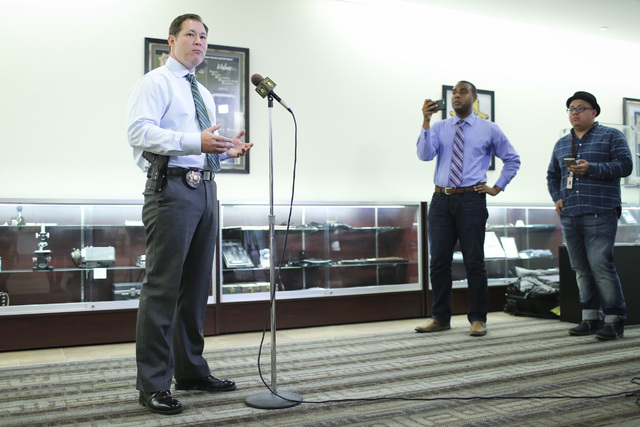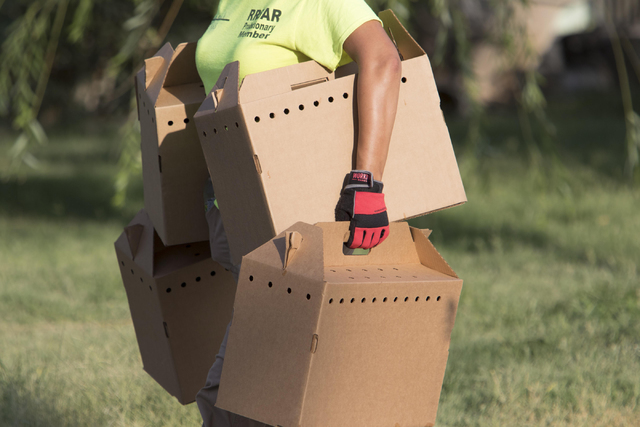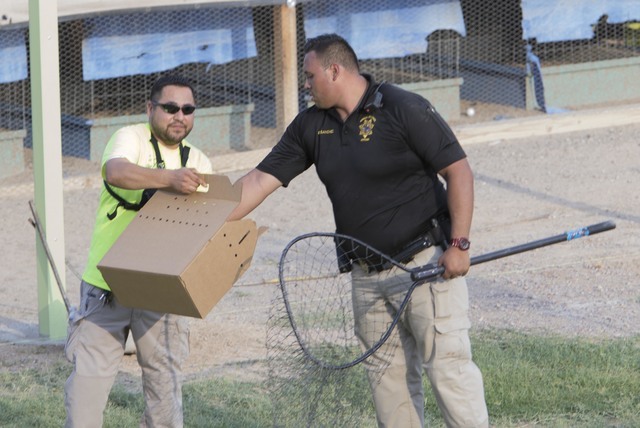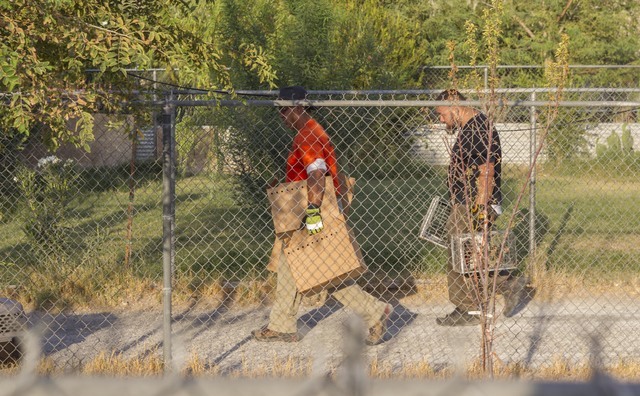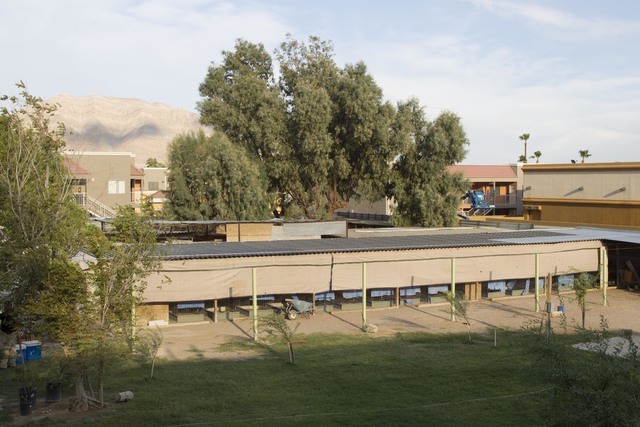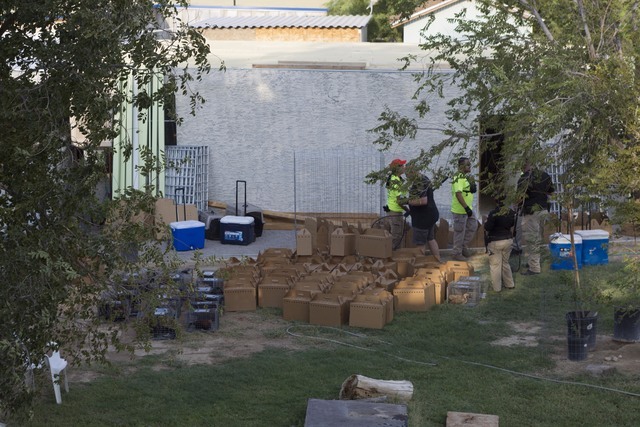 Las Vegas police said Thursday that they have broken up what they are calling the largest animal fighting ring in state history.
Police recovered about 550 hens and roosters of varying ages Wednesday from a home in the 4700 block of Stanley Avenue, said Robert Sigal, detective for the Metropolitan Police Department's animal cruelty unit.
Red Rock Search and Rescue, Clark County Animal Control and Nevada Power Co. helped Metro recover the animals.
"Because of the magnitude of this animal fighting ring, we requested a lot of help," Sigal said.
A Metro officer who was on an unrelated call Wednesday at a neighboring apartment building noticed a large number of animals in a yard and alerted police of a possible animal fighting ring at about 9 a.m.
Police responded about half an hour later and served a search warrant by noon. They began removing animals shortly thereafter, working until early Thursday morning.
Silvester Gayton and Javier Salgado each were arrested on two counts of having roosters related to animal fighting, a felony in Nevada. Sigal said he was expecting additional charges.
Records show the men have been released on $2,000 bail each.
The animals were taken to the Animal Foundation for veterinarian evaluation. Shelter officials said they took in close to 600 birds, which started filling the facility at about 5 p.m. About 40 of those that had large gashes and untreatable complications were euthanized.
Shelter officials said they are struggling to find space for all of the animals.
"We have to work with what we have, so they are currently in our animal control bay," Animal Foundation spokeswoman Holly McHugh said.
Dozens of cages full of birds were stacked in a garage, which is about the size of small warehouse.
"It's very, very full," she said.
Michelle Quigley, the Animal Foundation's operations director, said the living environment isn't ideal for the animals.
"It's put an immediate strain on resources and staff," she said.
In most animal fighting cases, the animals must be euthanized, Quigley said.
"Typically, in my experience, gamefowl and fighting birds cannot be rehomed or they cannot be returned to the community because of how they have been used and bred," Quigley said.
The euthanized fowl would be hauled away from the facility by a private company, Quigley said.
"As animal welfare professionals, this is heartbreaking," she said.
Quigley said how much time the birds spend at the facility will depend on how long the investigation takes.
"We're just at the mercy of the process," she said.
It is unclear to investigators how long the fighting ring had been operating. Sigal said he thinks the facility was used to breed and train animals.
"Obviously, this was a very large, established ring," Sigal said. "So we do believe that it has been going on for quite a while, but this is the first time we've had any knowledge of it."
Sigal said this incident could be part of a larger operation of animal fighting and illegal gambling. In these cases, there is usually a centralized arena where fights are hosted, he said. Participating in animal fighting as a spectator is a gross misdemeanor as a first offense in Nevada, with a second offense being a felony.
"There's always a larger nexus, and that right now is just what we're starting to learn about with these people," he said.
Sigal also said animal fighting is a prevalent issue in the valley.
"I'd like to tell you that it's rare, but from what we believe is, it occurs and it occurs regularly," he said.
Contact Blake Apgar at bapgar@reviewjournal.com or 702-383-0342. Find @BlakeApgarLV on Twitter.
RELATED
Metro recovers about 600 birds while serving warrant for illegal rooster fighting