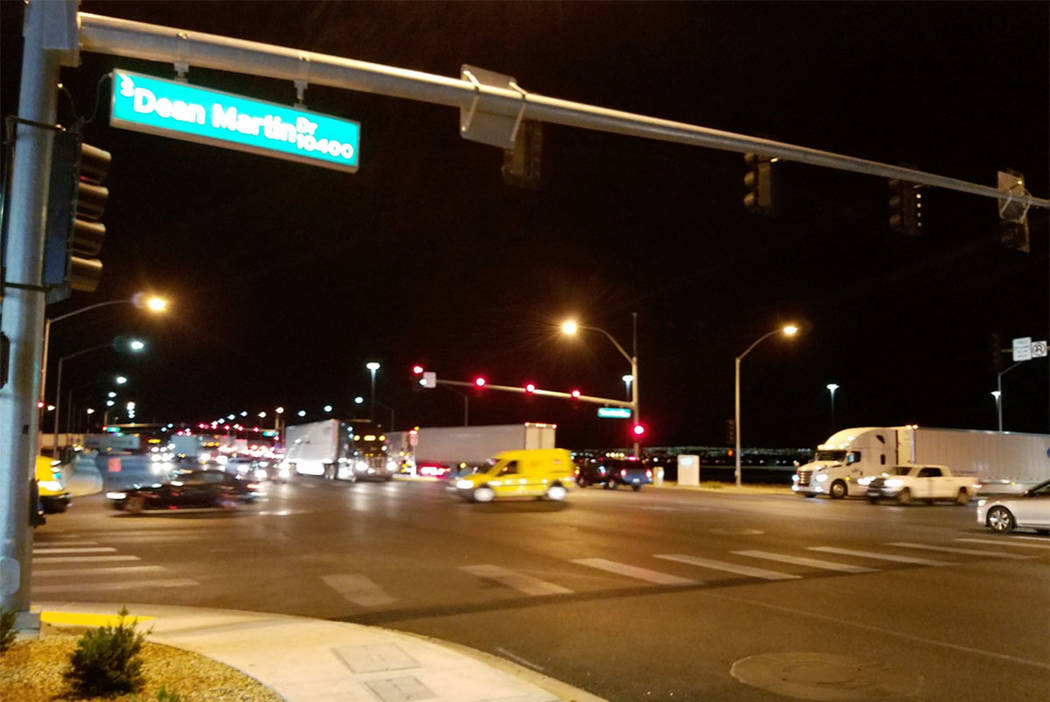 A 51-year-old man, who police said evaded officers before barricading himself inside of a car and shutting down Interstate 15 traffic Thursday, faces a charge of committing an act of terrorism.
The Metropolitan Police Department identified Elkadmiri B. Kareem as its suspect in the incident. He was booked into Clark County Detention Center on one count each of terrorism, destroying property and disobeying a peace officer. He is being held without bail.
Police documents link the act of terrorism charge to a property destruction call about 7:50 p.m. Tuesday at SLS Las Vegas, 2535 Las Vegas Blvd. South. Surveillance footage shows Kareem damaging water and gas valves at the property, causing one to leak natural gas, which police say is highly flammable.
The footage also showed what police say appeared to be Kareem praying, though he was kneeling behind his car, according to an arrest report.
SLS told police the initial value estimate for the damage was about $2,500.
On Thursday night, I-15 was temporarily closed in both directions near St. Rose Parkway while officer and SWAT units negotiated with a 51-year-old man, who refused to come out of his car, Metro said. Southbound lanes on I-15 at East Cactus Avenue and northbound lanes at Sloan Road were temporarily closed.
The man was wanted for several local burglaries, Metro spokesman Jay Rivera said. He surrendered to police before 11:40 p.m.
Metro received a suspicious-vehicle call in the northwest valley about 6:15 p.m. Patrol officers found the black Lincoln sedan and tried to pull it over about 6:30 p.m. near Westcliff and Durango drives, near Summerlin Parkway, police said.
The driver drove off. Police followed for a short time before backing off and deferring to Metro's helicopter, which followed the sedan through the valley.
The man pulled over under the bridge at St. Rose Parkway and unmarked Metro cars parked behind and in front of the sedan. Authorities then began trying to coax the man, who was alone in the car, outside.
Kareem is being held at Clark County Detention Center with $5 million bail. His preliminary hearing is set 9 a.m. for Aug. 2.
Contact Mike Shoro at mshoro@reviewjournal.com. Follow @mike_shoro on Twitter. Review-Journal writer Bianca Cseke contributed to this report.
Kareem faces three total counts:
– committing an act of terrorism
– disobeying an officer and endangering others
– property destruction