New charges against Las Vegas teacher accused of school threat
Updated May 7, 2019 - 4:38 pm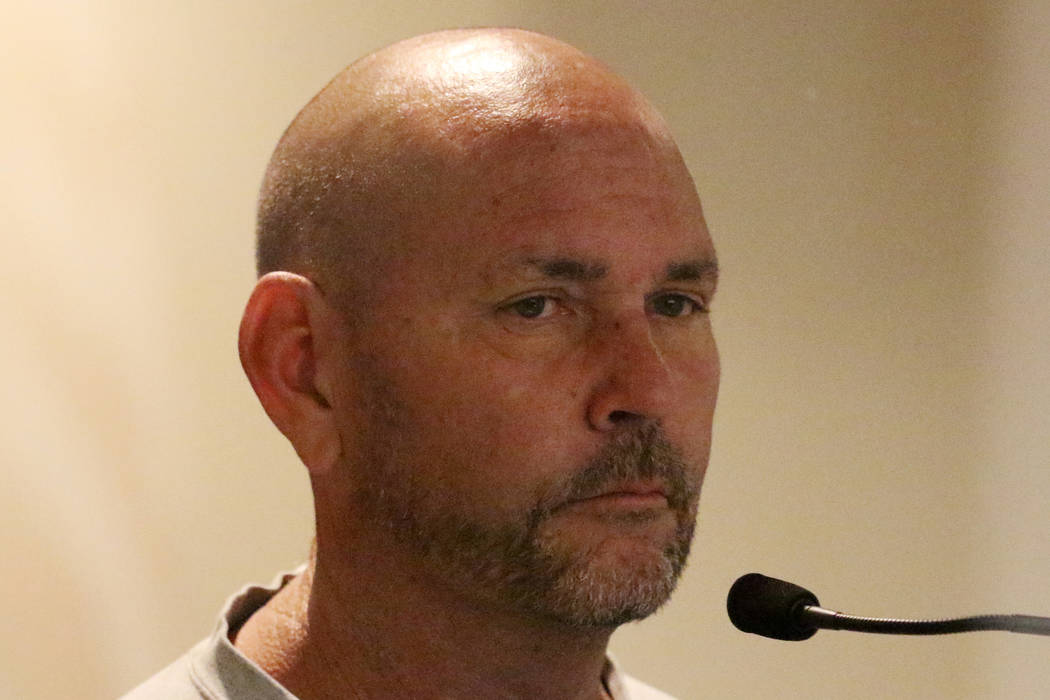 A physical education teacher, who records show has been teaching in the Las Vegas area since at least 2005, was arrested Monday — the second time in a week — after police say he spit on an officer outside a bar.
Todd D. Pomeroy, 56, who was arrested following the incident with police, was ordered held without bail on Tuesday in connection with the new case, in which he faces charges of intimidating a public officer, battery on a protected person and disorderly conduct.
According to the Metropolitan Police Department, Pomeroy, who had been out on bail, was kicked out of a bar on the 5000 block of Broadbent Boulevard after threatening employees and patrons Monday evening.
When officers arrived, they found Pomeroy throwing rocks at the business. While trying to take him into custody, police said, Pomeroy began threatening the officers and at one point spit on one of them.
In court Tuesday, Chief Deputy District Attorney Tim Fattig said authorities also are investigating a report that Pomeroy had threatened employees at a One Nevada Credit Union while trying to close an account.
"When he wasn't satisfied with the customer service he was getting, he threatened employees in the bank," Fattig said. "All of this is conduct consistent with what he was up to last week."
Pomeroy was first arrested April 29 on three counts of threatening to cause bodily harm or death to a pupil or school employee after police say he made threats against St. Viator Catholic School, where he previously worked. Prosecutors have said he was headed to the school at 4246 S Eastern Ave. when police took him into custody.
The prosecutor also called Pomeroy "extremely unstable," adding that he "clearly has a major alcohol problem and is an extreme danger to the community. We don't know what he's going to do next."
Citing pending charges against Pomeroy from last week's arrest, Las Vegas Justice of the Peace Pro Tem Holly Stoberski ordered him held until he faces another judge. He is due back in court Thursday.
Concern over mental state
The threatening voicemails, which prosecutors have said were left for "numerous employees, numerous times," prompted school staff to cancel classes at St. Viator for the day. In one of them, Pomeroy said, "I wouldn't bring your kid to school today."
Court records show that, in a December 2005 case with similarities to last week's alleged threats, Pomeroy was charged with a misdemeanor count of "threatening telephone calls."
According to his arrest report, Pomeroy began calling the school where he worked at the time, leaving threatening voicemails, after he quit on Oct. 27, 2005, during a "dispute" with a school administrator.
The name of the school is redacted in the report.
After quitting, Pomeroy returned to the school "and said that he did not quit and wanted to return to work," but the school refused to hire him back because of his behavior, the report stated.
The report shows he left the school at least three voicemails over two days before Metro was contacted. In the messages, he said that if he had gotten any more upset during the argument, "I would've taken your head and slammed it down on that desk."
In another message, he said that the school "better get the security system and those cameras on campus," according to the report.
The charge was eventually dismissed in October 2006.
Court records associated to the 2005 case also shows that Pomeroy had gone through "rehabilitation" through a 45-day in-house treatment program in California, according to a letter sent to a judge by his attorney.
Then in March 2017, Pomeroy was charged with misdemeanor battery, court records show. He entered a no contest plea in June 2018, meaning a defendant accepts a conviction without admitting guilt, and the case was dismissed in August after he completed impulse control counseling and 25 hours of community service.
Bolstered security
At the time of his arrest last week, Pomeroy was working as a physical education teacher at the Centennial Hills campus of Coral Academy of Science Las Vegas, a charter school in the northwest valley. He is no longer employed in that position, according to school officials.
In a voicemail to the Las Vegas Review-Journal, Pomeroy said that he had been teaching at Coral Academy for the last three years.
Bridget Johnson-Peevy, Coral Academy's human resources director, said Tuesday their teachers must be licensed with the state Department of Education, which requires staff to undergo formal background checks. A Review-Journal request regarding Pomeroy's background check from the department was not immediately returned.
On Friday, Metro provided extra security around the charter school.
Both Metro and school officials declined to discuss the added patrols, but a letter sent to parents from the school on Thursday indicated that Pomeroy's arrest led to the bolstered security.
"Although there was never any direct threat to our school, we are still taking this matter very seriously," the letter, provided to the Las Vegas Review-Journal, stated in part.
Since his arrest, the letter shows, Coral Academy has re-keyed the building's locks and is requiring parents to pick up their children directly from their classrooms for the remainder of the school year.
Pomeroy's preliminary hearing in the threat case is set for May 21.
Contact Rio Lacanlale at rlacanlale@reviewjournal.com or 702-383-0381. Follow @riolacanlale on Twitter. Review-Journal staff writer David Ferrara contributed to this report.