Pedestrian dies after being hit by car in central Las Vegas; driver charged
October 27, 2016 - 12:31 am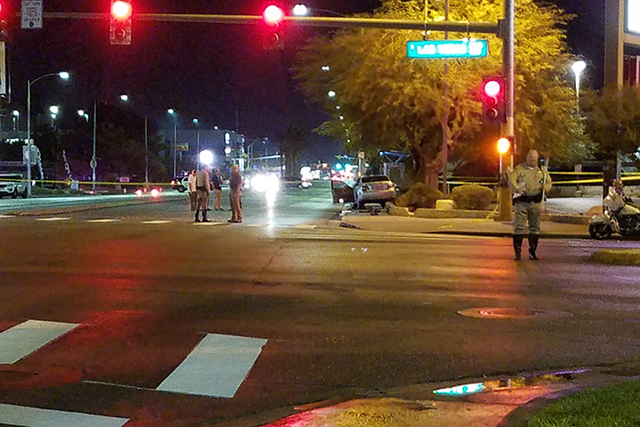 A woman on a sidewalk died after she was hit by a car late Wednesday night, and the driver is facing a DUI charge.
The unidentified 28-year-old woman and a man were near East Charleston and South Las Vegas boulevards about 10:15 p.m. when a woman, eastbound on Charleston in a four-door 2011 Toyota Camry, drove onto the sidewalk, said Sgt. Paul McCullough of Metro's traffic division.
(/center>
The Camry hit the two pedestrians who were sitting on a wall and continued another 20 feet or so on Charleston before hitting a pole and stopping, Metro said.
Both pedestrians were taken to University Medical Center, where the woman died. The man suffered substantial injuries, police said.
Police booked the driver, 45-year-old Andrea Corbani, into the Clark County Detention Center on a felony DUI charge.
Police said they were not sure if drugs or alcohol were responsible.
The crash remains under investigation. This is the 91st traffic-related fatality in Metro's jurisdiction in 2016.
Contact Mike Shoro at mshoro@reviewjournal.com. Follow @mike_shoro on Twitter.