Son of Las Vegas Councilman Steve Ross appears in court on robbery charges
August 24, 2016 - 5:40 pm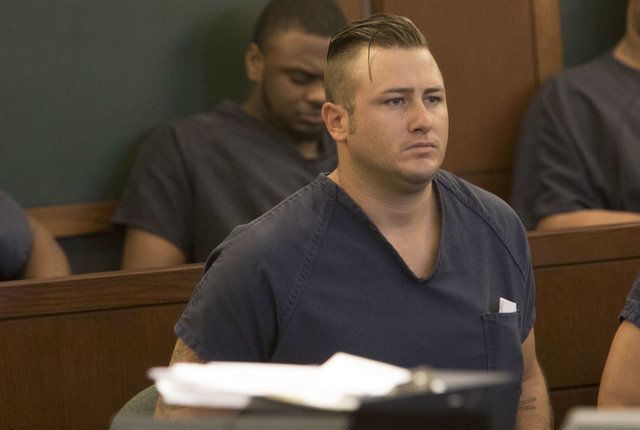 Shane Ross, the son of Las Vegas Councilman Steve Ross, appeared in court Wednesday morning to face robbery charges.
Meanwhile, his lawyers, David Chesnoff and Richard Schonfeld, said they would work to reduce his bail from $60,000.
"His family and our office want to make his personal well-being a priority," Chesnoff said. "I anticipate that we will be involving some form of counseling at an early stage."
The councilman said last week that his family was "stunned" and "devastated" to learn of his son's Friday arrest in connection with a series of robberies.
"Shane has battled addiction problems for sometime and may still be struggling with those demons," the family said in a statement.
The Ross family was not present in court Wednesday morning.
Las Vegas police responded to a robbery call at a Burger King on Rainbow Boulevard shortly after 7 a.m. Friday. The robber took off, but police arrested Shane Ross soon after, at another business two blocks away.
The suspect may be connected to multiple armed robberies earlier in the week in that area of the valley, according to police.
Police dubbed them "cruiser" robberies, because the suspect parked a motorcycle outside the businesses before robbing them at gunpoint and leaving on the motorcycle.
Shane Ross was booked Friday into the Clark County Detention Center on charges of robbery with a deadly weapon and burglary while in possession of a gun. He remained in custody Wednesday morning.
His father represents the northwest portion of the city, Ward 6. He was elected to the Las Vegas City Council in 2005 and is currently serving his third and final term. He lost the Democratic primary in June to Marilyn Kirkpatrick to represent District B on the Clark County Commission.
He and his wife, Kelli, have five children and 13 grandchildren.
Contact David Ferrara at dferrara@reviewjournal.com or 702-380-1039. Follow @randompoker on Twitter.
RELATED
Police arrest suspect in 9 'cruiser' robberies after he robbed a Burger King Friday