Arrest report says Laughlin officer paid girls for sex acts
Updated February 14, 2020 - 5:27 pm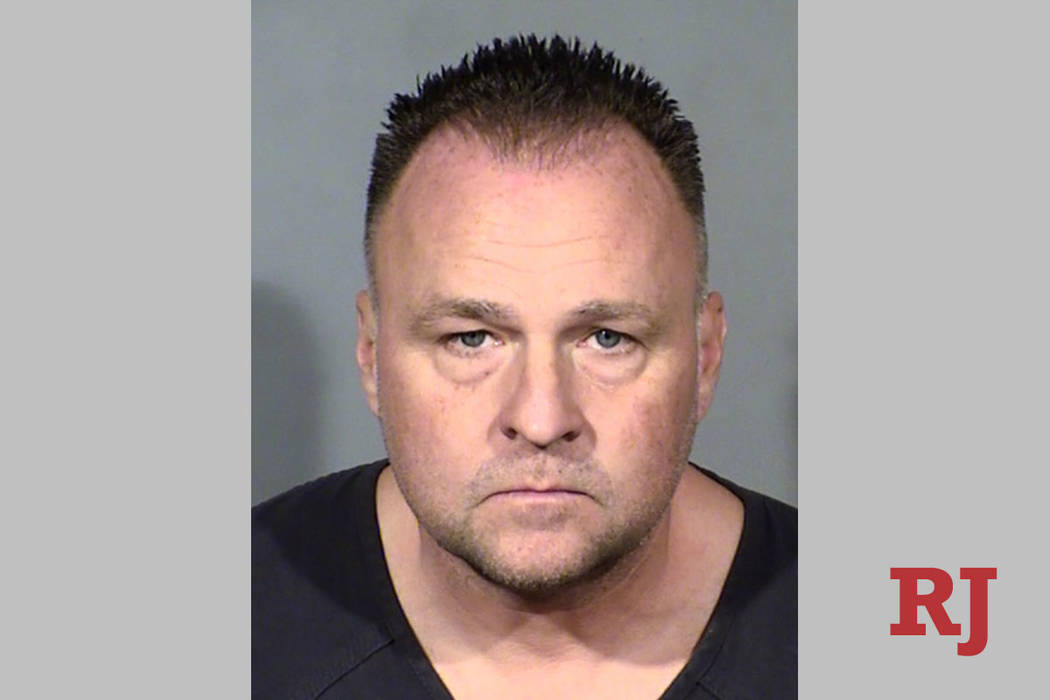 An arrest report released by the Metropolitan Police Department on Friday revealed that a Laughlin-based police officer is accused of paying girls to engage in sex acts with him.
The department last week refused to release Christopher Peto's arrest report, citing the open investigation. But Metro released the heavily redacted report to all media on Friday afternoon.
According to the report, Peto, 47, paid at least two girls after performing sex acts with them. He also paid girls for pictures and tried to push the girls to perform sex acts that were "not part of the deal," the report said.
At least one of the girls told police she witnessed the sex abuse between Peto and another victim while the girls were at Peto's home, the report said.
Police began investigating Peto after an anonymous caller told them on Jan. 24 that two girls had "been having sex with a male who is much older than they," according to the report. The anonymous tipster also said the "sexual interaction" had been happening for at least a year and a half.
The 20-year Metro veteran was arrested Jan. 31, and Metro distributed a news release the same day regarding his arrest. The department said he was later relieved of duty without pay.
Peto faces charges of lewdness with a child who is 14 or 15 by a person 18 or older, child abuse or neglect, two counts of first-degree kidnapping, three counts of soliciting a child for prostitution, and five counts of lewdness with a child under 14, Clark County Detention Center records show.
Detectives believe that Peto, who has worked for Metro since 1999, "encountered these girls at the Laughlin Jr./Sr. High School and during calls for service," Metro has said.
Detectives interviewed one girl who said the sexual contact with Peto began when he paid her $100 for a kiss. She said she went to his home about five or six times, and would go there to "drink alcohol and to get drunk."
In May 2019, the girl said she was at the home with a friend when Peto gave them alcohol, according to the report. Peto then asked the girls to take their clothes off, and he said he would pay them $200 each for sex acts.
The girl also said Peto paid her to send him nude pictures of herself. Detectives found text messages between the two on the girl's phone, according to the report.
She told detectives the girl she was with would not tell investigators about the sex acts. She said the other girl "felt uncomfortable reporting the relationship due to Peto being an officer and having 'connections,'" the report said.
Detectives spoke with one girl at a school who denied having any sexual contact with Peto.
When explaining why redactions were made in the report, Metro cited personal identifying information, information of sexual assault victims, "juvenile justice" information, law enforcement privilege, and concerns that some information would "constitute an unwarranted invasion" of someone's privacy.
Some longer sections of redactions appear to conceal descriptions of Peto's home.
Metro has previously released the arrest report of a retired officer after initially refusing to release the records. The department in November released Kirk Hooten's arrest report after a Review-Journal attorney sent a letter to the department.
Hooten, a retired Metro officer, was accused of soliciting a child for prostitution.
Contact Katelyn Newberg at knewberg@reviewjournal.com or 702-383-0240. Follow @k_newberg on Twitter.