North Las Vegas man backs out of deal in teen abduction, rape case
March 23, 2016 - 10:21 am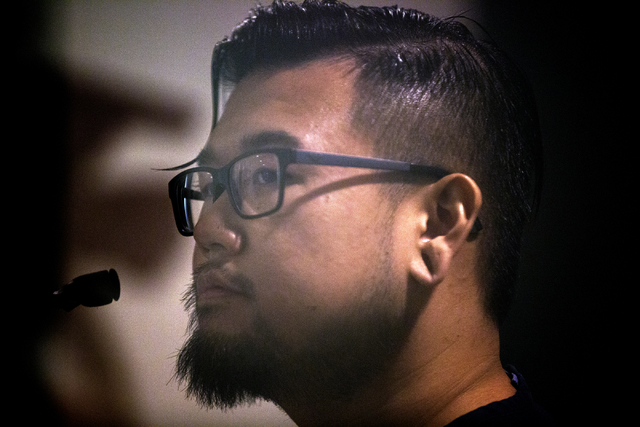 A North Las Vegas man accused of kidnapping teenage girls and holding them as sex slaves has backed out of a deal with prosecutors, his lawyer said Wednesday.
Earlier this month, Jimmy Carter Kim, 27, was expected to plead guilty to sexual assault charges that would have landed him in prison for 35 years to life. But Kim since decided that he did not want to accept the agreement, and intends to go to trial on dozens of charges, Deputy Public Defender Jeff Maningo said after a brief court hearing.
Kim faces a total of 83 counts including sexual assault with a minor, kidnapping, lewdness, attempted sexual assault and using a minor in producing pornography.
In early December, police received a call from a 14-year-old girl at a convenience store who said she had escaped a house where she was being held captive.
In an investigation that lasted less than five hours, police learned the girl had been kidnapped from Arizona and had been held against her will in a North Las Vegas home for about a month.
Police said they believe Kim brought the girl, who had run away from her Arizona home, to North Las Vegas and forced her to stay in his home in the 1100 block of Dawn Valley, near Washburn Road and Camino Al Norte.
Kim may have "gained information about her through the Internet," although he did not communicate with the girl online, police said.
The girl told police she escaped the home, ran less than a quarter-mile to a Green Valley Grocery store at the corner of Washburn and Camino Al Norte and called 911.
The girl reported being held captive, threatened with a handgun, raped repeatedly and photographed in sex acts.
Police said they found evidence that Kim may have had more victims.
Kim's father, Dennis Kim, 75, told the Las Vegas Review-Journal that investigators confiscated three computers and two vehicles from the home.
The father said his son would bring multiple girlfriends to the house, some of whom would drive themselves, and some of whom he had briefly met.
Dennis Kim said it never appeared to him that any of the girls he saw were there against their will.
Contact reporter David Ferrara at dferrara@reviewjournal.com or 702-380-1039. Find him on Twitter: @randompoker