Report says man posed as officer during sex assault in Las Vegas
Updated October 26, 2018 - 5:48 pm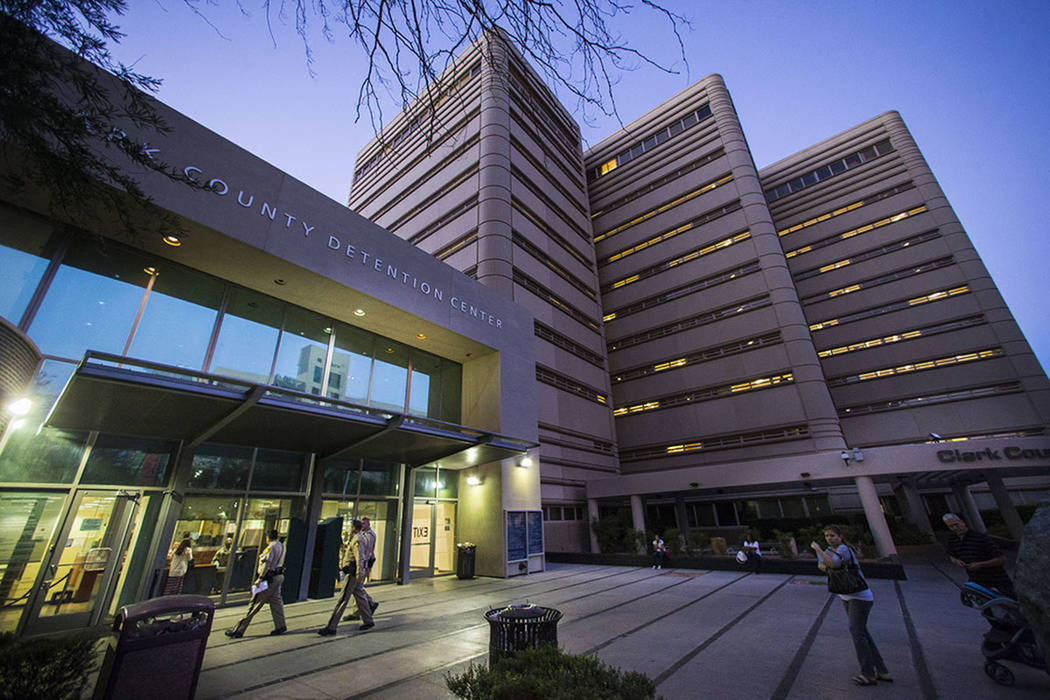 In a case with similarities to an ongoing investigation by the Metropolitan Police Department's sex crimes unit, a man is accused of coercing a prostitute into having sex while he posed as an undercover detective.
Tommy Lee Provost, 34, was arrested Monday on one count each of sexual assault and impersonating a public officer in connection with an assault that occurred on Sunday.
According to his arrest report, Provost matches the description of a suspect wanted in a series of sexual assaults against prostitutes dating back to at least February. During those attacks, the suspect, posing as an undercover detective, threatened to arrest his victims if they refused to have sex with him.
Provost's vehicle, a Dodge Charger, also matches the description of the car involved in the assaults, the report shows.
In August, Metro arrested a different 34-year-old man, Jesus Carvajal, in connection with the series of attacks. A Las Vegas police spokesman said he had no information Friday, a state holiday, but Las Vegas Justice Court records show that all charges against Carvajal were dismissed the same day Provost was arrested.
During the assaults detailed in Carvajal's arrest report, the man posing as a police officer had introduced himself to his victims as Lee — Provost's middle name — more than once.
When Carvajal was arrested on the impersonation and sexual assault charges, he laughed and said, "DNA will clear me," according to the report. One of the victims picked Carvajal out of a photo lineup, but only with 80 percent certainty, the report shows.
On Sunday, a prostitute told police she thought she had been contacted by one of her regular clients when Provost had texted her, offering to pick her up at a 7-Eleven near downtown Las Vegas, according to his arrest report. He had found her phone number on a website often used by prostitutes seeking clients.
When he picked her up, the woman did not initially recognize Provost. But after hearing him speak, she told detectives, she recognized him as the man who had sexually assaulted her twice in the last five years, according to his arrest report.
During both assaults, Provost identified himself as an undercover police officer, threatening to arrest her if she refused to have sex with him, the report states.
After Sunday's assault, the woman wrote down the license plate number on Provost's gray Dodge and then called her boyfriend, who drove her to University Medical Center to have a sexual assault exam, according to the report. Detectives met the woman at the hospital.
The license plate number led detectives to Provost, and in a subsequent interview, he told them that the woman was an acquaintance with whom he had lost contact, the report states. He said he pretended to solicit sex from her so that he could "make sure she was okay."
Police obtained a warrant and searched Provost's home, where they found several cellphones, a baton, and multiple magazines and ammunition. A pair of handcuffs also was in the vehicle, but Provost said they belonged to a friend, the report states.
Provost was being held without bail Friday at the Clark County Detention Center. Court records show that the district attorney's office declined to prosecute Provost on the impersonation charge.
His preliminary hearing is scheduled for Nov. 30.
Contact Max Michor at mmichor@reviewjournal.com or 702-383-0365. Follow @MaxMichor on Twitter. Contact Rio Lacanlale at rlacanlale@reviewjournal.com or 702-383-0381. Follow @riolacanlale on Twitter.