1 dead, several hurt in East Las Vegas shooting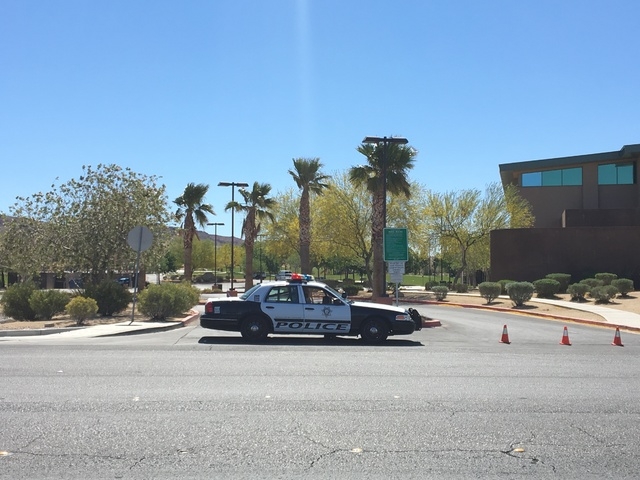 The last text message Crystal Barboza ever received from her son said that he loved her and that he would see her in a couple of hours.
"A couple of hours never came," Barboza said in tears at a gathering Saturday night at the site of her son's fatal shooting.
Angelo Barboza, 15, was killed in a shooting early Saturday morning at the Hollywood Recreation Center, located at 1650 S. Hollywood Blvd., just a block away from Harney Middle School.
More than 50 rounds were fired in a gunfight and stabbing early Saturday morning that left one dead, four injured and a juvenile arrested, facing a charge of murder, Las Vegas police said.
The shootings and stabbing occurred after a fight broke out, Metro said. It is unclear what led up to the fight— or what escalated it to gunfire and stabbing.
Angelo's older brother, Valentino Cruz, woke up Saturday morning to hear that his younger brother was killed. One of six children, he called Angelo a "quiet kid" who rarely went out. "He just liked playing video games."
At 3:28 a.m., police responded to a call reporting someone shot in the 5700 block of Pavot Court, near East Vegas Valley Drive, police said. Just one minute later, officers were also dispatched to the 8500 block of Pacific Shores Drive, a few blocks away from the other call, to a report of several people shot inside of a pickup truck, a Metro said.
Responding officers and medical personnel found a male — identified by police only as Hispanic — in a home on Pavot Court "suffering from what was later determined to be multiple stab wound to his upper body," Metro said.
He was taken to Sunrise Hospital and Medical Center "in stable condition," police said. The extent of his injuries was not specified. Two other men were at the house with him, police said.
At the same time on Pacific Shores Drive, police and medical personnel found four "Hispanic male juveniles with apparent gunshot injuries," Metro said.
One of the four was pronounced dead on the scene; the other three were taken to University Medical Center. Two of the juveniles had nonlife-threatening injuries, and one of them is in critical condition.
"Two other subjects were located at the scene with the victims," Metro said.
Metro's homicide section is investigating the case. "All of the subjects were at the Hollywood Recreation Center when a fight broke out," police said.
During this fight, one person was stabbed in the neck, and at least 50 rounds are believed to have been fired during the exchange of gunfire, police said.
Casings from several different calibers were recovered from the scene, indicating that multiple firearms were involved in the shooting, Metro Capt. Jack Owen said Saturday night.
"What we've done so far has not worked," Owen said during a gathering at the park outside the Hollywood Recreation Center while vigil-goers held candles and pastors comforted the grieving family members.
Police need the help of the community to address these types of violent crimes, Owen said. He underscored the need to prevent these types of events from happening and the importance of preventing access to guns by children. "This has got to stop."
"We are in crisis," Metro Deputy Chief Jim Owens said, echoing the sentiment.
When asked if the area was patrolled by park police, or possibly school police given the vicinity to the middle school, Owen said that Metro patrolled the area.
Police did not specify how many separate shooters were involved, or how the other men found at the two locations with the injured were related to the fight at the recreation center.
Crystal Barboza said that she didn't know who Angelo was with at the time he was killed.
Police said one of the juveniles they found at Pavot Court was responsible for the shooting of Barboza. He was taken into custody and booked into the Clark County Juvenile Detention Center on a charge of murder with a deadly weapon, according to Metro.
This is the 55th homicide investigated by the department in 2016.
Review-Journal reporter Jessica Terrones contributed to this report. Contact Christian Bertolaccini at cbertolaccini@reviewjournal.com and 702-383.-0381. Find him on Twitter: @bertolaccinic. Contact Jessica Terrones at jterrones@reviewjournal.com and 702-383-0381. Follow @JessATerrones on Twitter.