1,000 gift baskets thank first responders in Las Vegas shooting
December 8, 2017 - 4:56 pm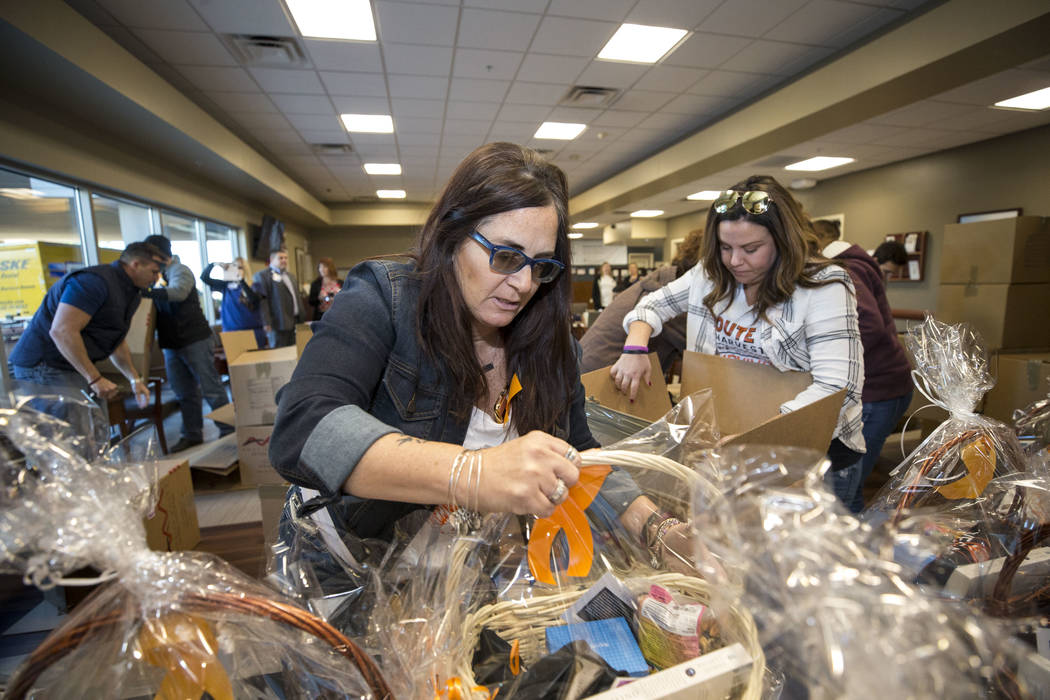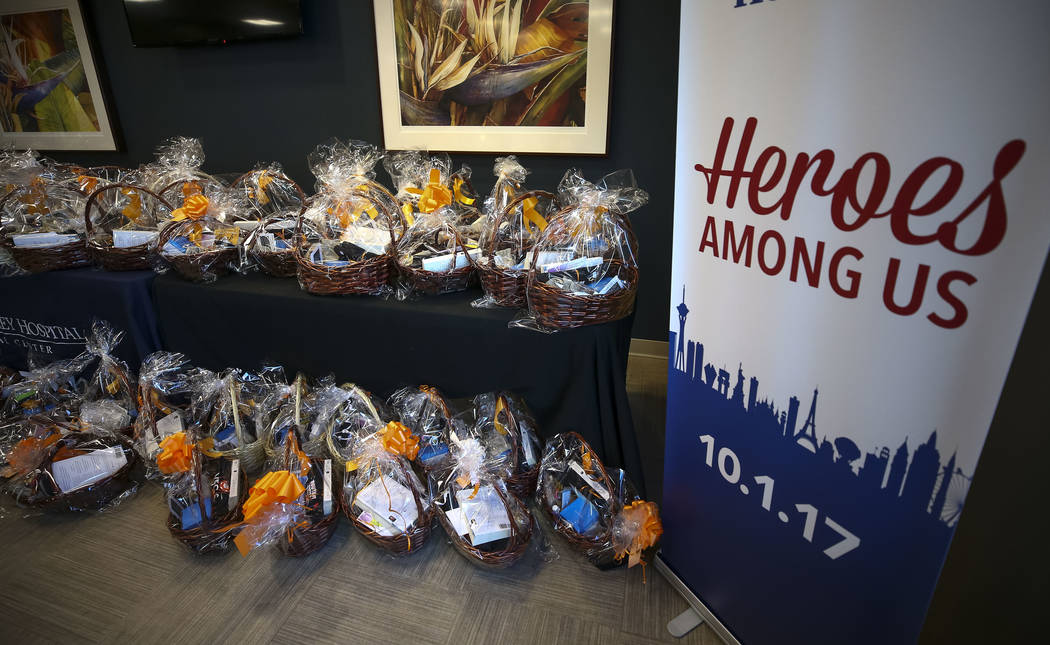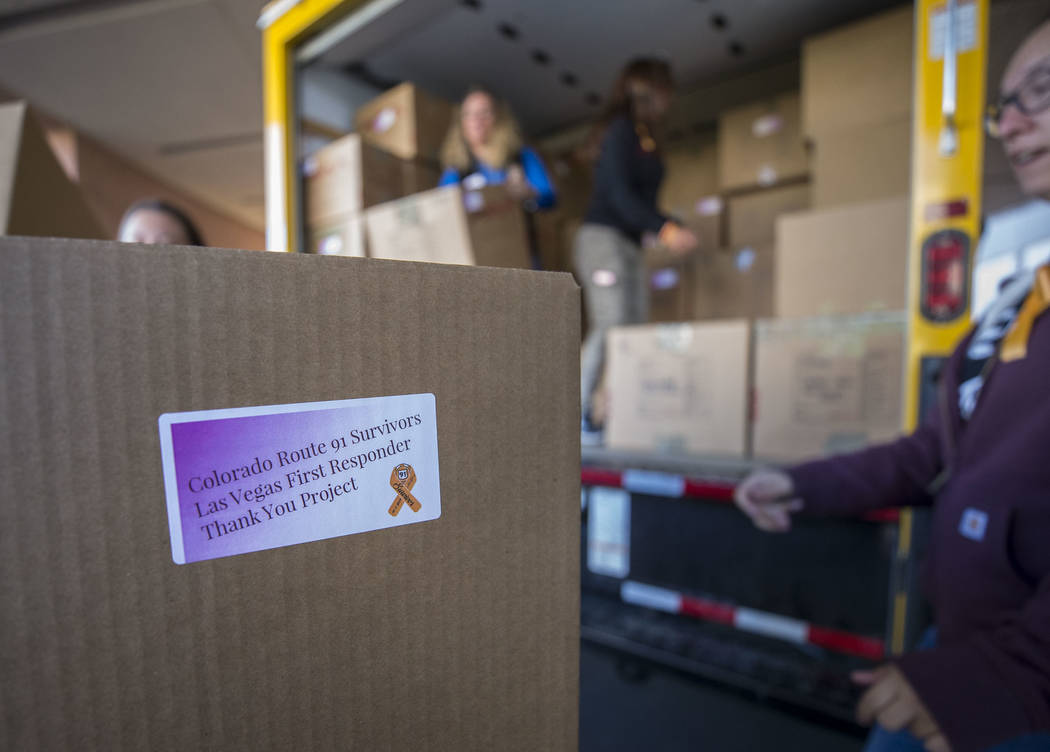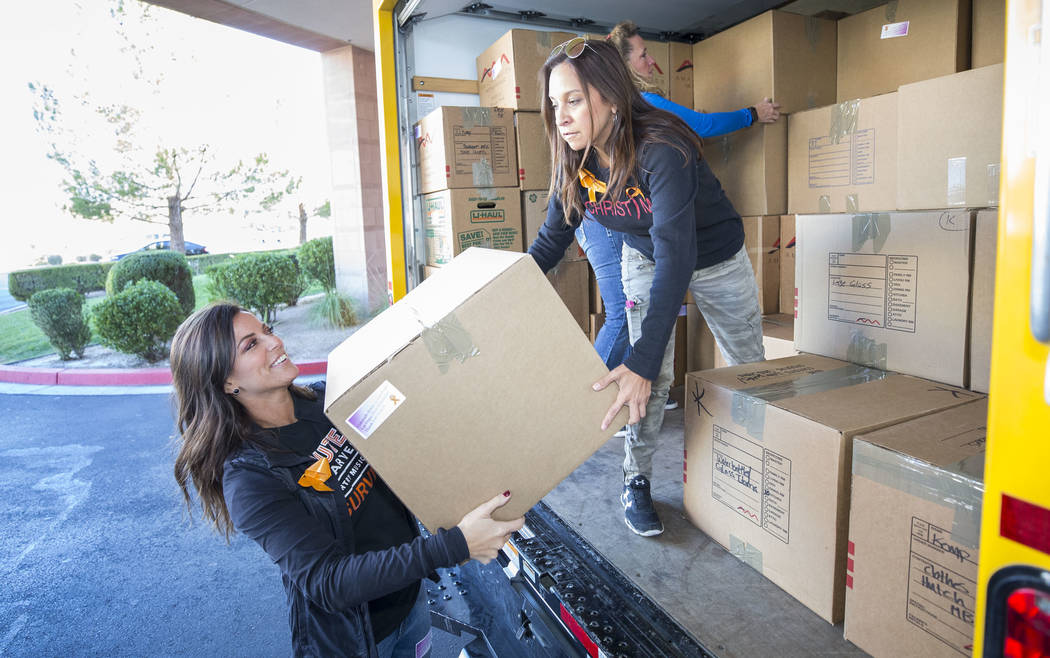 Chad Robertson and his wife, Jennifer, had a few people to thank for helping save their lives in Las Vegas on Oct. 1, including an undercover police officer who stood lookout while they hid between a food truck and a generator and the SWAT team that eventually helped them and other frightened survivors make it to the Tropicana.
"So we just wanted to do our little part to say thank you for what they did," Chad Robertson of Denver said.
That "little part" turned into a massive outpouring of gratitude in the form of 1,000 baskets full of feel-good treats for first responders and hospital workers who worked the night of the mass shooting at the Route 91 Harvest Festival. Chad Robertson and volunteers planned to spend Friday and Saturday distributing the baskets to locations around the Las Vegas Valley.
Each basket contained an assortment of small gifts — such as aromatherapy oils and a diffuser, a book, a Vegas Strong T-shirt — as well as a personalized thank-you card from a survivor.
$40,000 raised in days
Chad Robertson, who works for an insurance company in Denver, said the gift basket idea took off quickly, drawing in 20 fellow survivors from Colorado, 20 from other states and around 150 to 200 Las Vegans.
Then it only took the Robertsons a few days to raise $40,000 through an online campaign that helped pay for some of the goodies.
"We negotiated really heavily with the vendors we wanted to purchase things from … and it just snowballed," Chad Robertson said. Mountain Man Nut and Fruit Co. donated snacks. The Venetian and Palazzo donated rooms for the visiting survivors for the weekend and space in a warehouse to store the baskets.
FedEx shipped the goods free of charge.
One group's first stop Friday morning on what was expected to be an 11-hour delivery run was the Spring Valley Hospital Medical Center in southwest Las Vegas.
Around 20 volunteers, mostly from Colorado and California, mixed in with a couple Vegas locals, donned Vegas Strong shirts and orange ribbons as they unloaded 75 gift baskets. While they set up in the hospital's emergency room, doctors, nurses and other first responders trickled in to view the growing pile.
The hospital's CEO, Leonard Freehof, thanked volunteer Melody Mesmer, co-founder of Foundation 1023, a nonprofit which provides counseling to first responders and partnered with the Robertsons on the gift basket fundraiser.
"A lot of times, fire, police, EMS hospital workers, it's a very thankless job," Mesmer said. "And so being able to take a time out and tell them that they're important and the efforts they give is important … I think it helps fill their heart."
Tears and sniffles between speeches
Freehof, Mesmer and the hospital's ER director, Carolyn Hafen, shared messages of gratitude and thanked one another. Most in the crowd wiped tears and sniffled between speeches.
"I don't even know how to put it into words, how meaningful it is to see the hearts and souls that came together," Jennifer Brooks, a volunteer from Riverside, California, said, choking back tears. "Knowing how much trauma they dealt with the the hospitals that night, that's a miracle."
She credited the ER employees for saving hundreds who survived the worst random mass shooting in U.S. history.
"I was most impressed that if you showed up to one of our hospitals here in Vegas alive, you remained alive," Brooks said.
While survivors said it was their duty to thank those who saved lives, the ER's clinical supervisor, Sydney Patton, didn't see it that way. Patton, who was the charge nurse responsible for managing the emergency room the night of the shooting, said the outpouring of gratitude has helped her and other hospital workers cope with the stress following that night's traumatic events.
"You kind of feel like, 'This is what we do. This is our job. All this stuff should go to the victims, it should go to their families,'" Patton said. "To see that people are taking care of us too, it's incredible."
Contact Jessie Bekker at jbekker@reviewjournal.com or 702-380-4563. Follow @jessiebekks on Twitter.