4th of July party ends with 3 shot at North Las Vegas apartment complex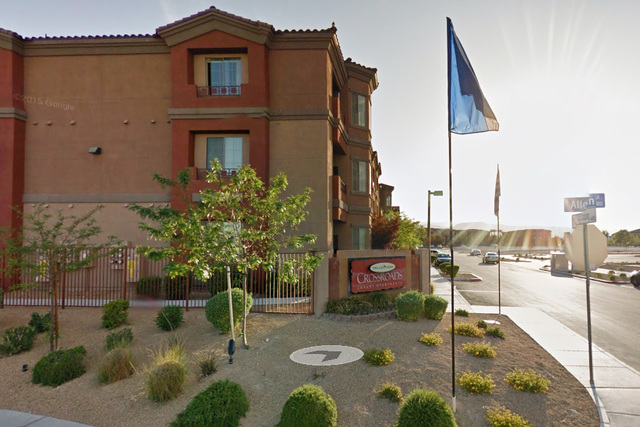 A Fourth of July party in North Las Vegas turned violent early Monday morning, and three people were sent to the hospital with gunshot wounds.
North Las Vegas police officers responded between 2 and 3 a.m. to reports of a neighbor dispute and shooting at the Trellis Park apartment complex at 3825 Craig Crossing Drive.
Three people were shot and taken to a hospital with nonlife-threatening injuries, department spokesman Aaron Patty said.
One witness who was at the party in a third-floor apartment said a downstairs neighbor started shooting at the partygoers because they were lighting loud fireworks on the balcony.
Rebeca Perez, 25, said about 13 people had gathered for the celebration. She wasn't sure what type of fireworks were being used around 2 a.m.
"I was making mixed drinks in the kitchen," the Las Vegas woman said, adding that the fireworks were "really loud."
The downstairs neighbor began banging on the door.
"We open the door, and he pulls out a gun," she said. "I just heard the gunshots."
She and two of her friends ran into the bathroom, locked the door, turned off the light, and huddled in the tub. As she hid in the dark room, she called 911, but she said no one answered.
"It was just ringing and ringing," she said.
Patty said there may have been a surge of calls about the shooting, and that graveyard staffing is lower than other shifts. He said dispatchers are typically good at answering 911 calls in a few seconds.
After several minutes, Perez heard other friends talking outside and she figured the gunman had left.
She opened the door and saw wounded people lying on the floor. Three men, described in their early 20s, had been shot — two in the leg and one in the stomach, she said.
One partygoer saw police downstairs and shouted that help was needed and people were shot.
Perez and three others picked up one of the men who was shot in the leg and began carrying him to try to get him to a hospital. But police came in with their guns drawn as they reached the exit, she said. They ordered the partygoers to lie on the floor with their hands on their heads.
"They took like six of us in," she said. "We were held at the apartment. We were there the whole night, just handcuffed."
Patty said it can be difficult for officers to figure out what's going on when they first arrive, especially if there's alcohol involved. It's normal for police to handcuff everyone until they determine who's who.
Perez said everyone was allowed to leave the apartment at about 7 a.m.
One of the men with a leg wound was released from the hospital, she said, but the other two needed surgery.
Perez said she believed the suspected shooter was arrested, but as of noon Monday, Patty had no details about any arrests made.
Contact Max Michor at mmichor@reviewjournal.com or 702-383-0381. Find @MaxMichor on Twitter. Contact Wesley Juhl at wjuhl@reviewjournal.com and 702-383-0391. Find @WesJuhl on Twitter.