Donors overwhelm blood banks after Las Vegas Strip massacre
October 2, 2017 - 12:49 pm
Updated October 2, 2017 - 10:22 pm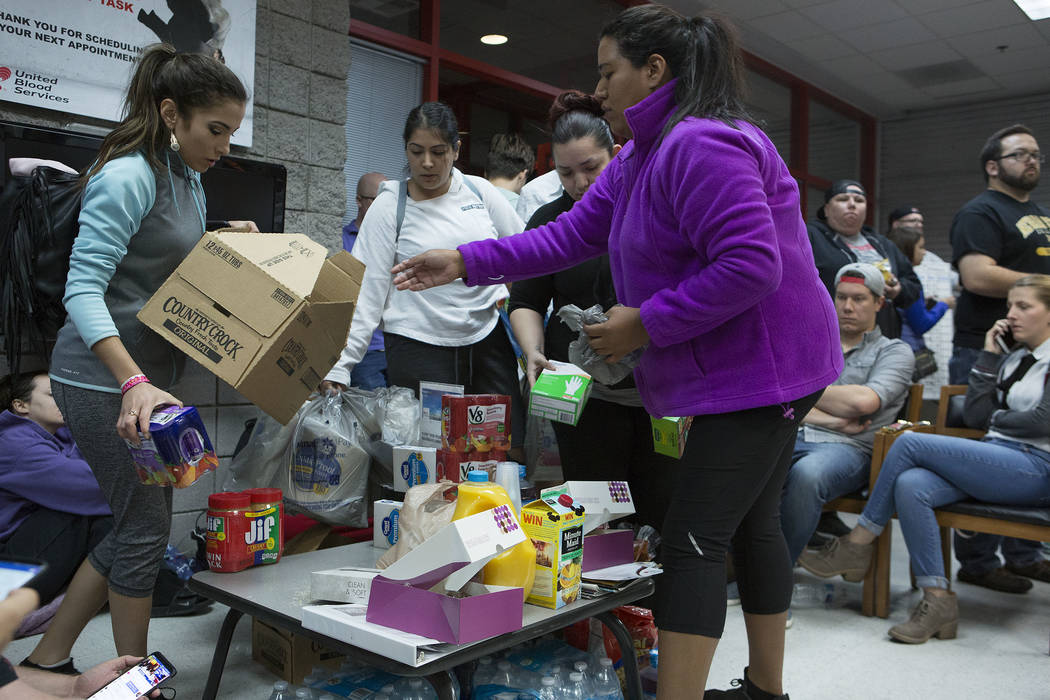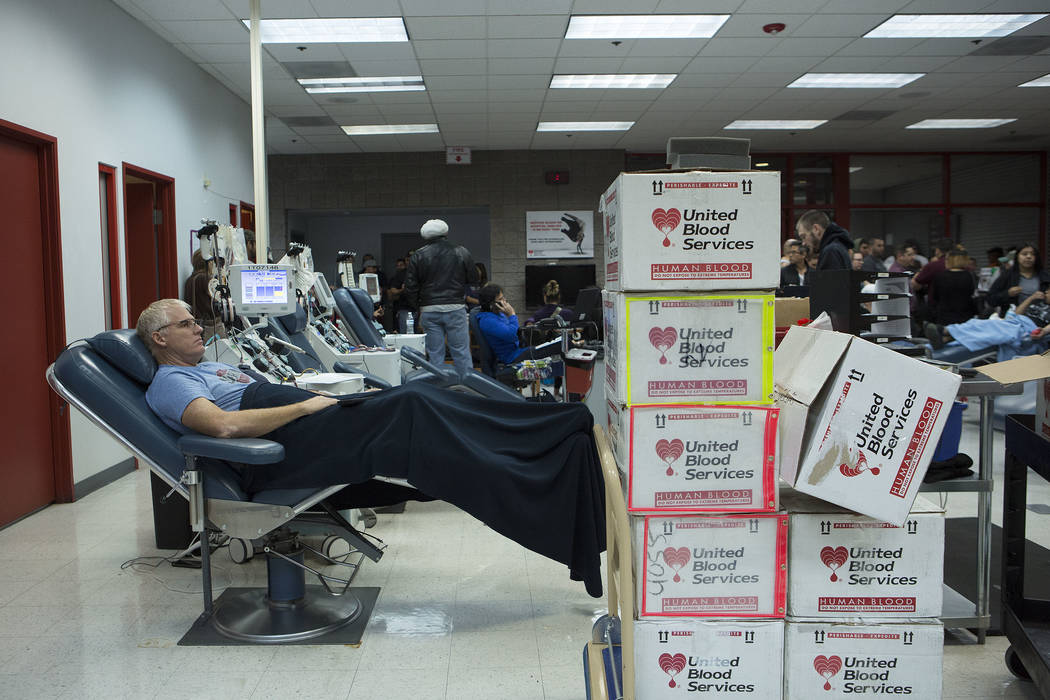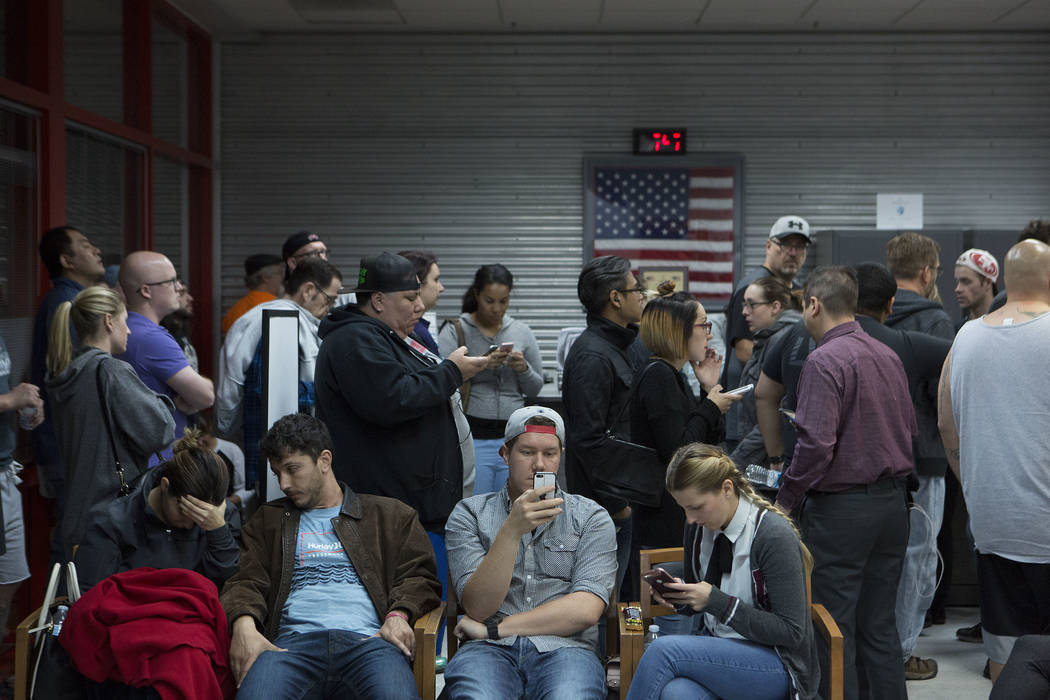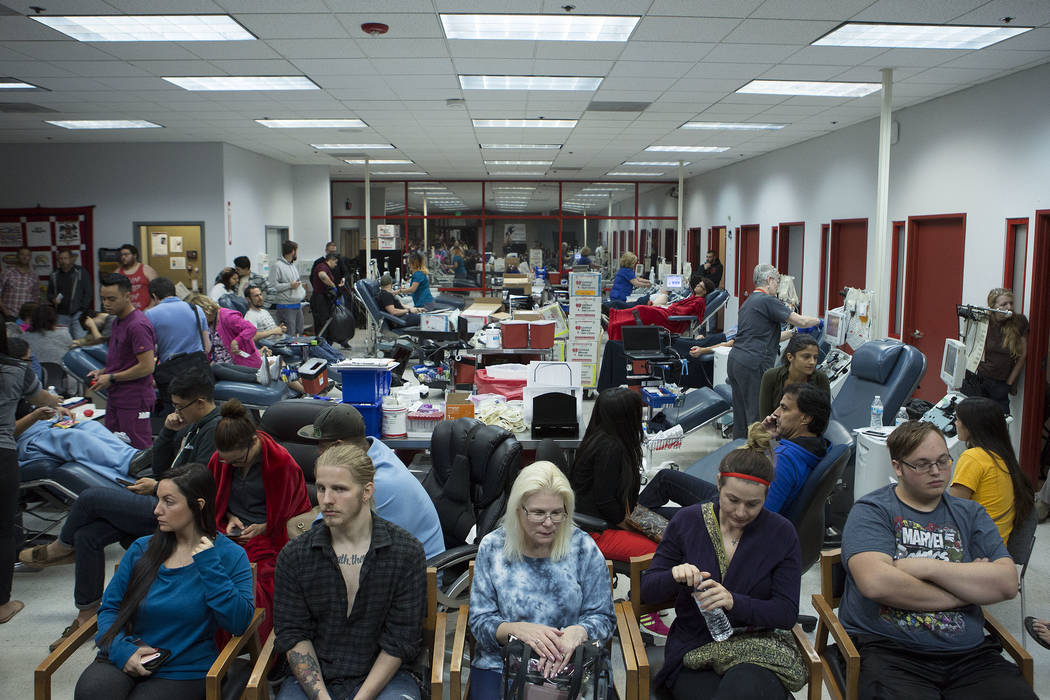 In the hours after Sunday's mass shooting in Las Vegas, long lines formed at local blood donation centers.
By 6:30 a.m. Monday, a crowd snaked its way around the United Blood Services office on West Charleston Boulevard and down the street. The group grew throughout the morning.
The waits to give grew, too. After braving the line, which took about 3 hours, donors who checked in had to wait another 4 to 5 hours at midmorning.
Fred Roy, 53, said he wanted to do something to help the people shot, and he wasn't sure what else to do.
"There's a lot of good people who care about their city and visitors who come here," he said.
Roy, originally from Houston, said he sat on the sidelines as far as providing relief to his former hometown in the wake of Hurricane Harvey. But he said he couldn't leave it to others this time.
"It came to my doorstep," he said, staring off into the distance. "It actually picked me up and brought me here."
'Today, tomorrow, the next day'
Brenda Logan, who lives across the street, came over to help a little after 3 a.m.
"One day is not going to fill up our blood blank," she said. "This is going to be today, tomorrow, the next day."
Erik Hill, regional director of United Blood Services, said the facility normally opens at 7 a.m. But Hill spotted 20 to 30 people in the parking lot about 2:30 a.m. when he was checking on deliveries to the hospitals at the back of the building.
So the staff opened early and began drawing blood at 4 a.m. By midmorning, the blood bank was packed as the news blared on the waiting room television. Families huddled in line under blankets as snacks and food were handed out by volunteers.
He wasn't sure how late the center would stay open, but he said all of the center's 55 to 60 nurses were working to take advantage of "a great outpouring from the community."
"We're all hands on deck. I'm not aware of any that aren't working right now," Hill said.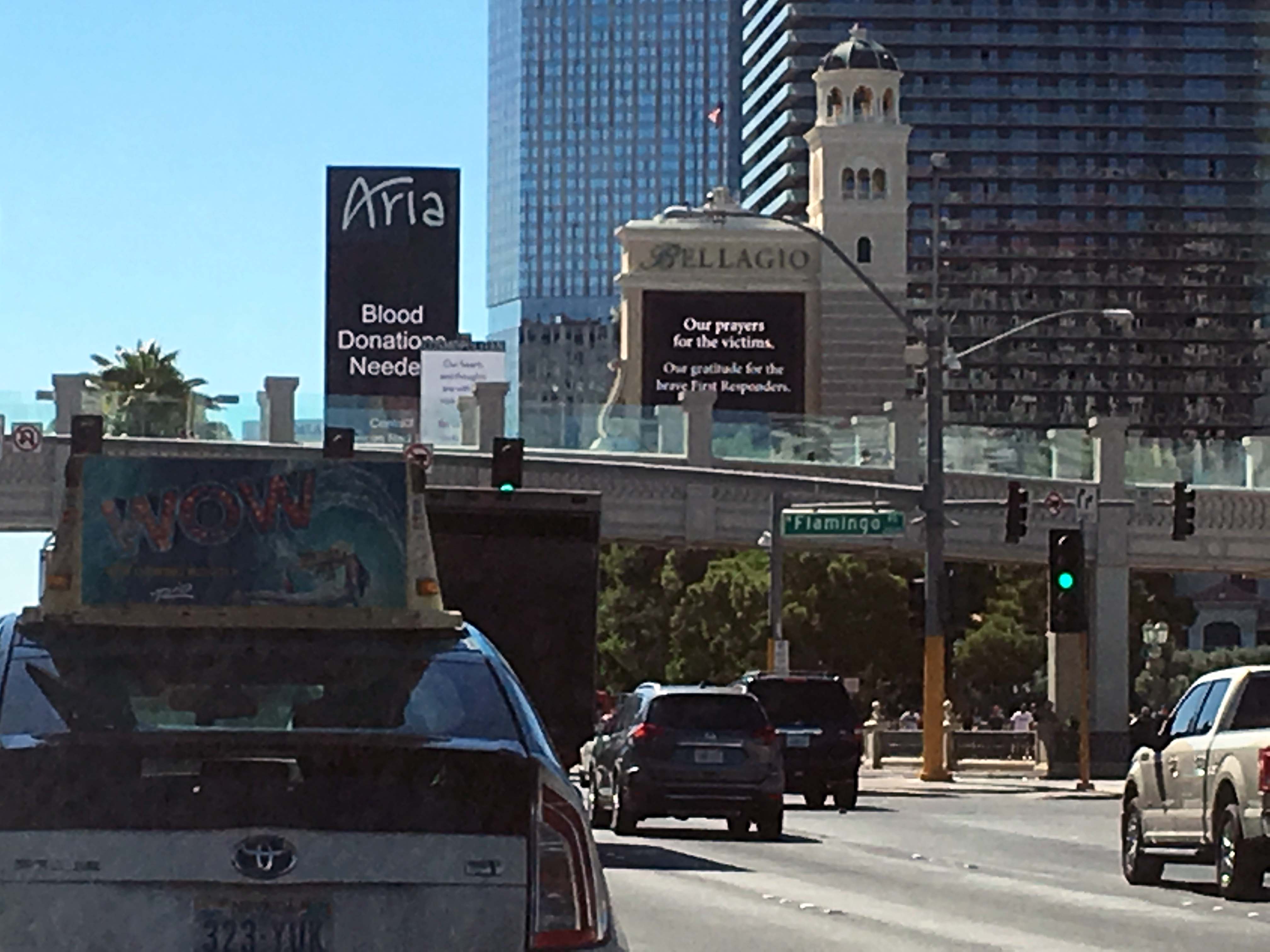 Signs at the Aria encourage people to donate blood in the aftermath of Sunday night's mass shooting at the Route 91 Harvest Festival near Mandalay Bay. Bruce Schapiro
The blood donated Monday has to undergo testing and won't be ready for use until Wednesday, Hill said. But there is no danger of running out in the meantime.
Usually, 40 to 50 people donate blood a day. On Monday 250 people had signed up by 7 a.m. That didn't include the line of hundreds outside.
United Nissan and Lyft were offering free transportation to blood banks. In a statement Monday afternoon, United Nissan said it will ferry donors until at least Wednesday; people who need a ride can call 702-207-8000.
'I was one of the lucky ones'
"It's what needs to be done," said Taylor Cassidy, 26, who was raised in Las Vegas and was one of the first arrivals. "When you see it on the news and it's a different city, it's not quite the same. Here, you feel it on a more personal level."
Emily Sandoval, 25, who was selling hats at the Route 91 Harvest music festival when the shooting started, said she realized after the fear subsided that she needed to give blood.
"Slowly, it's been hitting me," said Sandoval, a student at the College of Southern Nevada, who had been waiting since 5:30 a.m. "I was one of the lucky ones."
Amanda Long, 29, who usually attends the festival but decided to pass this year, woke up to news of the shooting at 1:45 a.m. She said she lost one friend and others were injured. She still hadn't heard about others.
She loaded up her white pickup up with six cases of water and two packages of crackers and chips and drove to United Blood Services, arriving at 4:15 a.m.
Others added to her pile, and by 10 a.m., an army of people were unloading snacks and other donations for those waiting in line to donate blood.
"People are hurt. People are in need," Long said. "I got on my feet. Do what you need to do."
The first person to arrive and wait outside the bank, 19-year-old Domingo Garcia, shivered underneath a red blanket as he finally got to give blood, with a water bottle in his left hand and a stress ball in his right.
He said workers told him to go home when he arrived shortly after midnight and come back at 7 a.m. He drove halfway home before turning around and deciding to wait it out.
"There is definitely love," he said of Las Vegas.
Tourist answers call
The Metropolitan Police Department also suggested people visit the Construction Industry Health and Wellness Center, 7135 W. Sahara Ave., to donate blood. People gathered in the lobby at the center at 5 a.m. Monday.
Elizabeth Birney-Pierce, 69, was visiting Las Vegas and was hoping to pitch in any way she could.
She said her sister was killed in a car crash at 20. As a result, she recognizes the importance of donating blood.
"So we jumped in the car, I woke up my husband and said, 'I'll be back,'" she said.
Sitting nearby was Tony Mascari.
Mascari, a 20-year Navy veteran, works graveyard shift, so he's usually up in the wee hours of the morning regardless. His son is deployed as a contractor with the Department of Defense, Mascari said.
"He's doing what he can. I'll do what I can," Mascari said as he waited to donate his Type O blood to help the victims. "My prayers are with them, and now my blood's gonna be."
Contact Briana Erickson at berickson@reviewjournal.com or 702-387-5244. Follow @brianarerick on Twitter. Contact Jessie Bekker at jbekker@reviewjournal.com or 702-380-4563. Follow @jessiebekks on Twitter. Contact Mike Shoro at mshoro@reviewjournal.com or 702-387-5290. Follow @mike_shoro on Twitter.
'We've met the immediate need'
Erik Hill, regional director of United Blood Services, on Monday urged people wanting to donate blood to hold off for a few days.
"The problem is I've had staff here now for 12 hours," Hill said Monday afternoon. "We've met the immediate need of blood, so now what we're asking people to do is pledge to come back in a week, come back in two weeks … (or) a few days. Sunday mornings tend to be light."
For those who can't wait, all three United Blood Service locations will open early at 9 a.m. Tuesday to continue taking donations. Appointments are available at https://www.bloodhero.com/.