Friends, family remember Las Vegas shooting victim's love of son, Dodgers
October 29, 2017 - 7:27 pm
Updated October 29, 2017 - 7:30 pm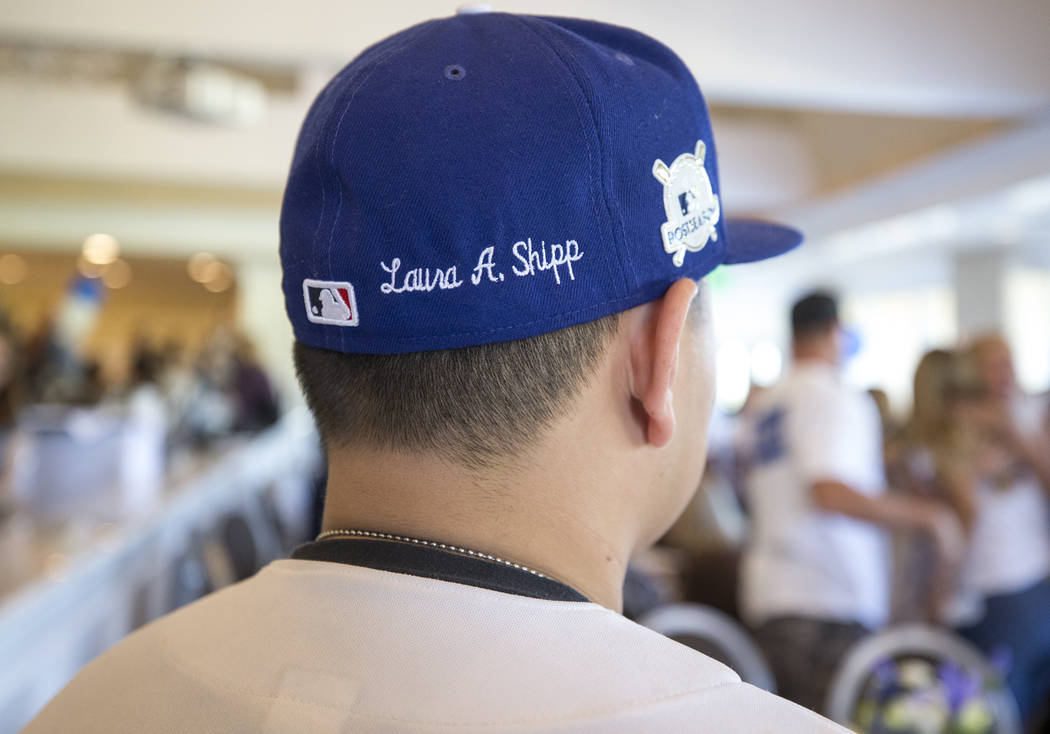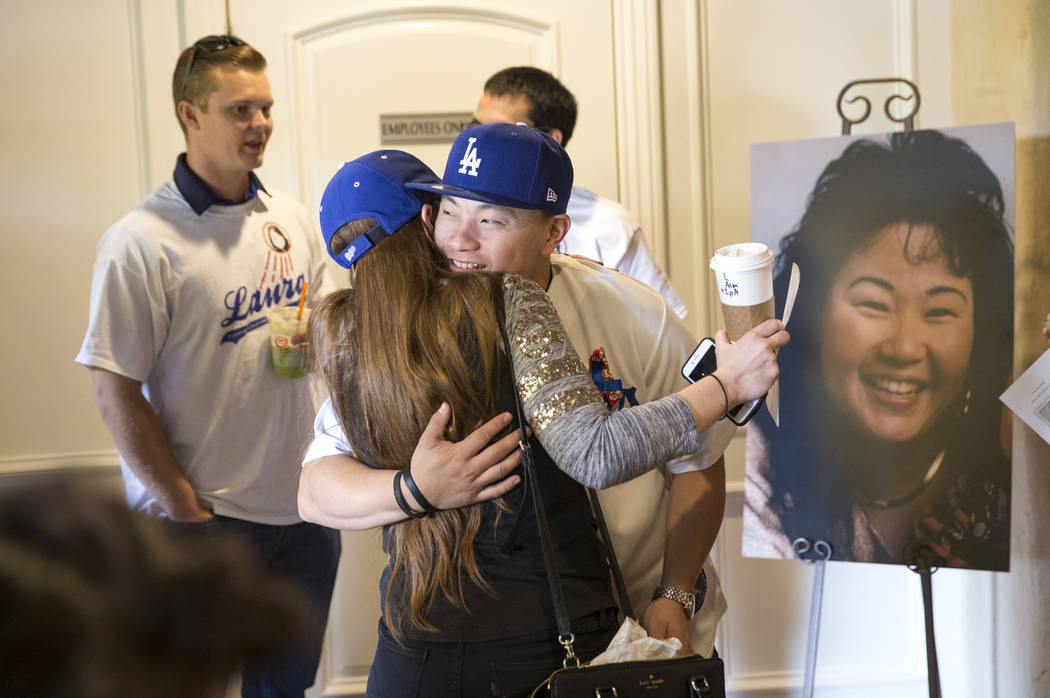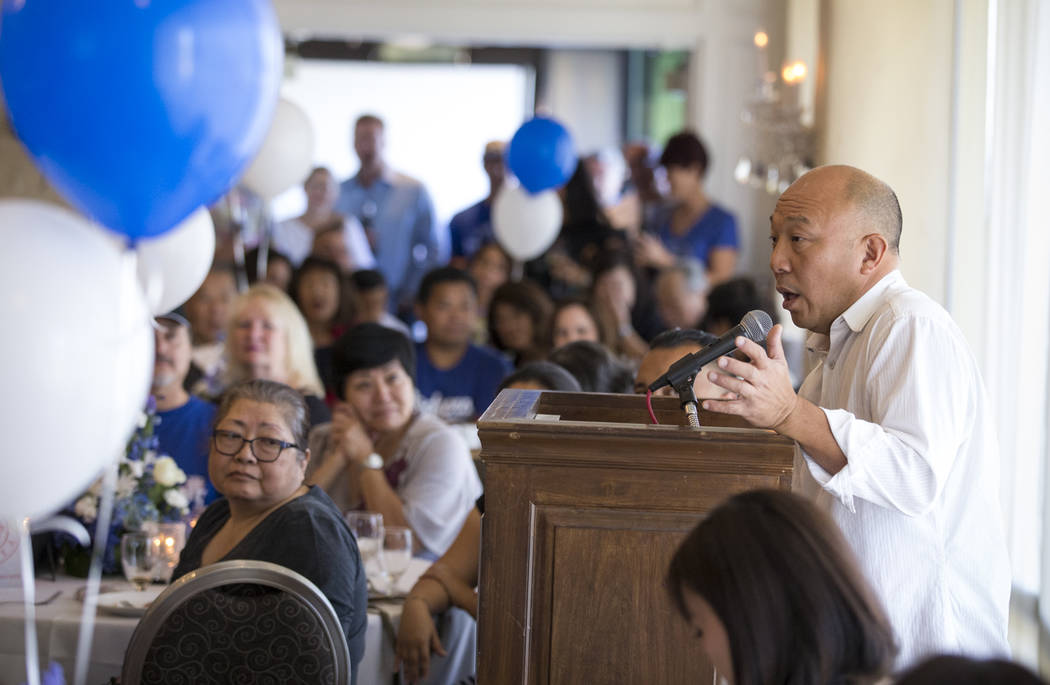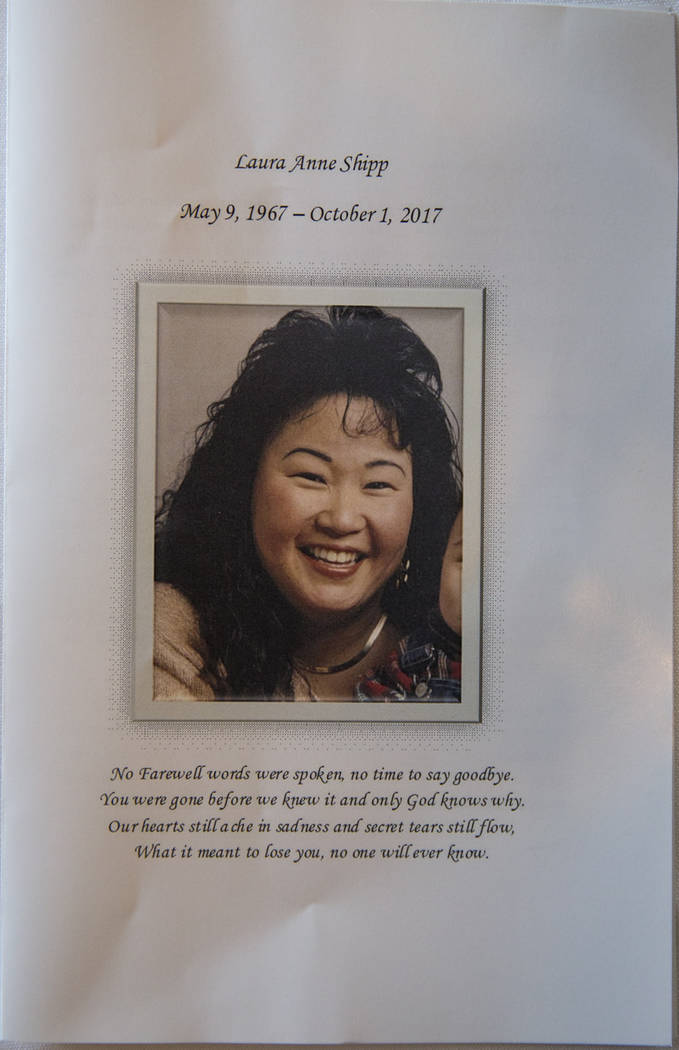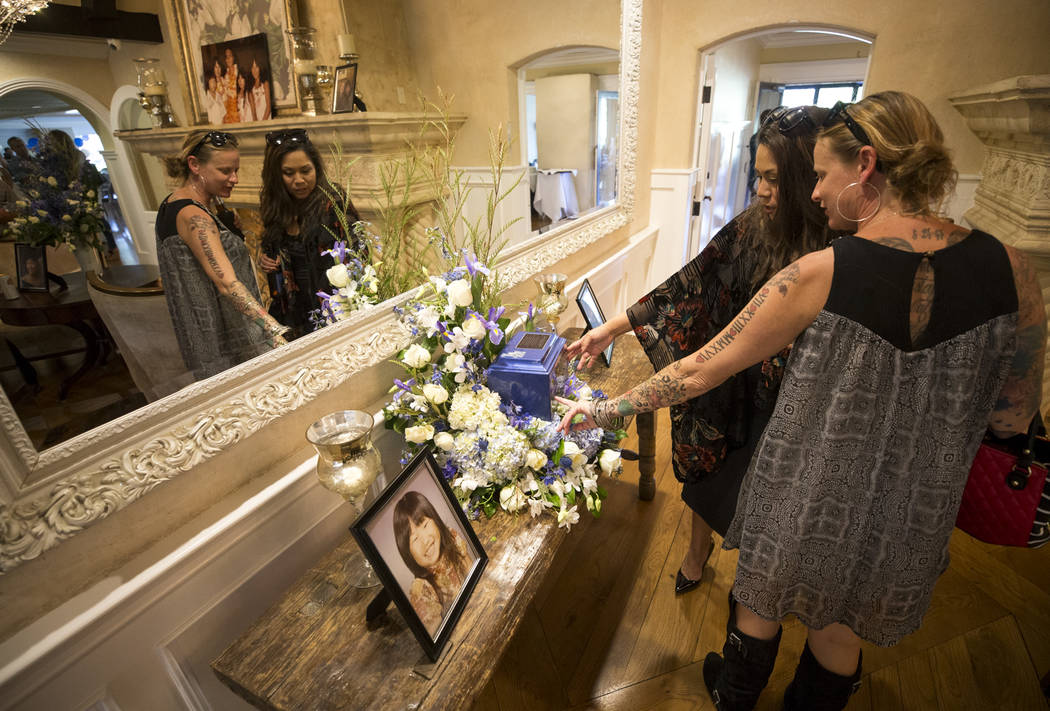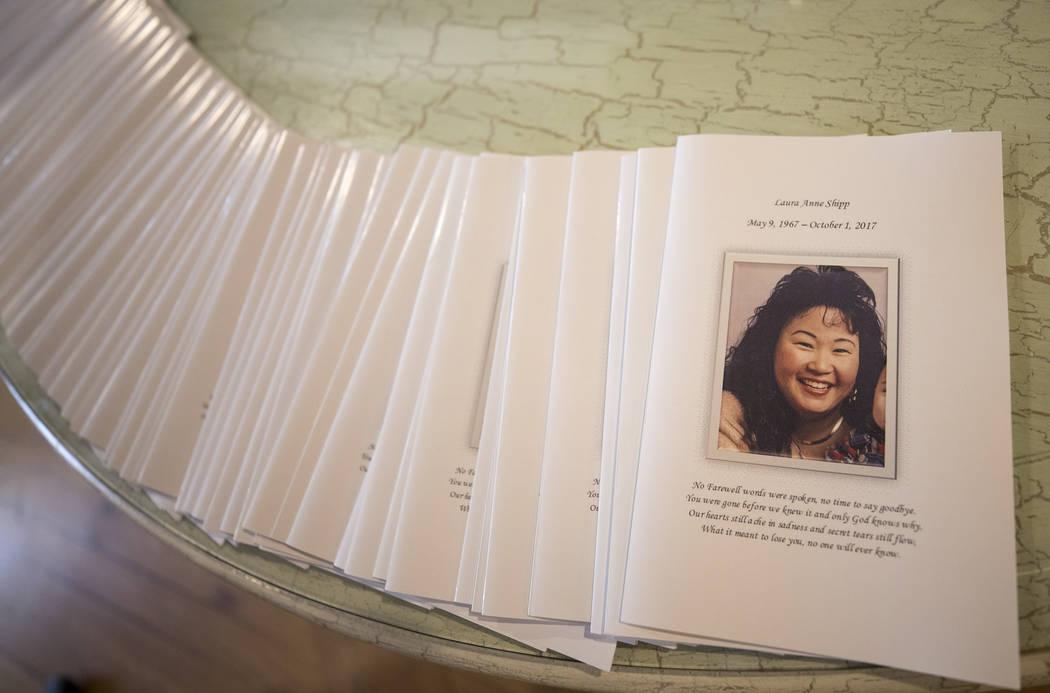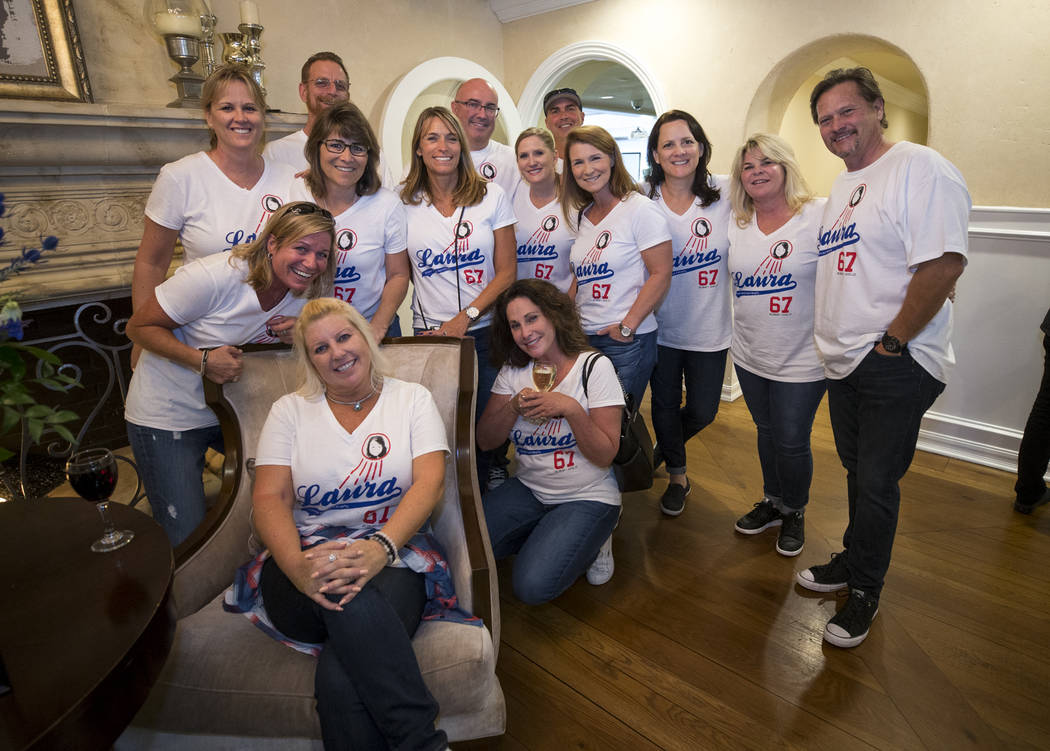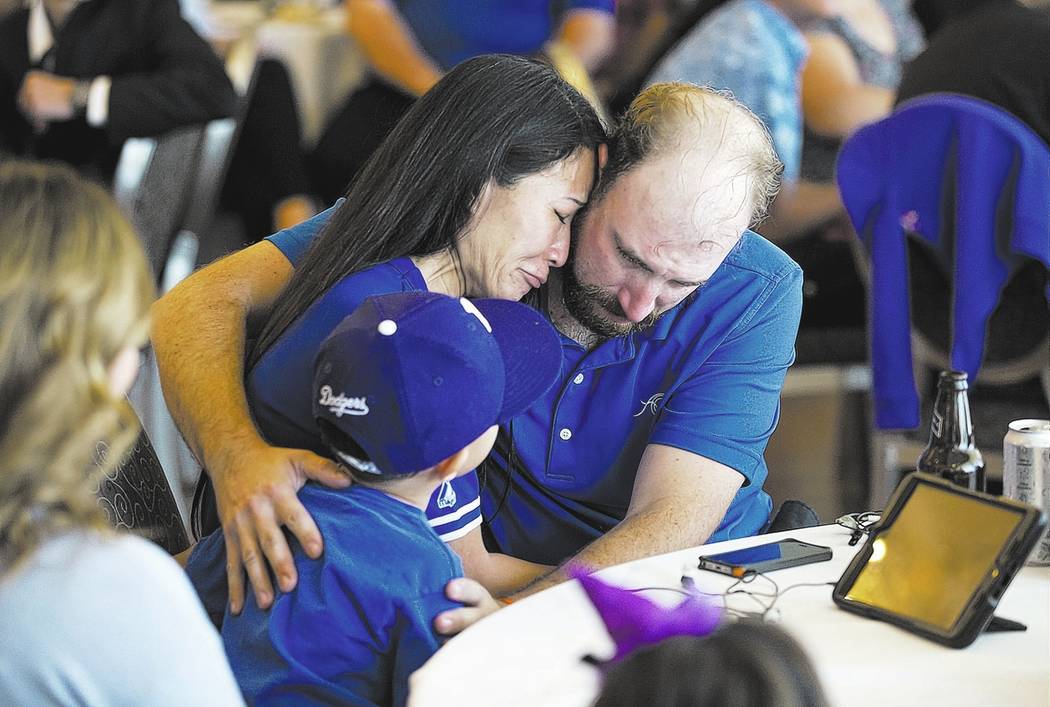 WESTLAKE VILLAGE, Calif. — The Los Angeles Dodgers' game Sunday might have been for Laura Shipp. The whole pennant-winning season might have been, at least as far as her son, Corey, and her friends are concerned.
Shipp's Dodger fandom was a theme at the 50-year-old single mother's celebration of life Sunday at Westlake Village Inn. The reception room filled with around 300 family members and friends, most dressed in Dodger blue, to remember the Las Vegas woman who was one of the 58 killed Oct. 1 at the Route 91 Harvest festival.
Because Southern California was Laura's home for so many years — she was originally from Thousand Oaks — the family held the first service there. There will be another Nov. 8 at the Las Vegas Golf Club.
On Sunday, family and friends celebrated Shipp; they didn't want to mourn. They munched on cheddar cheese, pizza and egg rolls, sipped wine and beer and shared stories. They remembered her as loud and generous who lived for her son.
Steve Shipp, 47, Laura's younger brother, said Corey Shipp, now a 23-year-old Marine reservist, was "her life."
A blanket woven with photos of the two, smiling, her arms around her son, was draped on a couch at the service. Her favorite saying, "My son is my life, and my life is my son's," was stitched under the images.
"You have no idea what this means to Corey," Steve Shipp said.
Corey Shipp was with his mother at the country music concert on the Strip on Oct. 1. After a gunman sprayed bullets into the crowd, the two were separated. Corey spent the night going hospital to hospital, frantically searching for her.
Susan "Tinker" Hirasuna, Laura Shipp's cousin, was anchoring the 10 p.m. newscast for Los Angeles' KTTV-TV when her producer spoke to her through her headset.
"There are reports of an active shooter at the Mandalay Bay in Las Vegas," he said.
For the next eight hours, she reported on the tragedy — not knowing that her cousin was there. When she found out, she couldn't believe it.
"This is the first time I've had news coverage hit me," she said Sunday.
Tracy Shipp, Laura's one-year-older sister, recalled how her son, Trevor, would sleep on Laura's chest as a baby and stay at Laura's house on weekends. He called her Auntie Fluffy.
After the shooting, Trevor, now 8, asked her where Fluffy was.
"Fluffy died," she told him.
He responded, "Is she one of the 58?"
Steve Shipp said he wished Laura could have been in the room with him. He realized she probably was there in spirit.
"For the rest of the afternoon, let's just pretend she's here," he said.
Joanne Thorsen Bodenhamer remembered meeting Laura Shipp in a physical education class when they were students at Thousand Oaks High School. Bodenhamer said Shipp had an infectious personality, beautiful smile and would throw "off-the-hook parties."
"She would take the chance at doing anything if it was a first for her," Bodenhamer said.
Shipp loved the Dodgers. On Sunday, her ashes rested in an urn bearing the photo of Dodger Stadium. White roses and blue flowers sprouted from behind the urn.
At the entrance, a folded American flag and a signed baseball from her favorite pitcher, Clayton Kershaw, who started for the Dodgers on Sunday night in Game 4 of the World Series. Corey Shipp wore a No. 22 Kershaw jersey and a Dodgers hat with his mother's name engraved on the right side.
The Dodgers sent signed pictures, including one from outfielder Andre Ethier, and condolences.
"It is our hope that Dodger baseball can provide some level of comfort during this difficult time," read a letter signed by Dodgers manager Dave Roberts, who also sent a signed jersey. "The entire Dodgers family is deeply saddened to lose such a dedicated Dodger fan. Her loss leaves a void that cannot be filled."
When Bodenhamer heard Laura had died, Bodenhamer ordered Dodgers-inspired shirts with a photo of Laura Shipp and "67" on the front, the year she was born. She sold 180 shirts, giving the proceeds to Corey Shipp.
On the back, is one of his mom's catchphrases: "Woo! Hoo! Dodgers win!"
"Her boys in blue are playing today," she said. "We all need to remember that she has the best seat in the house."
The room erupted in one last cheer.
"Laura, Woo! Hoo!" Bodenhamer shouted. "Thank God we had the chance to know you."
After the celebration, Shipp's family hugged, smiled, cried and laughed. Laura's father, Joe Shipp, 73, who also lives in Las Vegas, remembered his daughter as the bright light who took care of him during his old age.
"I have no words for how heartbroken I am in this situation," he said. "Her life has been cut very short. I know that parents do lose their kids in some way, but they shouldn't have to."
As people trickled out of the memorial, they stopped to sign the guest book and plan their next stop. They didn't know where they were going, but they would find a TV. To watch the Dodgers.
Contact Briana Erickson at berickson@reviewjournal.com or 702-387-5244. Follow @brianarerick on Twitter.