Gunman Stephen Paddock's father wanted to start a church in Las Vegas
October 6, 2017 - 8:48 pm
Updated October 7, 2017 - 5:53 pm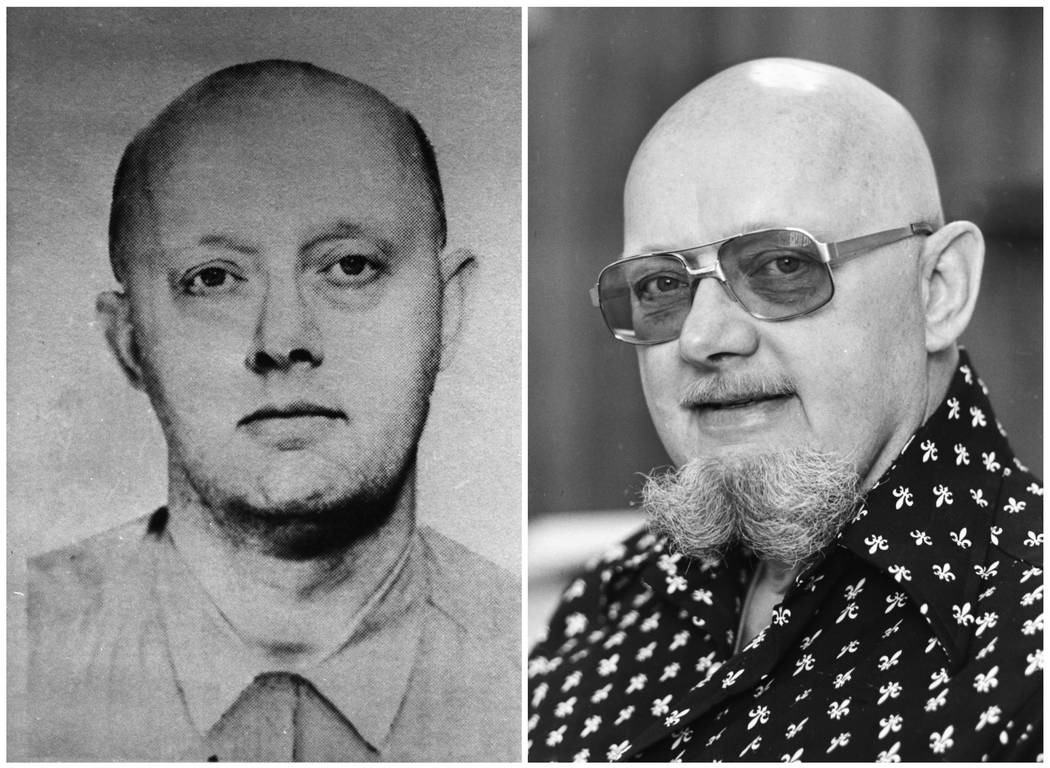 Mandalay Bay gunman Stephen Paddock spent few years around his criminal father, but the two shared an affinity for Las Vegas and games of chance.
Benjamin Hoskins Paddock, a bank robber and prison escapee, was famous for cracking the FBI's Ten Most Wanted Fugitives list in 1969. The wanted poster cautioned that he had been diagnosed as psychopathic and "should be considered armed and very dangerous."
But Stephen Paddock's father also represented himself as a self-ordained minister who married couples in the late 1980s and planned to open a church in Las Vegas.
"He wanted (to locate the church) in Nevada because he liked to go there and gamble," Bernie Sue Warthen, a 67-year old Oregon woman, told the Las Vegas Review-Journal this week.
Warthen became friends with Benjamin Paddock when he was in his 60s because she and Paddock's girlfriend had teenage daughters who were friends, she said. In 1989, Ben invited her to Las Vegas, where they incorporated the Holy Life Congregation Inc. She is listed as the church's secretary even though the church never got off the ground.
Nearly a week after the deadliest mass shooting in modern U.S. history, investigators continue to grasp for Stephen Paddock's motive for the massacre that killed 58 people and injured 489 at a country music concert outside Mandalay Bay. The elder Paddock's criminal history compelled journalists and academics to revisit research that links criminal behavior to genetics. The long criminal history of one of Stephen Paddock's brothers has fueled additional questions.
But University of Nebraska associate criminology professor Joseph Schwartz, who studies genetic links to criminal activity, cautioned against making assumptions based on Benjamin Paddock's history and reports of Stephen Paddock's anti-social behavior.
"It's human nature to try to speculate and try to understand something so terrible," he said. "In reality, (mistreating someone) is not a precursor to collecting multiple semi-automatic weapons and shooting at people from a hotel window."
Schwartz said research shows the genesis of criminal behavior can be equally attributed to genetics and environmental influences. But it's impossible to determine the role genetics plays in the behavior of any specific individual. And the criminal behavior usually manifests itself at a young age, in the late teens and early 20s, not in the senior years. Stephen Paddock, a Mesquite resident and high-rolling video poker player in Las Vegas casinos, had no criminal history before carrying out Sunday's massacre at age 64 and killing himself.
"If he had a high predisposition for criminal and violent behavior, we likely would have seen that earlier in his life," Schwartz said. Problem gambling also has a genetic link, he said.
Stephen Paddock's 57-year-old brother, Bruce Paddock, also has a criminal history, though none of his arrests were for serious offenses.
Police arrested Bruce Paddock several times in California dating back to 1982, court records show. The convictions include tampering with a vehicle, vandalism, driving with a revoked license and probation violations. All of the crimes resulted in probation or jail sentences of less than a year, California court records show.
He also had drug and traffic violations in Santa Barbara.
Absent father
The elder Paddock, who died in 1998, had very little contact with his sons. "The only one time I asked him about his children, he said he had nothing to do with them at their request," Warthen said. "I didn't know their names. I just saw a picture."
Unlike his eldest son, Benjamin Paddock started his life of crime at an early age.
Paddock was 19 years old in January 1946 when he was arrested in Chicago for stealing 12 cars over 18 months, according to a Chicago Tribune story at the time. He was sent to prison and spent the next few years confined at the Illinois State Penitentiary in Joliet, Ill. He was released in 1951.
Starting in 1959, Benjamin Paddock committed at least three armed bank robberies in Phoenix, fleeing in stolen cars.
On July 28, 1960, the elder Paddock's crime spree ended in Las Vegas. Federal agents arrested him at 4th and Fremont streets downtown after he attempted to run down the FBI agents pursuing him, according to the Las Vegas Review-Journal's account at the time. An agent fired through his windshield, forcing the car to stop.
He was sentenced to federal prison in La Tuna, Texas, but on New Year's Eve in 1968, he broke out of the Federal Correctional Institution there and escaped. The next year, Ben Paddock landed on the "Ten Most Wanted Fugitives" list.
According to a 1971 account in the Tucson Daily Citizen, Palmer M. Baken Jr., the agent in charge of the Phoenix FBI office, described Paddock as a "glib, smooth-talking man who is egotistical and arrogant" — traits often ascribed to psychopaths.
Paddock's recounting of his past often had more than a whiff of exaggeration, including playing football for the Chicago Bears, surviving the sinking of a World War II mine sweeper and performing with Gorgeous George, an early wrestling superstar.
"Some of that may have been true … you never knew," Don Bishoff, who knew him, wrote in an article in the Eugene Register-Guard.
After nearly a decade on the run, Ben Paddock was arrested in 1978. He was paroled after a year, moving back to Springfield, Oregon, where he ran a bingo parlor when he was on the lam.
Paddock restarted the bingo game after his return. According to Bishoff, Paddock created the Holy Life Congregation to sponsor the game, an effort to exploit a loophole in Oregon state law. In 1987 he was charged with running an illegal gambling operation. He avoided jail time but paid $723,000 in civil and criminal penalties, Bishoff wrote.
Warthen said she did not know anything about Benjamin Paddock's extensive criminal history when they were friends. She lost touch with him when he moved to Texas a few years before he died in 1998.
"The only man I knew was kind and generous," she said. "He gave out turkeys at Thanksgiving and loaned his car to a neighbor who needed transportation."
NOTE: An earlier version of this story misidentified the prison Benjamin Paddock was released from in 1951.
Contact Arthur Kane at akane@reviewjournal.com. Follow @ArthurMKane on Twitter.