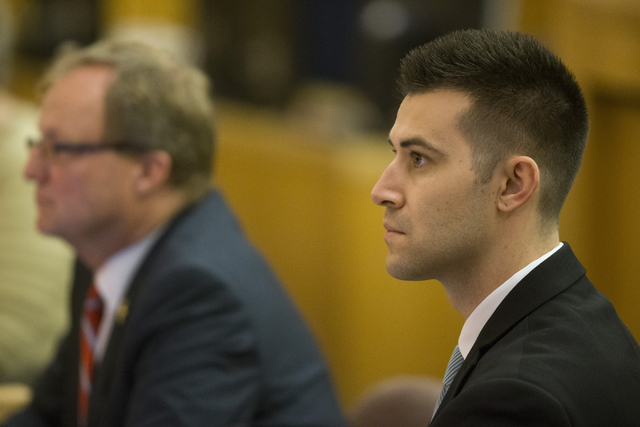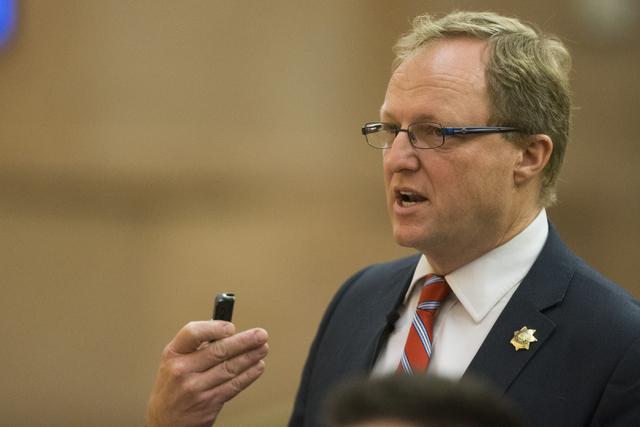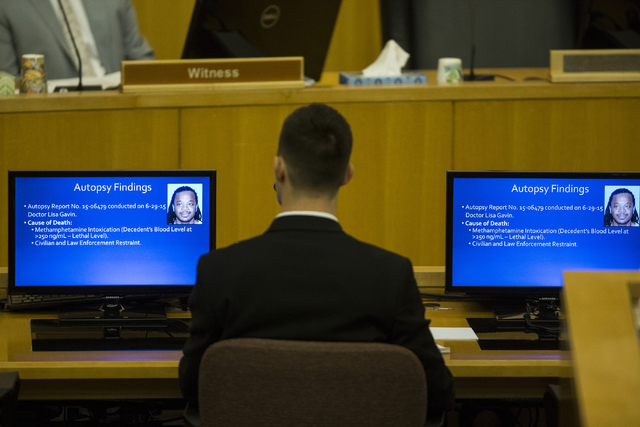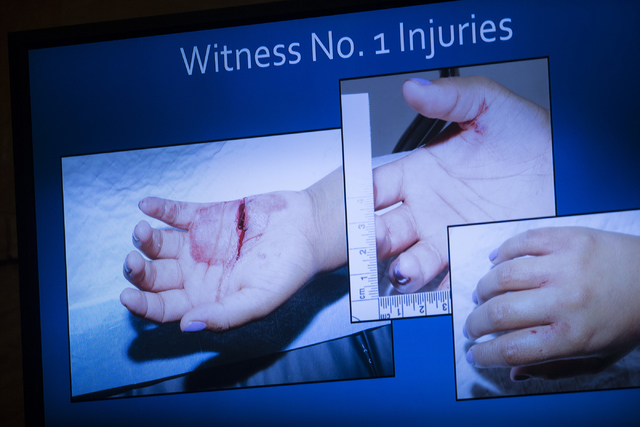 A 16-year-old girl from California was attending a birthday party with her family last summer when a knife-wielding man took her hostage in the pool area of an apartment complex near UNLV.
The suspect, Demario James Keyes, 37, of Oakland, California, died in police custody on June 27 after he was subdued by the California family. Details about the incident emerged Wednesday at a Clark County fact-finding review.
Such reviews are typically held after the district attorney's office has preliminarily deemed a police shooting justified. The hearings are meant to provide the public with the evidence that led to the decision and provide the public with an ombudsman to ask questions of investigators on its behalf.
This case did not involve a police shooting, but Keyes died in police custody — a detail revealed for the first time at the hearing. Detective Craig Jex, from Metro's force investigation team, said his team did not begin investigating until six months later, when Keyes' autopsy report concluded that his death was caused by methamphetamine intoxication with civilian and police restraint as a major contributing factor.
Police said the family party at the Andover Place Apartments, 1600 Rochelle Ave., near the intersection of Maryland Parkway and Flamingo Road, was interrupted about 11:30 p.m when Keyes grabbed the girl by her hair.
Brandishing a butcher knife, Keyes began making stabbing motions toward the girl's chest. Her hands were cut as she tried to defend herself.
Family members called for police, and the 911 calls played at the hearing captured the chaos of the moment.
By the time officer James O'Leary arrived, the victim's family members — described in one police report as "drunk and angry" — had wrestled the man to the ground. O'Leary told them to get off Keyes. The officer then handcuffed Keyes and patted him down for weapons.
Keyes was unconscious at the time. Ombudswoman Sandy Stewart referenced a police report, which indicated that Keyes was spitting up blood and that the medical crew arrived a few minutes after O'Leary performed chest compressions. The handcuffs were removed as soon as paramedics arrived.
One officer at the scene commented that it looked like Keyes "would go 419," which is the police code for a "dead body," Stewart said. Keyes died at Sunrise Hospital and Medical Center.
Chief Deputy District Attorney Frank Coumou objected when Stewart began questioning Jex about whether being "choked out" by the teenager's family played a part in Keyes' death.
The hearing was being held to analyze the officer's actions, Coumou said.
Fact-finding reviews for the August shooting deaths of Abel Correa and James Brown will be held June 16 and June 30, respectively.
Contact Wesley Juhl at wjuhl@reviewjournal.com and 702-383-0391. Find @WesJuhl on Twitter.