Injured nurse did all she could to treat Las Vegas shooting victims
November 6, 2017 - 2:34 pm
Updated November 6, 2017 - 6:07 pm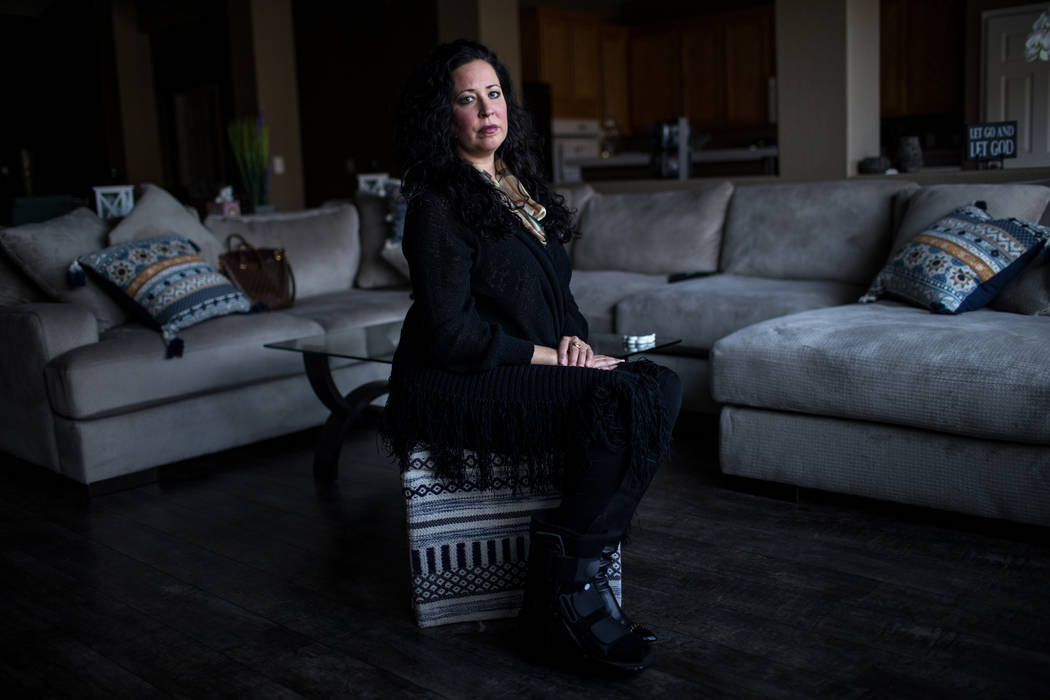 The man lay hysterical and bleeding on top of Lorisa Loy in a stranger's truck bed packed with shooting victims, hurtling toward one of the valley's hospitals.
Loy knew three things about him: he was an Asian man, he appeared to be in his 30s and he was bleeding badly from two gunshot wounds to his leg.
"They were trying to say our truck was too full. I said 'he needs to go now,'" said Loy, a Sunrise Hospital nurse. "I said 'put him on my body, if that's what it takes. He needs to go now.'"
After a gunman rained round after round of bullets into a crowd of more than 20,000 people at the Route 91 Harvest music festival Oct. 1, Loy was one of the concertgoers who bolted into action to help the wounded.
There were 58 people killed. The man who rode to the hospital on top of Loy is among the more than 500 who were injured.
On the way to the hospital, Loy whispered to him and kissed his head, trying to divert his attention and make him feel safe.
"I think I kissed this man's head 10,000 times," she said. "I said 'you're going to be OK, your bleeding is controlled now. We're taking you to the hospital. You've got to stay with me. You're awake, aren't you?'"
She never got his name.
It's one of her only vivid memories of that night.
She spent hours loading the wounded into a truck bed. She tended to their injuries as the driver sped to a valley hospital. Loy told him to spread the victims to different hospitals so they didn't overwhelm any one. They made trips to Sunrise and Desert Springs — there wasn't time to drive farther.
Loy can't recall the color of the truck. She doesn't know the driver's name. She doesn't remember how many trips they made to hospitals or where she was when she jumped out of the truck bed and heard her ankle snap and pop. It took her a few days, until her sister flew in, for the pain to really hit and for Loy to see a doctor.
It took three weeks to remember how she finally reunited with her daughter, Meghan, after the shooting. The 20-year-old college student was helping to lift a woman who had been shot in the chest onto the truck Loy was riding in.
"There are so many things I've blocked out," Loy said.
Loy started working as a critical care float nurse at Sunrise Sept. 11, weeks before the shooting. After spending a couple years working as an insurance case manager for the Health Plan of Nevada, Loy was thrilled to get back on the floor, working with patients.
But days later, a drunk driver hit Loy's car on Sahara Avenue, sending it careening through three lanes of traffic. The whiplash was agonizing, but she Loy was OK.
Then the shooting happened.
Loy is wearing a boot for her injured ankle. She can hobble around her Henderson home, but she can't drive, and hasn't been able to go back to work. She found out this week she needs surgery. That, and aggressive physical therapy will keep her out of work for another few months. Because she was such a new employee, her benefits through Sunrise hadn't kicked in when she got hurt. But the hospital has been insuring her family, she said.
Loy said she knows there are people who ran out of the concert venue away from the gunshots, and are now dealing with remorse.
"They should never feel guilty about running. Because they ran doesn't mean somebody lost their life," Loy said. "That just breaks my heart."
"You don't meet a stranger"
Loy likes country music concerts because unlike some other genres, they're laid back. The Fort Wayne, Indiana, native describes country fans like her fellow Midwesterners.
"You don't meet a stranger. Everyone is friendly," Loy said.
Loy and her daughter, Meghan, made lasting friends at this year's Route 91 festival. It started Friday night, when Meghan started dancing with a man in a wheelchair.
On the second night, Meghan ran into the man, George Cook, again. And Sunday night, when Loy and her daughter were separated for a while, Meghan was with George again.
The two wanted to be front and center for Jason Aldean, the last set of the weekend. As they wove through the crowd, Meghan spotted Lorisa. George and Meghan pushed toward the stage more. That's when the gunfire started.
Meghan thought the pops were fireworks at first, but George was sure they were shots. When other concertgoers dropped to the ground, he wasn't sure whether to stay in his chair or get on the ground. If he'd gotten down, he would have been stuck.
That's when Loy ran up.
"She said 'I'm Meghan's mom, we just met. I'm going to get you out of here,'" Cook said.
They came across his brother, Chris, on the way. He took over pushing the wheelchair out the back of the venue. Loy started to triage people and help load them into vehicles.
After making the hospital trips, Loy ended up back at the Tropicana. A Boston firefighter who was at the concert had offered his hotel room to Meghan so she could get some rest. When the lockdown at the Tropicana lifted, Loy walked over to the Hooters Hotel, and almost immediately saw the Cook brothers.
"It's crazy how many times we ran into each other," Loy said.
George Cook thanked Loy for saving his life. She had no idea what he was talking about. But just then, all of the televisions tuned to cable news channels flashed a photo of Loy in her cowboy boots and hat, wheeling Cook to safety.
"Someone put Lorisa there"
The Cook brothers were staying on the 31st floor of the Mandalay Bay, in a different wing from where the gunman holed up in a 32nd-floor suite. They were able to get back into their room and retrieve their things Monday morning, after the shooting.
They got to the airport later that day to fly back to the San Francisco Bay Area. Any positive feeling George Cook had about coming out of a mass shooting unscathed vanished when he learned fellow Californian Stacee Etcheber was missing. Cook grew up in the same neighborhood as Etcheber's husband, Vinnie, and they ran into each other at the Route 91 festivals they've all been to. Cook saw Stacee Etcheber Sunday night, when she went over and hugged him. It was about 20 minutes before the shooting started, he estimates.
He later found out Etcheber was among the 58 shooting victims.
This year was the Cook brothers' second time at the Route 91 festival. Last year, George Cook's wife died two days after he got home from Las Vegas. Now he's a single dad.
"Someone put Lorisa there to keep me around for my kids," Cook said.
Since Oct. 1, Loy checks in with George or Chris Cook a few times a week. She plans to go to San Francisco to visit them.
The shooting won't keep any of them from seeing country music live.
"This won't deter me from my life or the things I enjoy. He won't have that power," Loy said about the shooter.
Cook lives near AT&T Park in San Francisco, and he started going to country music concerts there a few years ago, mostly out of convenience. He wasn't a big fan of the music, but it's really grown on him since. He's been to a couple concerts since the Oct. 1 shooting, and he's headed to Country Rising in Nashville this weekend.
Loy and Cook would both even return to the Las Vegas Village fairgrounds for another show someday.
"Going to that show at that venue would take a lot more gumption," Cook acknowledged.
But the next music festival on Loy's radar is Stagecoach in April, in southern California.
She and her daughter are planning to meet their two new friends there.
Contact Jamie Munks at jmunks@reviewjournal.com or 702-383-0340. Follow @JamieMunksRJ on Twitter.