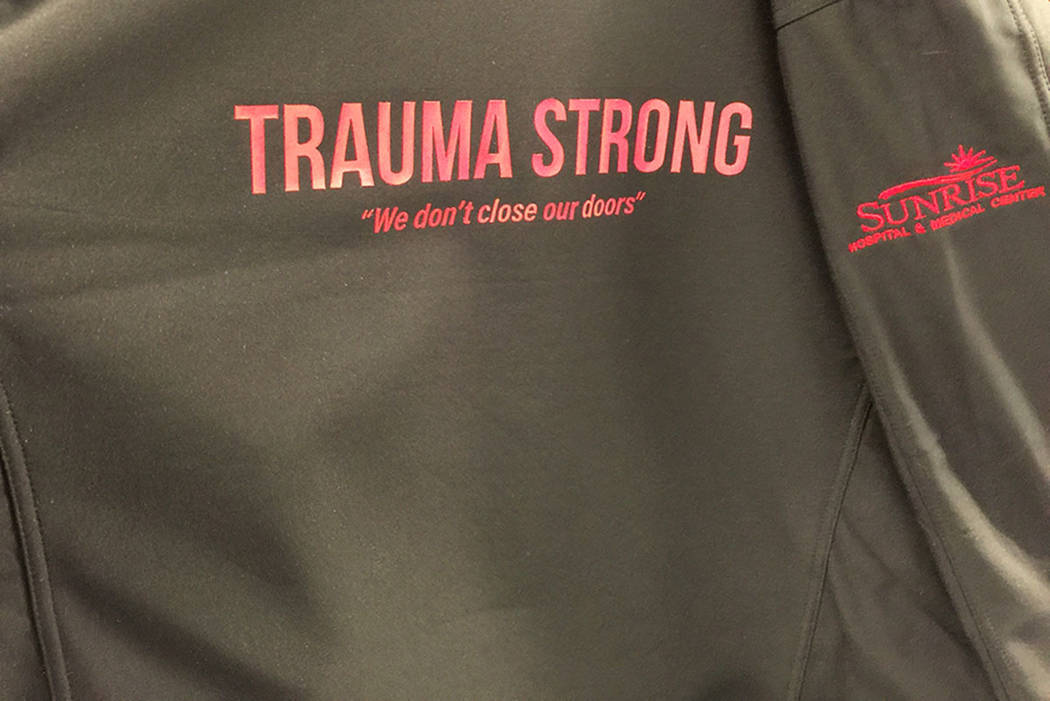 Sunrise Hospital and Medical Center received more than twice as many patients as University Medical Center after the Oct. 1 mass shooting on the Strip.
The night of the shooting, a county dispatcher mistakenly told emergency responders that UMC was "completely out of beds." About 15 minutes later, a transmission from UMC said "they have plenty of beds open." UMC officials said their trauma center didn't close its doors and never ran out of beds.
Sometime after the shooting, someone at Sunrise, a Level 2 trauma center and the hospital closest to the Las Vegas Strip, had clothing made bearing the slogan "TRAUMA STRONG. 'We don't close our doors.' "
Sunrise spokeswoman Fran Jacques refused to comment on the slogan's connotation, adding that she didn't know which staffer created the clothing.
"I don't know what it means, but I could make some assumptions," Jacques said. She didn't like it and "wouldn't have approved it," she said.
When told about the Sunrise jackets and shirts, UMC's chief of trauma, Dr. John Fildes, did not see the slogan as a slight, saying Sunrise employees "should be very proud" of their hospital's performance that night. Sunrise saw 212 patients, compared with 104 at UMC, which has Clark County's sole Level 1 trauma center.
"We don't close our doors either," he said. "They did a hell of a job, by the way."
Contact Jessie Bekker at jbekker@reviewjournal.com or 702-380-4563. Follow @jessiebekks on Twitter.