Journalist's photos became iconic images of Las Vegas shooting
November 4, 2017 - 11:48 pm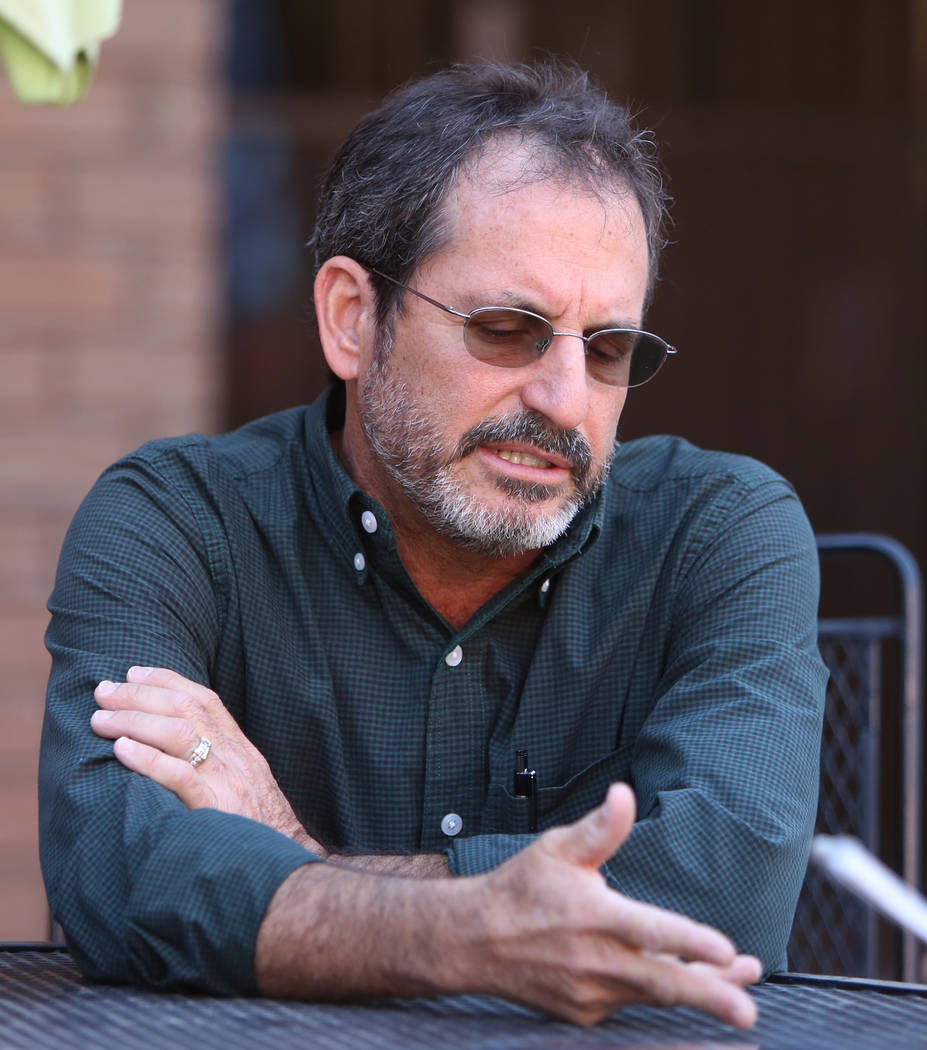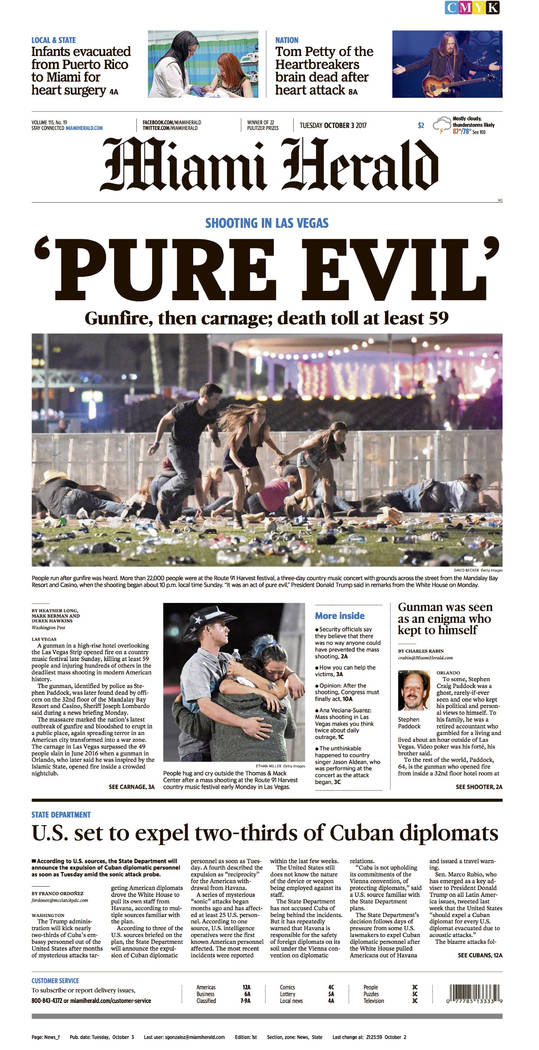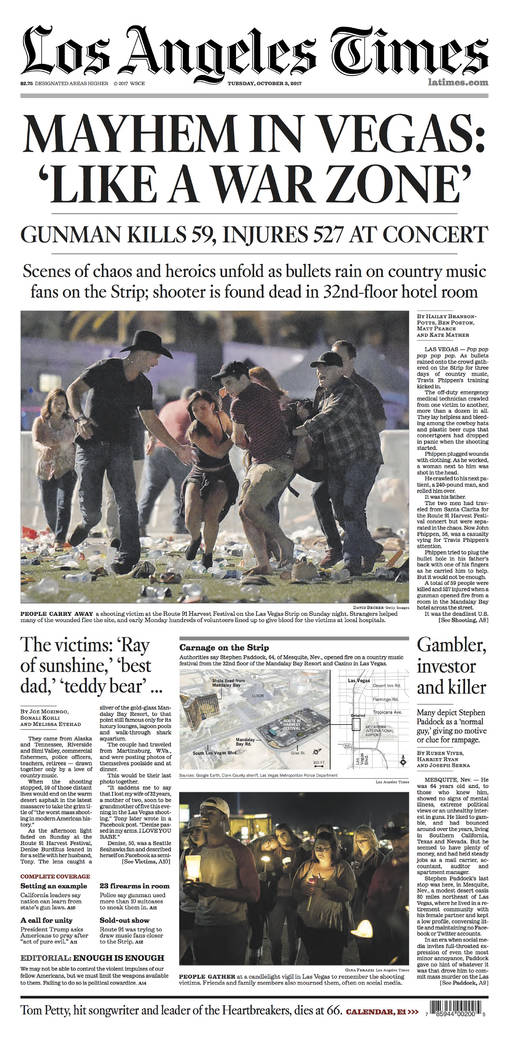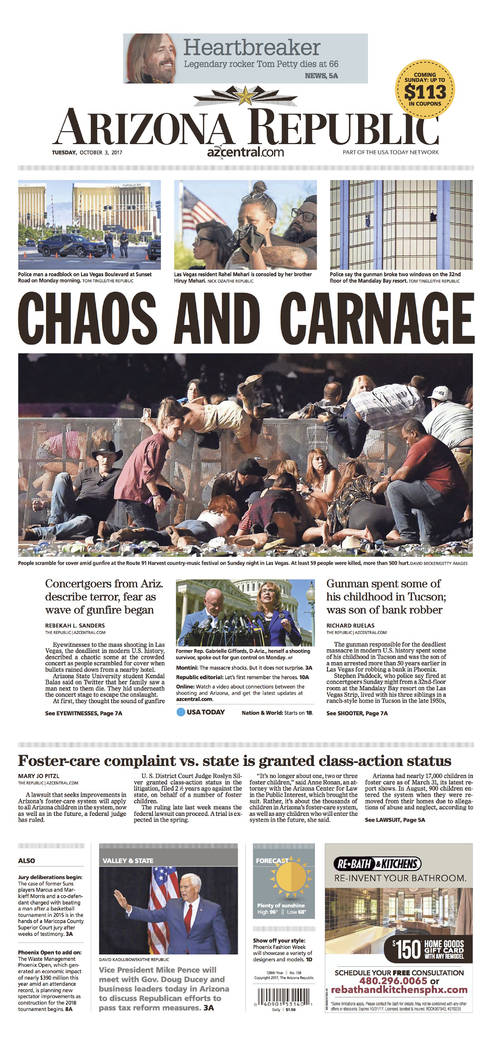 From the glow of his laptop inside the country music festival's now-dark media tent, filled with people whispering and whimpering, David Becker noticed his hands were shaking.
The trembling began as the Las Vegas photographer came upon an image he had made just moments prior, steps outside the tent-turned-shelter: A woman lying on the Route 91 Harvest festival grounds, surrounded by tossed beer cans and water bottles, her legs drenched and dripping in blood.
He paused. He stared. His hands kept quivering.
In person only minutes earlier, when he was photographing the panicked crowd, it was too dark to see anything.
He wasn't even sure there had been a shooting — a security guard had attributed the odd, loud popping noises to fireworks, then malfunctioning speakers.
When it started late Oct. 1, Becker had been editing photos from Jason Aldean's first two songs. The security guard's explanations seemed plausible. He shrugged it off and stayed in the tent.
But when people began stampeding toward the exits moments later, Becker picked up his camera and went outside. He assumed the crowd was fleeing out of an abundance of caution, and regardless of the cause, it was probably newsworthy.
As the crowd cleared, though, he saw silhouettes of people lying on the ground. It was strange, but maybe they were "playing dead" — taking cover in a state of shock, he thought.
In the back of his mind, he again considered, is someone shooting?
But once more, he pushed the thought out of his mind. While thousands were fleeing, a few were on the stage, walking with their hands up, as if to tell people to calm down.
He saw others walking around aimlessly, holding beers in each hand.
Now though, he stared at the photo. Straining the muscles in his hands, he tried but failed to stop them from shaking.
He flipped through more images and saw more carnage.
"David," he thought to himself. "People are dying."
'I'm not the story'
Becker has been a photojournalist for more than 30 years. The 54-year-old has covered everything from aid efforts during the Gulf War to sporting events to breaking news to concerts, and as a local freelancer, his images have appeared in the Las Vegas Review-Journal for at least nine years.
The night of the shooting, Becker was contributing for Getty Images, a photo agency and wire service. It was his third or fourth time covering Route 91.
"I guess, being a journalist for a number of years, I've always separated myself out from what I've done," he told the Las Vegas Review-Journal on Wednesday.
In the weeks since the shooting, the quiet man who doesn't enjoy talking about himself has struggled to process what happened. Dozens of media outlets asked him to talk. Quickly, he turned them all down, "arguing, at least with myself, that I'm not the story," he said.
"The story is the individuals who attended the concert, the ones who were shot, the ones who were killed," he said. "The victims are the story. The people who ran in and saved individuals. The paramedics. The hospital workers who worked tirelessly to save lives. The people on the ground who were doing the actual work."
"I'm a witness to it," he added. "I was there to do a job. The job changed."
As dismissive and humble as he is, Becker's photos were some of the first pieces of evidence that pointed to the terror so many experienced that night.
While others took pictures of the police response, or people being pulled to safety, Becker was the only photographer on the field shortly after the gunfire began, and he was the only photographer who remained on the field until it ended.
In the days after it happened, his heartbreaking images ran on more than 130 front pages around the world.
"I'm grateful that I was there at the right time, at the right place, and that I was able to leave there that night unhurt, physically, and share the photographs with everybody," he said. "Hopefully, the impact of them — and the profoundness of them — will maybe give someone the courage or maybe influence somebody to prevent these sort of events from happening again."
Realization sets in
After he sent in his first, terrifying images, Becker grabbed his things and walked around the scene, snapping away as he slowly realized the scope of the tragedy.
People were still running, hiding, huddling and crying. A few walked around, respectfully covering the faces of the dead. He kept making pictures.
It doesn't feel good to say — he knows some may find it insensitive or crass. But sometimes, when people are in shock, a mission helps keep them grounded. Documenting the horrors around him became that mission.
Hours later, when authorities shifted from responding to the scene to documenting evidence, Becker walked to his car and continued to edit.
His phone buzzed and rang as family members, friends and co-workers reached out, asking if he was OK. Time both flew by and lasted forever.
When the sun began to rise, Becker spotted for the first time two blown-out windows at Mandalay Bay. Overnight, he'd heard the shooter was stationed there. Now, in the golden morning light, he knew it was true.
He allowed himself a few seconds to digest the sight. Then, he took more photos.
About 11 a.m., Becker decided he'd done enough. In a daze, he put gas in his car, bought a refrigerated wrap, drank a large Gatorade and headed home.
He gave his wife a big, long hug.
He spent time with his dogs.
He tried to nap, but couldn't sleep.
Then he opened his computer, and got back to work.
Contact Rachel Crosby at rcrosby@reviewjournal.com or 702-477-8301. Follow @rachelacrosby on Twitter.